By Gina Capellazzi, Team FSO website administrator
British Ice Skating hosted their first-ever Grand Prix event, Nov. 11-13, in Sheffield, Great Britain. The event not only was a first for Great Britain, but it featured history making skates, season debuts and a return to competition after 20-month absence.
Figure Skaters Online's Gina Capellazzi spoke with some of these skaters that had other accomplishments and victories. She is highlighting them in what she has coined — "Storylines from Sheffield."
History made
When Italy's Daniel Grassl won gold in Sheffield, he became the first man from Italy to win an ISU Grand Prix title. In second after the short program, Grassl opened his free skate with a quadruple Lutz, but then fell on his quad flip. He did nail seven triple jumps, including two triple Axels. He earned a season's best score of 177.50 and a total score of 264.35 to win the event.
"After the six minutes (warm-up) I felt very bad, I've never felt so bad," Grassl revealed. "It was a very important competition for me, but I tried not to think about it and the six minutes was not my best. I planned to do three quads in my program, but after the six minutes I said: 'you go with two, because I don't feel good right now'.
The only other Italian single skater to win Grand Prix gold is Carolina Kostner, who won four medals on the Grand Prix – NHK Trophy (2007, 2010), Rostelecom Cup (2008), Cup of China (2011) – and gold at the Grand Prix Final in 2011. Italy's ice dance team, Charlene Guignard and Marco Fabbri, won two Grand Prix gold medals this season on the Grand Prix, one in France and the second at MK John Wilson Trophy.
With his 9 points from his 4th place finish at Skate America and with 15 points from his win in Sheffield, Grassl has 24 points overall. He will have to wait and see if that is enough to get him to the Grand Prix Final.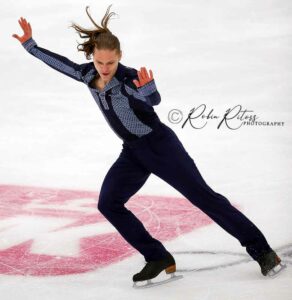 Grassl wasn't the only one to make history in the men's event– Latvia's Deniss Vasijevs, who was in third after the short program, won the silver medal, his first Grand Prix medal. He also won the first Grand Prix medal for Latvia.
"I am very happy that today I have the first Latvian Grand Prix medal, but that's not focus I feel the most satisfied with," he said. "It's the feeling, the standing ovation, people cheering, the clapping. This energy is something way above, beyond what you get just by achieving something, it is something to live for, to strive for – that this continues."
Skating at Home
As mentioned, MK John Wilson Trophy in Sheffield was the first time that Great Britain has hosted a Grand Prix event. With the exception of British ice dancers Lilah Fear and Lewis Gibson, the event marked the Grand Prix debut for the rest of the British team.
At 27-years-old, Natasha McKay finished her first Grand Prix in 11th place.
"That was the most fun that I've had on the ice ever with the home crowd in here," the five-time British National Champion told Figure Skaters Online. "I felt so proud to be British. I just loved every second of it. I never thought I would get to compete in Great Britain ever, so it is even more special for me. My first Grand Prix, so I take that off my list. And on home ice, I take that one (of the list) as well," she said.
Three-time British champion, Graham Newberry, finished his first Grand Prix in 11th place.
"It was stressful because I wanted to try to perform well for the home crowd, but I felt having the energy and the support from the crowd, pushed me forward."
Edward Appleby, the two-time British junior champion, also felt a little pressure as well. He finished behind Newberry in 12th place.
"At first, I thought I was gonna get a lot of pressure, and I have to do well," he said. "But after practices, I realized everyone's here to just support the skaters & watch the sport that we love. It's just an amazing experience."
Pairs skaters Anastasia Vaipan-Law and Luke Digby also made their senior Grand Prix debut in Sheffield. The 2022 British pairs champions finished in 7th place.
Late start to the season
Sheffield marked the season debut for Team USA's Katie McBeath and Nathan Bartholomay. Bartholomay had to have unexpected elbow surgery in the summer. They were supposed to compete at Nebelhorn Trophy in September, but had to withdraw. Then, they were hoping to compete at Skate Canada International in October – but had to withdraw after Bartholomay suffered a sciatic nerve injury after taking a hard fall while adjusting to new skates and blades.
MK John Wilson Trophy marked the team's first competition of the season, a later start that normal for McBeath and Bartholomay
"It's a little bizarre because I know we're doing our first event and I know we're ready, but at the same time, I'm like, 'oh, yeah, like there's two more (events) and then the final.' It's a little bit strange in that regard," Bartholomay said.
"I was anxious about starting now, like knowing you'd like to have a few competitions under your belt before you come to a Grand Prix event," McBeath explained. "But I'm just so thankful that we got to skate together just with some of the challenges that we have been through these past couple of months because it's been really, really hard. So I just kind of put that at bay and our journey is ours, and it doesn't match anyone else's."
MK John Wilson Trophy was also McBeath's first Grand Prix event.
"I'm very excited about that," McBeath said. "I was feeling the nerves a little bit and I was really trying to just like, let that be at bay and really just go for everything as best I could in the moment."
McBeath and Bartholomay, who finished in 6th place, are hoping to get a Challenger event before the 2023 U.S. Championships in January.
MK John Wilson Trophy was also the first competition of the season for Team USA ice dancers, Christina Carreira and Anthony Ponomarenko and Japan's Mai Mihara, Shun Sato and Tatsuya Tsuboi.
The first step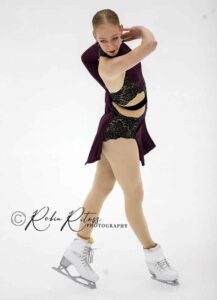 Two-time U.S. Champion Bradie Tennell also made her season debut, but unlike the others, Tennell was marking her return to competitive ice for the first time in 20 months.
Tennell, who last competed at the 2021 World Team Trophy, was plagued by a foot injury and sat out the entire 2021-2022 Olympic season. In August 2022, Tennell announced that she had switched coaches, moving to France, with her choreographer, Benoit Richaud, becoming her head coach, and Cedric Tour becoming her jumping coach.
In Sheffield, two hours before her short program warmup, Tennell had to have her blade moved on her skate because she felt it wasn't in the right place after completing her practice.
"It (The blade) was better, but I felt different. I think it was just a little bit of a lack of confidence on the first jump and the nerves of being back," she said.
Tennell also divulged that she was dealing with an ankle injury. She said she picked for a couple triple toes one day and then all of a sudden couldn't put pressure on her ankle, to bend her boot. She said she had to "give it time & allow to calm down." She was only jumping again five days before Sheffield.
Despite finishing the event in 12th place, Tennell felt that this was the first step in her journey back.
"In the grand scope of things, I am actually extremely proud of what I've done here, " she said. "Because like even just a week ago, I was like kind of doubting if I would even be able to come. It's been a lot of mental and physical struggling the past month."
"I kind of feel very light," she added about her return."I feel the weight on my chest has been lifted because now I've made my return to competition. I know it's possible for me to come back. I know what I'm capable of out there with the proper training."
Tennell will compete at Grand Prix of Espoo in two weeks.