By Gina Capellazzi, website administrator
Top photos courtesy of Brooklee Han (left) and Aimee Buchanan (right)
While the majority of Peter and Darlene Cain's skaters represent the U.S., there are two skaters that they coach who represent different countries.
Figure Skaters Online recently caught up with the international squad members of Team Cain. In the third part of our week-long series, we spoke with Australia's Brooklee Han and Israel's Aimee Buchanan who both relocated to Texas from the New England area.
---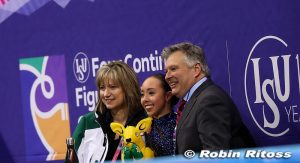 Similar to Timothy Dolensky's situation in Atlanta, Brooklee Han was the only elite senior level skater at her rink in Newington, Connecticut for many years, and it was tough to train by herself. So in August 2016, the 2014 Australian National Champion and Olympian made the move from Connecticut to Texas, hoping for a fresh start with the Cains. However, Han said the beginning of her 2016-17 season did not go as planned.
"I think the transition went very well and very smoothly into working with Darlene and Peter," the 21-year-old explained. "We were working on a lot of things, ironing out elements, and learning new elements. I also started the season with one long program, scrapped it, and got a brand new one. So there were a lot of changes, especially with that long program."
Han said the new free skate, a tango to "Por una Cabeza" by Carlos Gardel and Alfredo Le Pera, was a completely new style for her and, as a result, took a bit of adjustment.
"I had never done a tango," she said. "I had never really done anything besides something pretty and classical."
However with time, Han said she grew very comfortable with the program and with her new coaches. She says she has grown technically as a skater, as well as a performer, with her programs.
"I have become more of a confident performer and have really grown in my ability to relate to an audience," Han said.
After being in Texas for almost nine months, Han said she loves being in Euless with the Cains and the rest of her training mates.
"Everyone is really supportive," she added.
Looking ahead to her programs for next season, Han says she will be keeping her tango free skate, due in part to the fact that she only started skating it in October.
"It is a program that I really love. I love performing it. I really feel like I just learned figured out how to perform it well and have got comfortable with it. I think with this confidence in the program, I can bring it to the next level," Han said about her free skate.
Although she competed until April 2017, winning the gold at Triglav Trophy, Han said she already started thinking about what she wanted to skate to for her short program while at Four Continents in February. Going into the previous Olympic season, Han wanted to choose something iconic, like Carmen or Swan Lake, but Serhii Vaypan, her former coach, said no. She was happy with the programs she ended up skating ("Prayer for Taylor"/"Titanic Symphony" short program and the film soundtrack of Secret for her free skate), but this time around, she really wanted to go with something big.
While at Four Continents, she talked with Douglas Razzano who suggested something like Ladies in Lavender. She skated to it at the rink when she got home. Her choreographer, Evgueni Nemirovski, liked it, but told her he wanted her to try something with vocals, which Han had never done before. So she went back to the drawing board and says she listened to so much music that it almost got to the point where she was ready to give up.
Remembering that she wanted to skate to something big and iconic, Han said she thought of Les Miserables and the song, "I Dreamed A Dream," composed by Claude-Michel Schönberg.
"I always loved Les Mis, I love the music of Les Mis," she explained. "So I was like, 'What about "I Dreamed A Dream"? So I pulled that up. I listened to so many versions. I was listening to some other opera-style things as well, but I kept coming back to that. So I was like one day, 'You know what, I think this is what we are going to use.'"
Han finally decided on Susan Boyle's rendition of "I Dreamed A Dream" for her short program.
So far this off-season, Han says she is working on two different combinations, one being double axel-half loop-triple salchow to add into the free skate and triple toe-triple toe for the short program.
"Both of those I feel are coming along," she stated.
She says she wants to improve the consistency of all her jumps and keep her spins at the same high quality. In terms of her program components, especially in the free skate, she wants to work on her expression and make sure everything is sharp. In her short program, she aims to show more emotion through her movements while using the vocals to highlight the program.
When she is not on the ice, Han continues to pursue her education. When she was living in Connecticut, she attended Wesleyan University, studying international relations and German. However, with her move to Texas and the lack of online courses through Wesleyan, Han is on an academic leave of absence from the college. She did take an online course on multicultural issues and psychology through a different university this past semester.
After taking two writing courses at Wesleyan, Han wanted to continue to write in her spare time. She contacted Susan Russell, editor of International Figure Skating (IFS) magazine, with a story proposal on choreographer Evgueni Nemirovski. Russell liked the idea and decided to make Han an intern. Her first piece for IFS was an in-depth interview last fall with her training mate, Alex Krasnozhon, followed more recently by her Nemirovski feature article and a recap of Team Australia's figure skating gala in Melbourne. Her article on Ashley Cain and Timothy LeDuc was published in the June 2017 print edition of the magazine.
Aimee Buchanan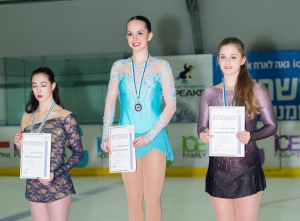 Like her fellow training mates, Tim Dolensky and Brooklee Han, Aimee Buchanan says she needed a change. The 2016 Israeli National Champion had long been training in the Boston area with Julie Graham-Eavzan and Chad Brennan, but decided to move to Texas to train with the Cains about a month ago.
"I knew I needed a change. It just came down to who and where I was going to go," Buchanan explained. "I really like how it is a family-oriented environment down here (in Euless) and everyone is so supportive of each other. It is not cut-throat and no one is out to get one another. Everyone works together and supports each other while working hard."
Buchanan, 23, a native of Boston, moved to Texas on her own and says she does miss her family and working with her old coaches. But despite only being in Texas for a short time, she says she really likes it and is well into her preparations to debut two new programs.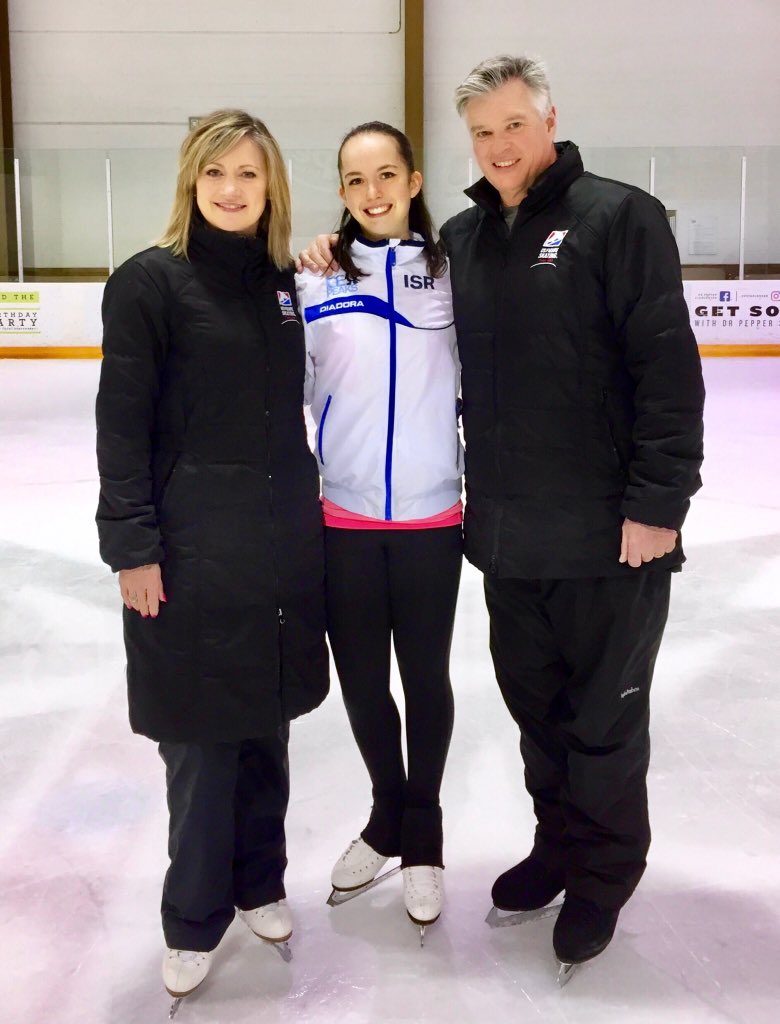 For her short program, Buchanan will be skating to "Only Hope" by Mandy Moore from the 2002 movie, A Walk to Remember.
"I'm trying to tell a story (in this program) about love and hardship and about living life to its fullest, even knowing what the outcome is, which is based on the story of the movie," Buchanan said of her short program.
Buchanan said she and Darlene Cain chose this song after Buchanan played it one day at the rink.
"I made a playlist of music I wanted to skate to and when I first came down to Dallas, Darlene had me just play through the playlist at the rink and when that song ("Only Hope") came on, she was like, 'Oh my gosh, I love this song!' Right then we knew that was what my short was going to be."
For her free skate, Buchanan says finding music definitely was more of a challenge as they wanted something to show more maturity and a new level in Buchanan's skating, but something that also wasn't too out of her comfort zone. They eventually came across "Romantic Rhapsody" by Andre Mathieu, performed by pianist Alain Lefevre, which Buchanan says has musical parts that are very comfortable to perform, but also upbeat sections that are more challenging for her. Both programs were choreographed by Evgueni Nemirovski.
Buchanan will debut her programs at the Philadelphia Summer International Competition, August 3-6. She says she then hopes to be assigned to one or two more competitions, including Nebelhorn Trophy, in order to try and earn one of the six remaining 2018 Olympic ladies spots for Israel.
While her ultimate goal this season is to represent Israel at the Olympics and Worlds, Buchanan says her first goal is to attain the technical minimum score for Worlds in the short program (she got the Worlds minimum score in the free skate last season). She also would like to break into the top 10 at her international competitions this fall.
---
Editor's Note: Stay tuned to part four of our series on Thursday.
To read part one, which featured Ashley Cain and Timothy LeDuc, click here.
To read part two, which featured Timothy Dolensky, click here.