By Gina Capellazzi, website administrator
Header photo by Amber Glenn
A new season means a clean slate for skaters. All the obstacles and hardships endured during the past season are put in the past and all skaters get a chance to re-write their story as they begin the new season.
Figure Skaters Online recently caught up with the international squad members of Team Cain. In the fifth and final part of our week-long series, we spoke with 2014 U.S. Junior Champion Amber Glenn, who is looking for a fresh start this season.
---
The past two seasons haven't gone as planned for Amber Glenn. After winning her junior title in 2014 and then making her senior debut the following season, she withdrew from the 2016 U.S. Championships due to some health issues and was off the ice for an extended period of time. She eventually resumed training, but at a new training location with Peter and Darlene Cain as her new coaches.
The 2016-17 season started off on a high note for the 17-year-old from Plano, Texas. She placed fifth at Nebelhorn Trophy, 4th at Golden Spin and 8th at the U.S. Championships, which was her highest placement at Nationals on the senior level. She was selected to compete at the World Junior Championships, but withdrew in early March due to personal reasons.
Looking back on the past two season, Glenn said she is proud of all the things she has to overcome, both in life and in skating.
"Coming back from all that has been a big step for me and a big thing in my life. I'm really proud that I came back. I changed environments. I changed coaches. I changed everything and I'm just so much happier now."
She says she is also most proud of her progress as a senior lady, noting that despite withdrawing from the 2016 U.S. Championships, she still received two ISU Challenger competitions (Nebelhorn and Golden Spin) this season.
"It (Those competitions) really helped me mature as a skater," she noted.
Though having to withdraw from the World Junior Championships, Glenn says she is doing a lot better now and things are going really well.
"I'm really happy with where I'm at and I feel I'm getting a good head start on next season. I'm really training, getting myself in competition shape early. It was rough having to withdraw from Junior Worlds, and it was a tough decision, but it ended up being for the best."
Putting the past behind her, Glenn is already hard at work on next season. She tells Figure Skaters Online she will be skating to the film soundtrack of The Red Violin by John Corigliano, choreographed by Scott Brown.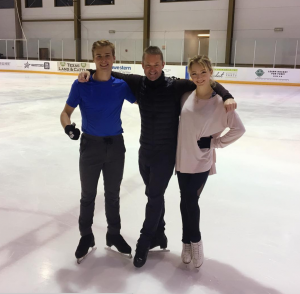 "I'm really excited about that (my free skate)," she exclaimed. "It tells a story and it is really beautiful. It has a lot of changes in it. It is not just one thing throughout the program. There's slow, there's fast, there's dramatic, there's calm. There's a lot of different things in it."
After initially having a hard time choosing the music she wanted for her free skate, Glenn says it felt natural to her right away.
"I was just skating around to it and I loved how I skated to (the music)," she enthused.
Brown also choreographed Glenn's short program, which is to the song, "Fever" (The Heat Version) by Beyoncé. Glenn said she was actually playing the song for others at the rink as a possible program for them, not for herself.
"I was kind of playing it for the pairs, or for Brooklee (Han), to listen to, for maybe a program, I wasn't really thinking of me, and then I really loved it, I loved skating around to it and I thought it was different and we decided it would be a good short," she explained.
Like most of her training mates, Glenn will debut her programs at the Philadelphia Summer Championships at the beginning of August.
This summer, Glenn says she will focus on getting her triple-triple combinations more consistent. She says she has been practicing a lot of different combos, like loop combos or half loop-salchows.
"I have been training new things, and just little things that could maybe help with GOEs or points. I have been really focusing on that aspect," she stated.
In looking to improve her program components, Glenn says she is trying a new tactic.
"This sounds so weird coming from a skater because everything in skating seems so quick, like fast fast fast," she elaborated. "I have been taking my time on things, slowing down, finishing out movements. That has been a big big focus and is going to be a big focus this summer."
Glenn says she has no plans this summer except for being prepared for her first competition.
"I want to get out there (at the Philadelphia Summer Championships) and be in my top shape. I want to be out their doing my programs feeling good and confident about it and not rushing into things."
---
Editor's Note: If you missed any of our Team Cain week-long series:
To read part one, which featured Ashley Cain and Timothy LeDuc, click here.
To read part two, which featured Timothy Dolensky, click here.
To read part three, which featured Brooklee Han and Aimee Buchanan, click here.
To read part four, which featured Alex Krasnozhon, click here.