By Gina Capellazzi, Team FSO website administrator
Photos by Robin Ritoss and Melanie Heaney
Family photo courtesy Ravenstein-Murdock family
In the midst of a global pandemic, Emilia Murdock moved to Toronto to begin working with Brian Orser, Tracy Wilson and Karen Preston at the Toronto Cricket Skating and Curling Club.
Skaters like two-time Olympic Champion Yuzuru Hanyu and Olympic bronze medalist Jason Brown among others have trained at the prestigious club.
"I decided to train with Brian and Tracy because I admired their coaching," the 20-year-old originally from Darien, Connecticut told Figure Skaters Online. "I had done several Zoom seminars with Tracy and her positive outlook on the sport and life in general inspired me."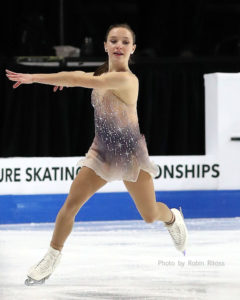 Murdock made the move in August 2020 because she wanted a positive atmosphere and competitive environment. The 2019 U.S. Junior bronze medalist said it was a move that was extremely difficult for her.
"Not only were there difficulties getting across the border, but I was unable to see my family for almost a year due to COVID restrictions and quarantines," she added. "Canada was very strict and lockdowns lasted much longer than in the U.S."
During the abbreviated 2020-2021 season, Murdock qualified for the U.S. Championships after a sixth-place finish in the virtual U.S. Championship Series. This marked Murdock's senior Nationals debut after withdrawing the previous season due to an injury. Murdock finished 14th at the event held in Las Vegas.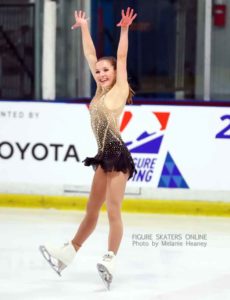 While her first season in Toronto proved to be successful, her second season there had its challenges. In the spring of 2021, Murdock suffered an injury. Once she returned to the ice, it was difficult to regain her triple jumps, and she said she never really gained back her confidence. Also, with COVID restrictions in Canada still strict over the summer, Murdock had little competition experience and judges feedback.
"I was struggling a lot technically going into the national qualifying series," she shared.
Unfortunately, her sixth and ninth place Championship Series scores didn't qualify her to compete in January at the 2022 US Championships in Nashville, Tennessee.
"It was devastating not qualifying for Nationals," she admitted.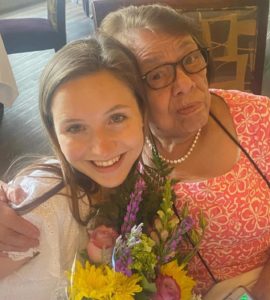 While still grappling with her on-ice struggles, a few days after returning from her Championship Series event in Alpharetta, Georgia, Murdock suffered an even greater loss in her personal life. On November 27, her maternal grandmother, Maria Ravenstein, died from COVID-19 complications. As the family mourned Maria's death, two days later, Murdock's maternal grandfather, Bob Ravenstein, Maria's husband, also died from COVID-19 complications. During that time, Murdock returned home to be with her family.
With her season coming to an end earlier than she expected, Murdock started planning for the 2022-2023 season and began working on her new programs with choreographer David Wilson. However, Murdock decided she needed to make another change. She chose to leave Toronto. There were several reasons behind her decision. One was that COVID-19 pandemic had hit the Cricket Club very hard.
"The club lost a lot of its elite skaters and with the training environment changed, most of the skaters at the club were much younger, and there weren't as many elite kids (training there)," she explained.
Murdock said another reason for her decision was that she had trouble getting consistent technical advice with the coaches being gone a lot for different seminars, competitions and vacations.
Despite the setbacks she encountered in Toronto, Murdock was still grateful for her time at the Cricket Club.
"Tracy (Wilson) and Brian (Orser) were extremely supportive throughout my time at the club, and it was amazing to have the opportunity to work with them," she remarked. "I grew up a lot while I was under their guidance. They allowed me to make my own decisions when it came to training and my needs, which I am grateful for. I learned how to be more independent and create a training schedule that worked best for me."
In July, Murdock moved to Colorado Springs to work with Tammy Gambill and Damon Allen at the World Arena.
"I love working with Tammy and Damon in Colorado Springs," Murdock said of the move. "Tammy has created an amazing team here, and they all bring great qualities. The training here is much more intense, and the coaches are very focused on helping us improve."
Regardless of her new training environment, Murdock still lists Tracy Wilson as one of her coaches. She said Tracy was supportive of her finding a new environment and helped her when she expressed her concerns at Cricket.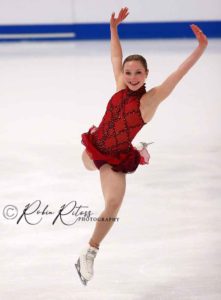 "I will always appreciate her guidance and support and hope to always have her as part of my team," Murdock said. "I never officially "left" the Cricket Club and she (Tracy) will always be part of my training. Tracy has taught me so much, and I am so grateful for her."
Murdock is still working with David Wilson, who had already choreographed both her 2022-2023 season short program and free skate before she moved. The two do touch-ups on the programs once a week via Zoom. Murdock said she's grateful that she can still work with him while she is in Colorado.
"I absolutely love working with David," she said. "He is so creative and has such as amazing presence."
For her free skate this year, Murdock will be skating to the music from Romeo and Juliet.
"I have always wanted to skate to Romeo and Juliet, but was waiting until my skating matured," Murdock admitted. "I love what David and I created and find the theme of star crossed lovers very special."
Murdock's short program is the music from both the 1961 and 2021 films of West Side Story. The program holds a special significance for Murdock as she is dedicating the program to her grandparents.
"I wanted to do a piece of music that my grandparents would enjoy," noting that her grandmother came to the U.S. at seventeen from Nicaragua, and that her grandfather's ancestors came to America from Germany. "Their story felt very similar to that of West Side Story, and they always loved the music from the film. I love that I get the opportunity to skate to music that they enjoyed and also tells the story of their love and the magic of America."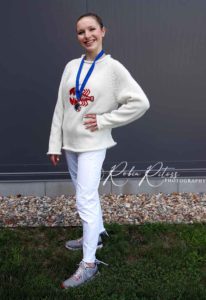 Murdock had a busy summer and early fall competitive season as she chose to participate in five National Qualifying Series events. She opened the end of July at Glacier Falls. In August, she won the Cranberry Open senior women's event. Then in September, Murdock competed three weeks in a row — Middle Atlantics, Sept. 9-10; Pasadena Open, Sept. 17-18 and  Austin Autumn Classic, Sept. 23-24.
Now Murdock will compete at the Midwestern Sectional Singles in Lansing, Michigan, Nov 7-12, hoping to qualify for the U.S. Championships in San Jose in January. She knows qualifying for Nationals isn't going to be easy.
"There are a lot of good senior (women) this year, so it will be a difficult journey making it back to Nationals," she admits.
Along with qualifying for Nationals, Murdock is also hoping to return to U.S. Figure Skating's International Selection Pool (ISP) and be able to represent the U.S. internationally again. The last time she competed internationally was at the 2019 Junior Grand Prix in Lake Placid.
"I have a lot to tackle with my new coaching team," she admitted. "We are working our way towards getting me back into the ISP. I think it is most important to show U.S. Figure Skating consistency in my performances and that I am back on the scene."