By Gina Capellazzi, website administrator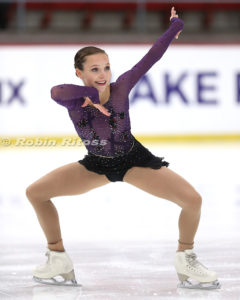 Emilia Murdock had hoped to make her senior U.S. nationals debut in Greensboro in January, but her season was cut short when she fell during practice and fractured her back just a few weeks before Nationals. The injury left her unable to compete at the event, ending her season. Then a few weeks after returning to the ice to start preparing for the 2020-2021 season, the 17-year-old from Darien, Conn. was forced off the ice again, this time due to the coronavirus pandemic.
While the 2019 U.S. junior bronze medalist, who trains with Mark Mitchell and Peter Johansson in Boston, is seeking out other ways to stay active and in shape during this time, she has also picked up some new hobbies to keep herself busy.
Figure Skaters Online is excited to welcome Emilia Murdock with the launch of her official website. You can check it out here: emiliamurdock.figureskatersonline.com. 
Figure Skaters Online: Where are you right now during this pandemic?
Emilia Murdock: Right now, I am in Key Largo, Florida with my mom, dad and my brothers. We have been here for more than two months now.
FSO: How has this time away from the rink been for you, especially since your season was cut short because of an injury? So how long has it been since you have been off the ice?
Emilia: Luckily, I was able to get on the ice for 3-4 weeks before the pandemic. My injury is completely healed and I am ready to start jumping once the rinks re-open. Although, I am very grateful for all the people I work with at Mitchell Johannson Method and for being able to train off the ice during this time. I have been doing ballet, off-ice rotations, pilates, strength training and yoga classes with my team. I have been off the ice for more than a month now, but I haven't been able to compete triple jumps since early January.
FSO: I'm sure it was disappointing to have to withdraw from your first senior Nationals. How tough was that decision? Did you still watch the competition?
Emilia: It was extremely disappointing to withdraw from my first senior Nationals. It was a tough decision, but it was my only decision after the doctor told me I had fractured my L4. The consequences of skating on a broken lumbar were too large that I had no choice but to withdraw. It was very hard to watch the competition knowing I could have been there, but I think it motivated me, even more, to heal faster and get stronger for next season.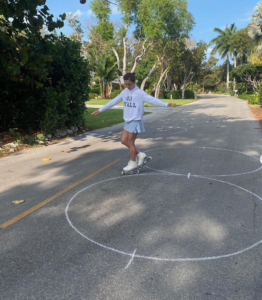 FSO:
You have been using the pic skates (wheels for figure skates).  What has it been like using them to keep yourself in shape while you are away from the rink? How different are they from your figure skates?
Emilia: Pic skates are extremely different from my figure skates. Although it is fun to skate around in them, they are very dangerous and you have to be very conscious about where you skate. They have been a lot of fun though and I am very grateful to have something that resembles skating during this time.
FSO: What other things have you done to stay active and in shape? What have you learned during this time?
Emilia: I have been doing a lot of ballet, pilates, yoga, strength training, and off-ice rotations during this time. I have been grateful for this time to improve my mobility and strength before getting back on the ice. I have also been trying to find interests in other things like cooking, drawing, meditation, and reading, to be used as an outlet once the season starts again.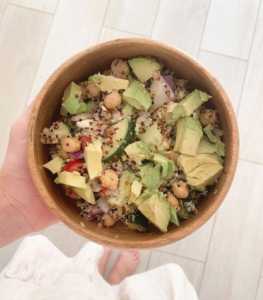 FSO:
Tell me about your Bon Athlete blog and Instagram accounts. What sort of things are you posting and why did you decide to do this?
Emilia: I decided to create Bon Athlete to give more resources to young skaters who, like me, our interested in how to fuel their body for our sport. As I was progressing through the levels of figure skating I found that there wasn't much information on sports nutrition for young female athletes and I wanted to give them more resources. I am still learning and growing on my nutrition and love providing young athletes with what I learn.
FSO: Have you thought about next season and programs?
Emilia: Yes, I have already planned out my goals and have my new short program music for the season ahead. Yet, with the global pandemic, our schedules are a bit unknown and we can't plan until the impact of the virus has come to an end.
FSO: You have mentioned you are interested in pursuing journalism. What is interesting to you about journalism? Are you looking at different colleges for journalism?
Emilia: I am extremely interested in journalism because I feel as there are many stories in our sport that are still untold.  I am thinking about going to school for journalism and I am looking at many different schools that I will be able to major in journalism while balancing my training schedule.
Stay tuned to Figure Skaters Online for more on how our skaters are adapting to these unusual circumstances.  Read how Sean Rabbitt is getting creative during the coronavirus pandemic here. and how Bradie Tennell is 'living day-to-day' during coronavirus pandemic.