By Maura Sullivan Hill, Team FSO Staff Writer
Header photo by Ashley Lim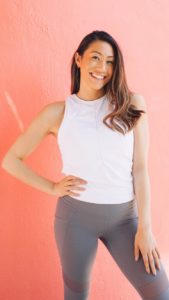 The rinks started closing in March, mandated by statewide shelter in place orders in response to the coronavirus pandemic. With spring competitions and ice shows cancelled or postponed indefinitely, coaches and skaters alike searched for ways to stay in shape off the ice.
Some were scrambling—creating new off-ice programming and offering lessons or workouts on Zoom—but not Michelle Hong, a coach based at the Oakland Ice Center in Oakland, CA. Hong has been sharing skating-specific tips, exercises, and workouts online for four years, since 2016. She has a website, YouTube channel, and Instagram account called Coach Michelle Hong, where she shares free skating content for all ages and ability levels.
"Figure skating is notorious for being one of the most expensive sports, which excludes a lot of people who genuinely love skating and want to  compete," Hong told Figure Skaters Online in a Zoom interview. "Reflecting on how much harder and smarter I had to train just to remain a contender amongst my peers who had daily lessons and more training resources overall, [that] lit the fire behind my idea to be the first person to ever create a free online platform dedicated to empowering all generations of figure skaters and athletes through full tutorials and tips."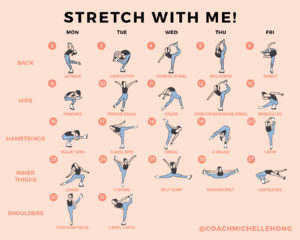 In March, as more and more rinks were closing, Hong shared a series of stretching videos on her Instagram and YouTube account, calling it "Stretch With Michelle!" Her already popular videos (her YouTube channel has 21,000 subscribers and she counts 33,500 Instagram followers) started getting even more views as skaters moved their workouts off the ice, and looked to maintain their skills. A 15-minute video with stretches to improve spirals has more than 4,000 views, and Hong's video about how to stretch to master the Biellmann spin has more than 8,000 views.
"So many people loved my "Stretch With Michelle!" series, and it just happened to come at the perfect time," Hong said. "So then I developed another program where people could look to my videos to strengthen other aspects of their off-ice skills."
The "Skate With Michelle!" videos—filmed on the floor in Hong's home—cover how to practice common jumps and spins off the ice, as well as workouts like plyometrics, which can help build strength for when skaters return to the ice. She's even filmed a few videos on Polyglide Ice—a synthetic ice company that got its start on TV's Shark Tank. And Hong says that this time off the ice could have benefits for skaters of all levels if they dedicate time towards off-ice skills in place of their normal skating time
"The jump technique videos are designated for everyone, including beginners and even those working on triples, because if you haven't mastered all the foundational  details to be able to do toe loop, then it's going to be difficult for you to add rotations," she said. "And my students who work on triples, tend to forget the little details from their basics, because they get so caught up in rotation. When you break down the mechanics and you work on foundational exercises, it makes a huge difference."
Coaches have also utilized her videos for off-ice classes and lessons for their students, and U.S. Figure Skating shared her channel as a resource while rinks are closed. Hong says that followers tell her the videos simplify concepts and are easy to understand—and that many of them are doing moves they never thought they'd master, like the splits or a Biellmann position.
"People send me before and after pictures," Hong said. "[And] I've been getting a lot of positive feedback from adults. My videos are not exclusive to young athletes, I want adults to know that they too can achieve their desired skating goals."
Plus, Hong also points out that "one of the biggest things in skating is being able to overcome any obstacles. And I truly believe the skating community will be able to come out of this pandemic with stronger mindsets. I think future obstacles that come towards a skater's way—whether they're late for practice, or their shoelace comes untied in the middle of their program, or they need to take a breather between sessions because they are frustrated—those little speed bumps are actually going to be so much more easy to manage having gone through this pandemic. ."
Prior to the pandemic, Hong's content focused on everything from how-to videos filmed on the ice to conquering competition anxiety. And the how-to videos run the gamut from bunny hops to triple loops, with spins, spirals, and moves-in-the-field tips mixed in.
"Every piece of content I create is a resource that I wish I had growing up," said Hong, who reached the U.S. Figure Skating senior level and competed nationally at the juvenile and intermediate level, as well as at sectionals and regionals at the novice, junior, and senior level. She also competed in college and was president and team captain of the figure skating team at the University of California at Berkeley.
Hong, whose parents came to the U.S. from Cambodia, says she "was able to relish in all that skating has to offer, but it came at a price.
"I witnessed how tirelessly my refugee parents worked to provide me with the best they possibly could. Nonetheless, we were consistently mindful of our expenses by trying to cut costs. That meant hand-me-down dresses, used skates, and limited private lessons," she said, recalling trips to the public library with her dad, to checkout tapes of ballet or Pilates workouts for extra training.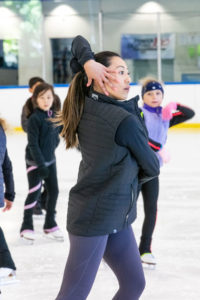 Hong counts people from Iran and India among her online followers, places where there is no access to ice rinks, and says she wants to shift the culture of figure skating to become more accessible and affordable. Hong currently works for U.S. Figure Skating as a Membership Growth Consultant to launch a revised bridge program called ASPIRE, that was created to provide accessible and affordable on-ice and off-ice group classes beyond the Learn-to-Skate Program levels. She has also worked with the nonprofit Diversify Ice Fellowship and Foundation, which supports minorities in figure skating with sponsorship and mentorship, partnering with Diversify Ice founder Joel Savary to host an Instagram Live session.
"My Cambodian American heritage has definitely shaped my mission," she said. "Regardless of what age, or background, you can still learn how to skate with passion and grit, even if that means less ice time and more off-ice axels."
For more from Coach Michelle Hong, visit her website, YouTube channel,  Instagram.