By Maura Sullivan Hill, Team FSO staff writer
Photos by Robin Ritoss; Engagement photo courtesy People Magazine
Skating fans are used to seeing ice dancers Madison Chock and Evan Bates in motion, whirling across the ice in one of their trademark acrobatic lifts or wordlessly embodying characters like aliens and snake charmers.
But at the start of the Olympic season last year, the on- and off-ice partners launched their own podcast, Unlaced with Chock and Bates, where they sat still each week to talk with each other, and to their listeners.
"It is a whole new world in the sense that what we do is so visual — people normally watch us move and they never hear what we sound like or what our thoughts are, unless they watch a press conference or read an article," said Bates, a four-time Olympian. "For fans to connect with us in a different way when they're hearing the podcast of our voices and thoughts every week, I thought that was really cool to show a completely different aspect."
On Unlaced, the partners chronicle their life on the ice — as repeat Olympians, three-time World medalists and two-time U.S. Champions — and off, where they are newly engaged and share life with their two dogs, toy poodles Stella and Henry.
"We were thinking about it [a podcast] for a little while, and we thought that it would be a great time to document our journey to the Games," Chock said. "So we thought it would be nice to start it at the beginning of the season and just take people along with us, and have an audio documentary of our own journey. It's a really fun time in our lives, so it just seemed like a good time to let people in on what we're doing and take them along on the journey."
Producing a Podcast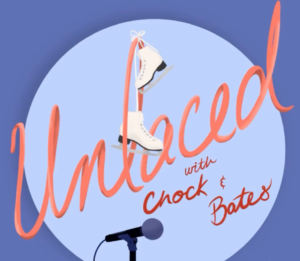 The duo works with the Bleav Podcast Network to produce the show, the same network that produces 2014 Olympian Polina Edmunds' podcast. The episodes cover everything from their personal recaps of competitions, to travel tips and tricks they've learned during more than a decade of competing internationally, to a behind-the-scenes look at their team of coaches at the Ice Academy of Montreal (I.AM). They also discuss how they create their costumes, plus holiday traditions and some of their personal relationship history.
In naming their show, Chock and Bates wanted it to reference both the on- and off-ice topics they would cover. "It is kind of difficult to name a podcast, and even figuring out what you want the artwork to be, all the little things that go along with creating a podcast that you don't initially think about when you want to make a podcast," Chock said. "But we had fun brainstorming names, and we wanted it to be about not just skating, so Unlaced kind of hinted at skating, but also the fact that we would be talking about things outside of our life at the rink."
Bates is their producer and handles the technical side of recording the show. Hearing the reigning U.S. Champion describe starting a podcast sounded a lot like the learning curve of choreographing and mastering a new program on the ice.
"At first, it was much harder and then we kind of got into a rhythm and it got a lot easier. We could knock out an episode, from concept to having it published, in just an hour or two. We were really in the routine of doing it," Bates said.
In thinking back to the first episode that they published while on the road competing at the 2021 Finlandia Trophy, he said, "We hadn't really done a trial run. It was kind of funny, because it was definitely technically much more of a struggle. And if I were to listen to it (now), I would cringe so hard. Getting used to your own voice, and having to listen back to it, edit it and put music behind stuff,  changes the way you think about speaking. At first, it was really difficult and took us a long time, and we were probably staying up late to finish it. Then by the end, it was pretty good."
Chock said it was fun to brainstorm topics for each episode: "We found ourselves reflecting back more on our adventures and events in our life, and that happened because of the podcast."
Connecting with Fans
Besides the opportunity for personal reflection that Chock mentioned, their podcast has also opened up new avenues to connect with their fans. At a Stars On Ice meet and greet, they met a family who was learning English and said listening to Unlaced with Chock and Bates helped them practice.
"We got a lot of people who asked us about it or said they listened to it," Bates said. "It was good, in many ways, that we got to connect with people."
A Busy Summer Hiatus from the Podcast
They took a post-Olympics summer hiatus from the podcast, while they were busy with travel for ice shows like Stars On Ice in the U.S. and The Ice in Japan, as well as a visit to Thailand as part of the annual ISU Congress.
Stars On Ice was back on the road after a two-year gap during the COVID-19 pandemic, and Chock said it was "wonderful" to be back on tour.
"To be able to spend so much time with our friends, it was really fun to bond even more through the tour and be able to perform for live audiences again. That was such a treat," Chock said. "At the first show, I remember standing behind the curtain with everyone, and then we just heard the audience go crazy when the opening music started. We got so excited, it was like a party starting and it didn't end until the tour was over."
After Stars On Ice, they headed to the ISU Congress for Bates to serve as the ice dance representative to the ISU Athletes Commission.
The role is a four-year term, during which his job is to make sure the athletes' perspective is heard by the voting members of the ISU as they consider rule and policy changes. Bates said that he takes the role seriously, making sure he was prepared for all the meetings and discussions by reading up on the new proposals and consulting with his fellow ice dancers on their opinions.
"I've learned so much from getting to attend the ISU Congress and seeing the sport from a whole different perspective and much more of a bird's-eye view, incorporating speed skating, short track and long track, synchronized skating and all of the disciplines," Bates said.
"There are so many important decisions that are made on that side that I think a lot of athletes don't often know about, or definitely don't often get a chance to participate in," he added.  "The athlete councils are a relatively new group for the ISU, only around for the last six years. So the incorporation of athletes at the table is really important, and I'm grateful for the opportunity to be serving, and it's definitely a big honor."
Celebrating Their Engagement
The team's trip to Thailand also included a celebration – they got engaged there on June 11, a date symbolic of their six-year relationship and 11 years skating together. Over the Fourth of July holiday, they traveled to Michigan, where they used to train and Bates' parents live, for an engagement party with both sides of their families. Chock's parents flew in from their home in California.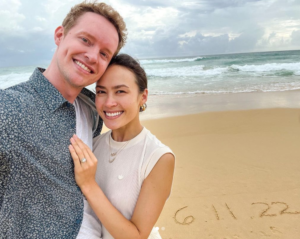 In addition to the celebrations with family and friends, their engagement also made headlines outside the skating world, with exclusive photos published in People Magazine.
"Part of me is surprised that our engagement photos are in the magazines for people to read about.  Ultimately, I think people like love and people like our story because it's a love story and a skating story, and I think maybe it resonates with people or it just makes people happy to hear about. So in that way, I'm very happy to share aspects of our lives with the public and hear back from people who say that our love inspires them. I think that's kind of the point of wanting to open up and share with the public those kinds of more private moments."
Back on the Ice, and Back to the Podcast
Season two of Unlaced with Chock and Bates will kick off with the start of their new skating season this fall. While many of their Ice Academy of Montreal training mates have either retired or are taking a year off, Chock and Bates will be back on the competitive circuit. They've been assigned to Skate America in Norwood, MA, for their first Grand Prix of the season, which will take place Oct. 21-23. They'll also compete at NHK Trophy in Sapporo, Japan, from Nov. 18-20.
Chock and Bates declined to share their new programs, which they started working on when they returned to Montreal at the end of June. They did say that they are still inspired to create new material with their coaches – even with a bit of a different environment in the training rink.
"It was a bit daunting to restart the creative process after the Olympic letdown and huge tour, and lots of friends and other people moving on, retiring from competitive skating," Bates said. "We showed up back at the rink, and it was a weird reality for a few days to adjust to all of those changes. After a couple days, we were like, oh yeah, this is so fun, we love this. We're getting to be creative and work with our team, Marie-France [Dubreuil], Sam [Chouinard], Patch [Lauzon] and Romain [Haguenauer]. We remembered again, this is our thing. We really are enjoying it still and definitely still passionate and moving forward."
Chock echoed her fiancé, saying: "Every day we train, we unlock a little something new that wasn't there before; that's a really fun feeling and we're going to chase that. We really do enjoy learning. I think that's what makes every day so fun. We're just curious people and we just want to keep learning. If you're open to learn, you will learn."
The team acknowledged that there was "a little bit of sadness" with the retirement of their longtime U.S. teammates Madison Hubbell and Zachary Donohue, as well as the hiatus of Olympic Champions Gabriella Papadakis and Guillaume Cizeron of France.
"There are also other surprisingly fun moments like today, Guillaume was at the rink coaching. We got to do some stroking with him for 15 minutes and he was teaching the whole group of skaters on the ice," Bates said. "I know Madi [Hubbell] and Adrian [Diaz, of Spain] are now coaching with Scott [Moir, at the I.AM location in Ontario]. They're going to come [to Montreal] in a couple weeks. I'm excited to see them as coaches. It's really a new dynamic and totally new chapter."
You can follow along with Chock and Bates in that new chapter – and as they plan a wedding – when new episodes of Unlaced with Chock and Bates premiere this fall.