By Matteo Morelli, Team FSO contributing writer
Photos by Seán Gilles, Matteo Morelli and Matteo Guarise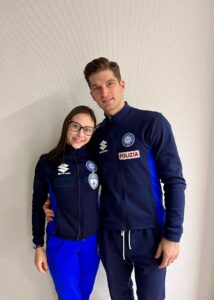 Lucrezia Beccari and Matteo Guarise have recently joined forces to become a new strong pair for Italy. Team Figure Skaters Online (FSO)'s Matteo Morelli met them at this year's European Championships in Espoo, Finland. Europeans was only their third competition together, but the three-time Olympian Guarise and ex-single skater Beccari are already seeing the results from their training together over the last few months. They told Morelli about how they joined forces, what they want their partnership to look like and how they plan to work towards their goals for the future.
FSO: Lucrezia and Matteo, it is a pleasure to talk to you. You are a new partnership and have been working together for a few months only, with this European Championships being your third competition together. After a seventh place finish at this event, what are your reflections and learnings from it?
Lucrezia Beccari (LB): This was my first ever European Championships. It was all new for me, not only the type of competition but also to do this in pairs, which I have started only six months ago. It was strange but very nice, I lived this experience in full and had a lot of fun.
Matteo Guarise (MG): We need to have more experiences like this. We were ready, we were prepared and were skating clean programmes, but when we arrived here at this big competition we had to deal with our lack of time together as a team. We are not super happy about the performance, but we have to start somewhere! There is a lot of potential for us as a team, we have done so much in such a short amount of time. We really don't have any issues with any of the technical elements, we only need to put everything together and get that confidence and speed we need.
From their past experiences to a new project together
FSO: Lucrezia, you were a single skater before switching to pairs. What made you decide to change, and what did you bring with you from your previous experiences?
LB: I have always been interested and liked pairs since I was a little girl. I also tried it in the past, but had an injury and decided to focus fully on single skating. Last year, I decided to change because I had a lot of physical issues that affected me on the ice and in all my competitions. I was feeling low, both physically and mentally. I instantly decided that I needed a drastic change, and I immediately thought about pair skating as an option. Matteo asked me if I wanted to try out skating with him, which I agreed to do and then we started to seriously work together.
FSO: Matteo, skating has always been in your life, with many years of experience starting with roller skating, then switching to figure skating in pairs, with many competitions under your belt and three Olympic Games (Sochi 2014, Pyeongchang 2018 and Beijing 2022). How are you approaching this new partnership with Lucrezia?
MG: I started to roller skate at the age of four and skated for ten years with my roller skating partner Sara [Venerucci]. I then switched to figure skating and was with Nicole [Della Monica] for ten years. I am feeling really well physically, and this is pushing me to continue skating. I have always had a really good lifestyle, training a lot and working with good teams. I am not afraid to face this project. Lucrezia can give me a lot. With Nicole, after so many years we got used to some dynamics and habits that were difficult to change, while with Lucrezia everything is new, we have to discover who we are, what we want to communicate when we are on the ice, and this really motivates me. I also like that there is still a lot to learn. Since we have started to skate together, I have changed my technique and other things. The experience I had before is and always will be part of me, but now I am ready to start this new chapter of my life.
Working towards their goals
FSO: To embark in this new project, you are surrounding yourselves with new coaches and teams that you train with.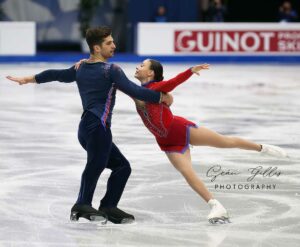 LB: I was already training in IceLab [the Italian centre of excellence in Bergamo] before, so it didn't really feel like a big change for me, if not that I am now a pair skater!
MG: I had to change my entire team and it isn't easy. You get used to what you have been doing for so many years, with your coach [with Della Monica, he was coached by Cristina Mauri] playing a big role in your development. I will need some time to find these certainties again. My new team at IceLab is very competent, solid and complete. I was used to working with one coach and some specialists in the background to help, while at IceLab, there are several coaches that work together with us. It looks like it is the same thing but it is quite different, as this also means that there is something that one coach can give and the other one can't, they complement each other.
FSO: You mentioned your former skating partner Nicole Della Monica, who was at the European Championships as the team leader of the Italian team. What does it mean to have her with you at this event?
MG: To me, it is absolutely essential to show that Nicole is with us on this new project. It means a lot and sends a strong message out. In life, people take different directions, but we have to remember the journey together with a smile. It is very important to have Nicole next to me, she is not only a team leader for us but she also comes visit us during training and she is my manager in the police forces. We have this relationship where every week we can have a nice chat.
FSO: Being a new team, have you already made any specific plans and agreed on objectives for the future?
LB: Surely we are looking at the next four years, with the 2026 Milano Cortina Olympic Games in mind. We only need to add those technical elements that I am still missing, but we are also thinking about more important elements, like a quad twist and a throw quad Salchow: we would like to try them. The Russian teams are not around now, but they will be back at some point and it will be important to be competitive over the next four years.
Team Italia enjoying a strong season with three pairs at the top
FSO: This is proving to be a strong season for Team Italia. In the pairs field, Sara Conti and Niccolo' Macii made history winning a bronze Grand Prix Final medal and this year's European title, followed by Rebecca Ghilardi and Filippo Ambrosini winning a silver European medal and a gold at a Grand Prix event. With all three teams in the top ten at the continental event, the Italian Federation will have to pick only one team to represent the country at the next World Championships in Saitama, Japan. How do you feel about being part of this great moment for the Italian team, and do you see this internal competition as a positive one for you?
MG: Absolutely. We all train together [at IceLab], we know what everyone does, we see each other and it is a big incentive for us. I was used to training with Nicole only, but for Lucrezia and I, it is very important to be with our training mates: it stimulates us a lot and allows us to accelerate the learning process that we need to go through. We need to find our dimension: the downside of training all together could be that we end up all being the same, so what we have to do is to find our direction, including doing different elements, different skating style, expressing something different. We have an important age difference [Matteo is thirty-four years old, while Lucrezia is nineteen] and it is difficult to understand what we can communicate on the ice. I think our partnership could be an interesting one, something that only a few people can do, having skaters from different generations getting together to create something new.
FSO: Matteo, you recently got married to Carolina Moscheni [now a retired ice dancer], congratulations! How did you manage to have this happening between competitions?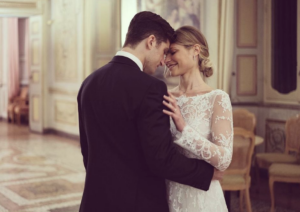 MG: We only have one spot for Italy at the World Championships this year and of course it won't be ours. We are going to take a little break after the European Championships, with Carolina and I going on our honeymoon. Lucrezia and I will have a lot of time to work: we have been skating together for six months, but the 'real' work was more over the last three months, as the first part of our work together was to hold hands and get used to each other. We will focus on our summer preparation to be ready for the next season.