By Gina Capellazzi, Team FSO website administrator
Contains reporting from Anne Calder
Having a son or daughter qualify for the U.S. Championships is pretty exciting for any parent. The 2023 Nationals was extra special for parents, Holly and Tony Flores. That's because both of their daughters, Isabella (Bella) and Olivia (Liv), competed at the event that took place in San Jose, California in January. And that's not all – Olivia competed in two disciplines during the 7-day event.
Isabella, the eldest of the Flores sisters, made her senior Nationals debut with her new partner, Ivan Desyatov in the ice dance event, while little sister, Olivia, competed in the junior women's event as well as junior pairs with her partner, Luke Wang.
How it all started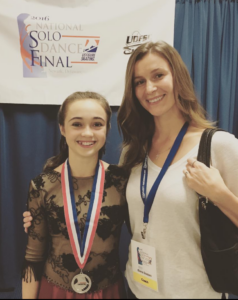 As the oldest, Isabella was the first of the Flores sisters to start skating. She was four when she first stepped on the ice at a public session in Virginia. Yet, it would be another two years until she started taking lessons.
When Holly and Anthony, who met while serving in the U.S. Army, were assigned to Fort Carson in Colorado Springs, Isabella skated singles at the World Arena in Colorado Springs.
Then when sister, Olivia, was born in 2007, it wasn't long before both Flores girls were out on the ice.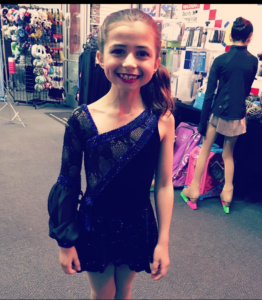 "She wanted to be like her sister," said Isabella.
"When you live in Colorado Springs, it's hard not to be a skater," Holly said, noting that the girls participated in U.S. Figure Skating's Learn to Skate programs.
Isabella and Olivia both started as single skaters, but in 2011, Isabella transitioned into ice dance after Elena Dostatni became the Director of Ice Dancing at the World Arena and hosted a dance seminar at the rink.
"When I started doing ice dance, Liv wanted to do her own thing, so she stayed with singles," Isabella noted.
"I think I enjoyed jumping and not so much into dance. That's just not my thing," Olivia added, noting that she did test some solo dance patterns.
Serious about ice dance
While Olivia continued with singles, Bella got serious about ice dance. With different partners over the years and with Dostatni as her coach, the 19-year-old jumped up the ranks, winning silver on the junior level at the 2021 U.S. Championships and competing on the Junior Grand Prix Series, winning two silver medals. But, unfortunately, Bella found herself without a partner in early 2022. She traveled abroad for a tryout.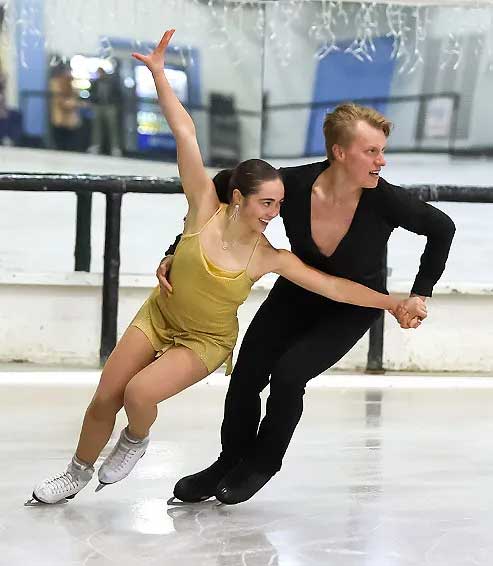 While she was away, Ivan (Vanya) Desyatov had gone to the World Arena Skating Academy for a tryout that did not work. He was not aware before he arrived that Bella was without a partner. The 22-year old from Moscow had represented Russia on the junior level from 2016-2021 and Belarus in 2021-2022. He remained in Colorado Springs and skated alone while continuing to have tryouts.
When her partnership search ended after two months overseas, Bella returned home. Since both were in the midst of major transitions, the duo began slowly, just practicing together. Three months later, Bella officially confirmed the partnership on Instagram.
"He is not like anyone I've skated with before," she posted. "We are opposites in many ways, but we both are fighters, and that commonality glues us together."
"From the first day I skated with Bella, I was very comfortable with her," Vanya told Ice-Dance.com in October. Even though I spoke very little English, she made it easier for me by speaking with simpler words. Sometimes when she tells me something I don't understand, I just smile and nod my head."
At the end of September, Bella and Vanya made their competitive debut at the Challenge Cup, a U.S. Figure Skating National Qualifying Series event in Philadelphia, where they won gold. Their next competition would be the U.S. Dance Final in November.
Adding pairs to the mix
While her sister was overseas, Olivia was working as a singles skater with Janet Champion and Erik Schultz. But then one day in February, she got a bit of an unusual text message from her sister.
"I got a text from Bella saying that Natalia [Mishkutenok] asked if I would be interested in doing pairs," the 15-year-old recalled of the text. "I was like, 'Yeah, sure.'"
Mishkutenok was the 1992 Olympic champion and 1994 Olympic silver medalist with her pairs partner, Artur Dmitriev. She is a coach at the World Arena Skating Academy.
Meanwhile, Luke Wang was skating singles in Maryland. During the 2019-2020 season, the 18-year-old moved to Wilmington, Delaware to train under the leadership of Viktor Pfeifer and his team, Ronnie Biancosino and Irina Romanova.
That season, Luke finished third in novice men at the 2020 Eastern Sectional Singles Final and had attended the inaugural High Performance Development Camp in Greensboro, North Carolina in January 2020.
The following season, he finished sixth on the novice level in the virtual U.S. Championship Series and was named to the High Performance Development Team. In May 2021, when Pfeifer moved to Colorado Springs, Luke returned to Maryland and began virtual lessons with Pfeifer. While he was doing the virtual lessons, pairs coach Drew Meekins showed interest in Luke as a pairs skater. Pfeifer shared that information with Luke.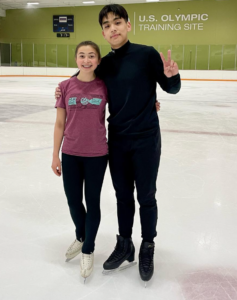 "Because I was still in senior year of high school, I didn't necessarily have the chance to go out to Colorado to try out," Luke explained. So I put down the idea for that entire 2021-2022 season and continued training singles."
While continuing his FaceTime lessons, Pfeifer introduced Luke to Mishkutenok, who also expressed interest in him as a potential pairs skater.
"This made me really consider the option of trying out pairs," Luke said.
Luke debuted on the junior singles level for the 2021-2022 season. When his season came to a close, during his spring break in April 2022, Luke gave it a go and flew to Colorado to give pairs a shot. He would have a tryout with Olivia.
"I knew nothing about pairs and couldn't do any of the elements yet, but it was an eye-opening experience—one that was definitely influential in my decision to commit for this season," Luke shared.
"Liv and I learned pairs together," he added. "It was like a very new beginning for both of us. First of all, working with someone else by your side every day, but also learning a new discipline."
At the end of May, once he graduated from high school, Luke moved to Colorado to begin pairs. He and Olivia officially became a pair team in June, working with Mishkutenok, Meekins and Danny O'Shea. Their first competition was the Cup of Colorado in August, which was a national qualifying series event for the U.S. Pairs Final.
Though adding a new discipline to their repertoire, Olivia and Luke continued skating singles. They both competed in national qualifying series events in the summer and fall and qualified for the Midwestern Sectionals in November.
Being in two places at once
The start of November was a busy one for the Flores family. Bella and Vanya were heading to the U.S. Dance Final, while Olivia and Luke were heading to the U.S. Pairs Final and Midwestern Sectionals. The only problem – the competitions were taking place the same weekend in different states. Holly headed to the Skating Club of Boston with Bella and Vanya, while Tony followed Olivia and Luke to East Lansing, Michigan.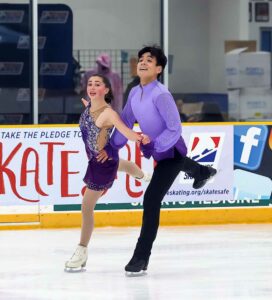 "It was new in a sense that I was solo," Tony explained. "I love to go and be present when I can, but in this case I helped shepherd support for Luke and Olivia as well as their coach. It was rewarding to watch these guys compete."
In Michigan, Olivia finished second in the novice women's event, which based on the advancement criteria qualified her for the junior women's event at the U.S. Championships. Luke finished in 7th in the junior men's event. In the junior pairs event, Olivia and Luke finished in fourth place, qualifying them for the junior pairs' event at the U.S. Championships.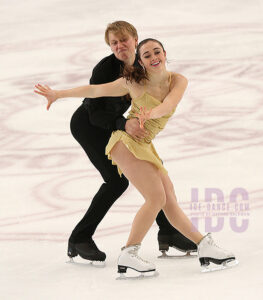 Over in Norwood, Bella and Vanya finished second in the senior dance event, which meant they would also be heading to the U.S. Championships.
Despite the distance between them, the Flores family was able to stay connected to both events.
"We were glued to our phones watching each other," Holly said. "Fortunately, technology makes it a lot  easier to watch what's going on."
"We were watching some of our teammates compete in Massachusetts and then like, immediately after, we were turning it on [Peacock] to watch Liv and Luke skate," Bella explained.
"It does make it nice to have the ability to watch one another," Tony added. "I don't think the technology was there so much before and now it does feel that though we were in different cities, we were still kind of…"
"…not just looking at the score, but we had to watch," Holly finished.
'It was definitely exciting," he added.
An unforgettable week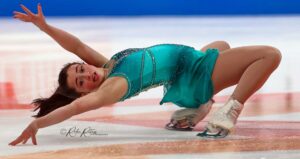 In January, things got easier for the Flores family with both daughters competing under the same roof in San Jose at the U.S. Championships, but it was a marathon of a week. Olivia and Luke kicked things off with the junior pairs short program Tuesday. Then on Wednesday, Olivia competed twice with the junior women's short program in the morning, and the pairs' free skate in the afternoon.
"It was nice because my singles event was pretty early in the morning," she explained of the two events. "Then as soon as I got off the ice, I had a pairs' practice like 20-minutes later. Someone told me that the minute you get off the ice, the moment you put your guards on, that's when you are done, and that's when you have to mentally start moving on to the next thing. So I think just keeping the mentality of staying in the moment, staying present is how I managed both events."
Olivia and Luke won the pewter medal.
On Thursday, both Flores girls took center ice, with Olivia in the junior women's free skate in the morning, and Isabella and Ivan competing in the senior rhythm dance in the afternoon. The Flores family got a break on Friday, and then Bella and Ivan wrapped up the week with the free dance on Saturday, where they finished in 10th place.
Though much of their time in San Jose was spent inside the SAP Center, Holly and Tony said watching both daughters compete at the national championships was unforgettable.
"This is a year that we'll never forget," Holly said. "It's definitely very special. We really have four kids out on the ice and (we are) super proud. They've worked so hard, and it's all about if you are willing to do the work, then we're willing to be there alongside them. I know what was put into it, and I'm really proud of all four of them."
Sisterly bond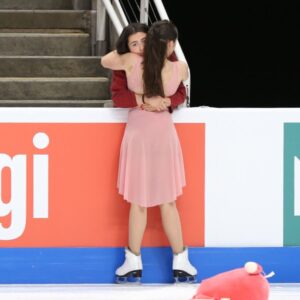 Though focused on their own dreams and aspirations on the ice, Bella and Olivia are very supportive of each other.
"I enjoy watching [her]," Bella said of her sister. "She's come a long way."
"I felt kind of nervous watching Bella [in her free dance]," said Olivia, who did run down from her seat to give her sister a hug at boards following their skate.
But their relationship goes beyond the ice. As young girls sharing a bedroom, the two would have dance parties in their room, which even included use of a strobe light. Even mom, Holly, would join in on their parties.
"We would just play the radio on our really old clock that somehow connected to the radio and we dance for like an hour or two instead of cleaning our room," Bella recalled.
Now those dance parties have morphed into choreography sessions. This season, Bella choreographed both programs for her little sister and Luke.
"Liv and Luke were new to pairs at the beginning of the season, so their coaches approached me to choreograph the programs so that they would have more time to work on pair skills together," she explained.
So Isabella choreographed their "Once Upon a December" by Christy Altomare short program and "Chronicles of Narnia" by Harry Gregson-Williams free skate. She said that she pretty much just shaped the programs, then Meekins, Olivia and Luke modified the programs throughout the season.
"It was really cool to choreograph a program that was performed at a national level," Bella said. "It's always easy coaching/choreographing Liv. I've been "coaching" her since we were young and she could barely do a crossover, and since she's my sister I can put her in her place when she's not listening. But that's pretty rare. Liv and Luke are both super eager to learn, and it made choreographing their programs really fun." she added.
What's next for the Flores girls?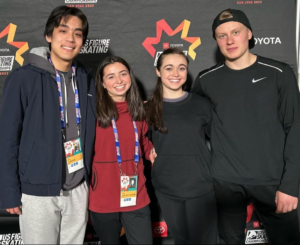 The 2023 U.S. Championships marked the end of Bella and Vanya's first season together.
"We've got an offseason ahead of us and a lot of work ahead, but I think we're gonna have some conversations about what changes need to be made, and we'll come back stronger," Isabella said of their future plans.
While Bella and Vanya are looking ahead to their sophomore season, Olivia and Luke's first season as a pairs team isn't over just yet. The two were added to U.S. Figure Skating's International Selection Pool (ISP) and will compete in their first international, the 2023 Challenge Cup in Tilburg, Netherlands, Feb. 23-26.
"Going into Challenge Cup, we're looking to make a statement for ourselves and for our journey thus far," Luke said. "We merely touched the surface of our potential at Nationals a couple weeks ago, and we believe we still have lots to show. We're hoping this international debut will give us experience and honestly, we're just ready to have tons of fun representing Team USA!"
And back in Colorado Springs, Olivia and Luke will have a team cheering them on.
---
Photos courtesy of Flores Family, Natalia Mishkutenok, Ice-Dance.com (Daphne Backman and Melanie Heaney) and Figure Skaters Online (Gina Capellazzi and Robin Ritoss)