By Rylie Smith, Team FSO contributing writer
Photos by Robin Ritoss
The 2023 ISU Four Continents Championships took place in Colorado Springs, Colorado, Feb. 7-12. The annual event features athletes from the Americas, Africa, Asia and Oceania. Like most years, this year, there were many twists and turns in each event, with many exciting athletes and programs. However, many athletes also struggled with competing at the altitude. 
Women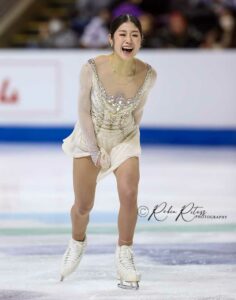 The 2023 event kicked off with the women, which consisted of quite a few familiar faces. Haein Lee and Yelim Kim of Korea finished first and second, respectively, and Mone Chiba of Japan finished in third.
In sixth place after the short program, Lee executed seven clean triple jumps in her free skate to win the free skate and claim the gold medal. Lee became the first Korean woman to win the title since Yuna Kim won it in 2009. 
"I'm so happy right now," she said about winning. " I always try to do my best. Last year I got the silver medal at Four Continents. But this year, I tried not to focus on the final results and just on the training. I think I well, and I'm so happy right now. I really didn't expect the first place. I just wanted to medal."
Lee will now focus her attention on the World Championships in Saitama, Japan next month, where she's hoping to put out two clean programs. 
"I want to keep training hard for my two programs and get my level four for my spins and step sequences," she added.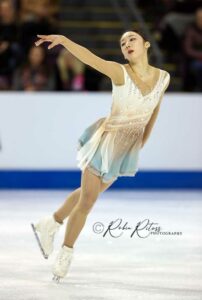 Kim had a fully clean short program to claim the small gold medal. However, 20-year-old had a slightly more difficult time in the free, getting negative GOE on her triple Lutz-double toe-double loop combination and doubling a planned triple Salchow to finish third in the free skate, and drop to second overall.
"I made one mistake at the last jump, so I'm a little sad about that," Kim told the media following her skate. "Starting this morning, my back was hurting, so I'm just very thankful and I just focused on what I practiced."
Kim, who won bronze at Four Continents last year, will also represent Korea at the World Championships. 
"I really want a clean program at Worlds, and I will work hard," she said.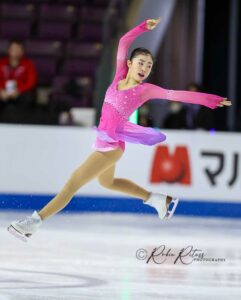 In seventh place after the short program, Chiba earned a new personal best score in the free skate to jump up to third place overall. Four Continents was Chiba's first ISU Championship event.
Chiba was satisfied with her third-place finish, sharing, "I landed all my jumps and did my best. I am so glad." 
Chiba's next competition is Coupe de Printemps in Kockelscheuer, Luxembourg in March. 
South Korea's Chaeyeon Kim, Japan's Rinka Watanabe and USA's Bradie Tennell finished fourth, fifth and sixth, respectively. Each expressed being a bit sad about their performances, but hope for improvements at Worlds.
Pairs
The pairs' discipline was the next discipline to be awarded medals at the Four Continents Championships. Riku Miura and Ryuichi Kihara made history by claiming the first ISU Championship title in pair skating for Japan. Miura and Kihara had a nearly perfect short program, aside from a fall on the triple toe from Miura.
She shared after the short program, "I was nervous and therefore I made the mistake. I will try to switch my mindset for tomorrow. Although I made a mistake we were able to score higher than 70 points. That shows what we've been accumulating in the past and I think it's a proof of how we grew."
The free skate didn't go quite as they would have liked with negative GOE on three elements, but they shared the altitude change was difficult to adjust to, as it showed difficult for many skaters in the event.
The pair recently won the Grand Prix Final and are the 2022 ISU World silver medalists.
2023 U.S. silver medalists Emily Chan and Spencer Akira Howe took home the silver medal with a stunning free skate that moved them up from third after the short program to second overall. Both expressed their joy in the placement, and Chan particularly noted that confidence was key after the free.
Chan shared, "It was a special moment for both of us. The biggest takeaway for us both is just to have confidence in ourselves and believe in each other and go out there and give it our best effort."
Chan and Howe have had a great season, earning silver at both NHK Trophy and Skate Canada and qualifying for their first Grand Prix Final. They will make their World Championship debut in Saitama next month.
2023 Canadian national champions Deanna Stellato-Dudek and Maxime Deschamps, who were in second after the short program, finished in third, making just a few errors on the throw triple flip and triple salchow in the free skate.
"Our performance felt pretty good. It was a good stepping stone for us and a good climb up for Worlds," Stellato-Dudek said. "It was our goal to be on this podium, so we're really happy about it. We're just trying to improve our skates and improve our score going into Worlds. We had an illness for three months that really put a dent in our training, so we're just trying to build back up. We really want to be part of the team that qualifies three spots again for Canada for the following season, and of course our goal is to be on the podium."
Canada's Lia Pereira and Trennt Michaud, who are competing in their first season together, finished in fourth place. They will also compete at the World Championships next month. Team USA's Valentina Plazas and Maximiliano Fernandez finished in fifth in their final competition of the season. Fellow Americans Ellie Kam and Danny O'Shea finished in sixth place and will now prepare for the World Championships. 
Men
In the men's event, Japan's Kao Miura, Canada's Keegan Messing and Japan's Shun Sato finished first, second and third respectively.
Miura delivered two nearly clean programs, just struggling on the quadruple Salchow in each program. The 17-year-old, who was the youngest competitor of the men's event, earned a new personal best free skate score and a total score to win his second consecutive Four Continents medal. Miura won the bronze medal at Four Continents in 2022.
"I'm very proud of myself for putting out the performance that I did today," Miura said after his free skate.
In first after the short program, Miura was last to skate in the men's free skate. Ahead of him was Messing, who delivered one of the best performances of his career, which brought the crowd to its feet inside the World Arena in Colorado Springs. Miura said he looked at Messing as motivation.
"Just before I went on the ice, Keegan put out an amazing program," Miura said. "The atmosphere was different and he gave me a lot of energy, so I was able to really skate well.
Miura will now compete in two weeks at the ISU World Junior Championships in Calgary, Alberta, Canada.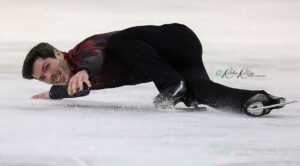 Messing, who was the oldest man in the competition, produced a quad toe-double toe, another quad toe as well as six triple jumps in his free skate and scored the highest PCS of the men's event in each program. The 31-year-old earned personal best short program, free skate and total scores to win the silver medal, his first ISU Championship medal. This is Keegan's final competitive season.
"I am beyond stoked for how I skated today. This is my first championship medal. It took me 28 years of skating to get here," Messing said.
In sixth place after the short program, Sato rallied in the free skate to claim the bronze medal. The 19-year-old's free skate included a quad Lutz, quad toe-double toe, quad toe and five triple jumps. Sato has had a particularly notable season this season — medaling at both of his Grand Prix assignments and qualifying for the Grand Prix Final, in which he finished fourth. He also finished in 5th place at the World University Games.
"Still this season the short program is not consistent, I'm having problems with it. I still have one competition left and I want to make sure I nail a perfect short program," he said.
Sato will compete at the Challenge Cup in the Netherlands in a few weeks.
Korea's Junhwan Cha, who was in fifth after the short program, just finished off the podium in fourth place. Kazakhstan's Mikhail Shaidorov, who was in 12th place after the short program, and Korea's Sihyeong Lee, who was in 14th place, rallied in the free skate to finish in finished fourth, fifth and sixth.
Dance
The dance event closed out the 2023 Four Continents Championships, with three-time World medalists and four-time U.S. champions Madison Chock and Evan Bates claiming their third Four Continents gold medal. For a recap of the dance event, visit ice-dance.com.