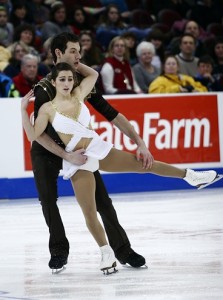 Marissa Castelli and Simon Shnapir finished the season on a high note by winning a bronze medal at the World Junior Championships in Sofia, Bulgaria.
Russia's Liubov Iliushechkina and Nodari Maisuradze claimed the championship. In an unexpected surge, Russians Anastasia Martiusheva and Alexei Rogonov moved from 11th after the short program to the silver medal.
Castelli and Shnapir, who have had a stellar season that including being the only American pair to qualify for the Junior Grand Prix Final, gave a solid performance to the "Gladiator" soundtrack that featured a triple twist, a throw double Axel and throw triple Salchow as well as difficult spins, for a season's best 88.37 points.
"We skated our best program we could have done," said Castelli, who like her partner has never skated at World Juniors before. "We didn't put in our triple (Salchows) and we didn't have as difficult elements, but with everything we did I think we did very well."
Shnapir missed the second toe in their double toe-double toe combination.
"I'd say we skated our best program of the season," Shnapir said. "I made a small mistake at the end of the program, but Marissa made it, and her throws were beautiful. We're very honored just to be up here at the Junior Worlds and to be skating with some of these great skaters that are sitting at this table."
All three medalists will compete as seniors next year. In the junior pairs competition at the 2009 U.S. Championships in Cleveland, Ohio, Castelli and Shnapir finished third behind silver medalist Brynn Carman and Chris Knierim.
Carman and Knierim, the 2007 U.S. Novice Pair Champions who are in their first junior season, ended up ninth in Sofia. They began their Western theme free skate with an excellent triple twist, followed by two double throws.
While the pair elements of their program were strong, including two Level 4 lifts, both had trouble on individual elements. Carman fell on the double Lutz and Knierim singled the flip.
In the men's short program, Adam Rippon of the United States became one program away from defending his World Junior Championship. Michal Brezina of the Czech Republic finished second and American Curran Oi placed third.
Performing to "Toccata and Fugue," Rippon nailed a triple flip-triple toe combination, a triple Lutz but he stumbled out of this triple Axel. He had three Level 4 spins while he earned a Level 3 for the straight line and a Level 2 for the circular footwork.
"I was really excited to come back here to Bulgaria. I had a lot of success here last year," the 19-year-old said, referring to winning his title last year on the same ice in Sofia. "To come back as the reigning champion —I haven't really thought about it. If I did think about it a little bit more there would have been more pressure that I just would have put on myself."
Rippon set a new personal best of 74.30 points with his performance. Brezina (69.55) and Oi (69.40) also set personal bests with their programs.
Oi, who was sixth in his senior debut at January's national championships, landed a triple Axel, triple flip-triple toe combination and triple Lutz. His performance to "The Phantom of the Opera" also included a Level 4 flying camel spin and change foot sit spin and two Level 3 step sequences.
"My goal again was really just to come here to skate well," he said. "It was great getting to come to Junior Worlds I've never been here before and it's a great privilege."
U.S. Junior Men's Champion Ross Miner is in ninth place. His Western short program included a triple flip-triple toe combination and a triple lutz along with two Level 4 spins.
The World Junior competition continues Thursday with the original dance and men's free skate.