By Gina Capellazzi, website administrator
Photos courtesy of Stageworks Worldwide Productions and Jordan Moeller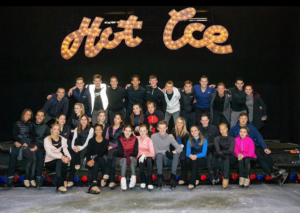 Most competitive figure skaters spend their summer training and preparing for the upcoming season. For four-time U.S. national senior level competitor Jordan Moeller, he's spending his performing in the Hot Ice show in Blackpool, England. During rehearsals for the show, Moeller took some time to answer our questions about the show, his future plans in skating and his life outside the sport.
Figure Skaters Online (FSO): How did you get involved with Hot Ice show in the United Kingdom. Did you have to audition? 
Jordan Moeller: Two years ago, Stageworks Worldwide Productions (the company that puts on Hot Ice) reached out to me via Facebook to see if I would be interested in being a part of the show. I had stated that I was going to focus on training and continue down my competitive path, but asked to keep me in mind for future years. They then reached out again late last year to ask about doing the show this year, and I, after another rough showing at the U.S. Championships [13th place] , decided it would be a good opportunity to rest and find enjoyment from skating in a different setting.
FSO: Hot Ice is a long-running show at Pleasure Beach Amusement Park in Blackpool, England. Can you tell us more about the show and its history at Pleasure Beach?
Moeller:  As you said, Hot Ice is a long-running ice show at Pleasure Beach, an amusement park in Blackpool, England. The show began in 1936 and is performed in the Pleasure Beach Arena, formally known as the Ice Drome. The show has featured Olympic Champions such as Jayne Torvill and Christopher Dean and Robin Cousins. This year's cast contains skaters from Russia, Czech Republic, Canada, England, France, Estonia, Poland, Mexico, Finland, Germany, Switzerland and the U.S. I'm one of three skaters in the show from the U.S. The two other U.S. skaters are Erynn Komes and Shelby Sylvester. This year's show is called "Utopian" and it runs through September 7, 2019.
FSO: As you said, this year's show's theme this year is Utopian. Can you describe what visitors will expect to see at this year's show? What are the sort of programs/music that you will be performing in?
Moeller: This year's show has a little bit of everything! The music consists of a wide range of genres, from classical staples to upbeat dance tracks that are sure to get you tapping your feet. I am in a wide range of numbers that are challenging me to expand my style.
FSO: What are the costumes like for this year's show?

Moeller: The costumes are quite amazing. Some are simple and elegant, while others are more extravagant and involved.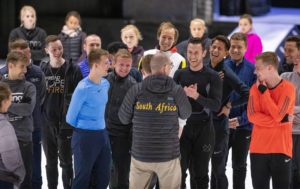 FSO: Will you be performing in group numbers? If so, what is it like to be a part of group numbers? 
Moeller: I'm performing in mostly group numbers. I have a couple of short solo parts, but for the most part, a lot of us will be skating together. Learning to skate together, specifically block skating, was certainly a process. I am fortunate that I had an introduction to it from edge classes that we would do in the mornings with Rohene [Ward], but it is still a challenge to make sure I am in the correct spot in a block of twenty (or more) people.
FSO: What has it been like to be in the United Kingdom? Is this your first time there? What have you seen and done outside of the amusement park and rehearsals/shows?
Moeller: This is in fact my first time in the UK! So far, I have really enjoyed it. Everyone I've met has been very warm and welcoming and the city of Blackpool has a nice, small town charm to it. I didn't have much time to go exploring with rehearsals, but now that we have finished rehearsals, I am expecting to have more time to get out and see the country. I will actually be staying a week after the contract is over in order to travel around with my sister and her boyfriend, so I am compiling my list of places to get to during that week!
FSO: What has the experience been like so far? What has the UK audience been like?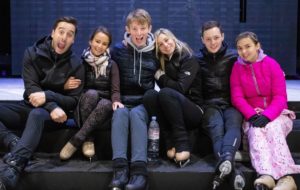 Moeller: The rehearsal period was unlike anything that I had ever experienced before. It was challenging work and I don't think my feet have ever been in skates for such a long period of time! While it was hard work, I had fun working with everyone to make this show the spectacular show that it is. The audience was incredible for opening night. Hot Ice is a large part of the Blackpool community and the crowd was so supportive. There were moments when I couldn't even hear the music because they were cheering so loud!
FSO: Switching gears to the 2019-2020 season–you choreographed another program for U.S. competitor Courtney Hicks. How did it come about? Can you talk about this year's program and what it was like choreographing a program again for Courtney?  Also, you have choreographed programs for yourself–how does it compare with choreographing for someone else? 
Moeller: Yes, I did choreograph another program for Courtney. Courtney had said that she liked the work we did on her short program last year ("I Found" by Amber Run) and wanted to work together again this year. We were just playing around with some music options and I had put on "Hide and Seek" by Imogen Heap and we both fell in love with the idea. Working with Courtney was a bit different this time around because, as I had choreographed for her last season, I was a bit more familiar with how she skated and what styles would compliment her the best. I find that, for me, this is the hardest part of choreography. Like you said, I had been choreographing for myself for a few years now. When I work with someone else, I have to take some more time and see that what might feel good and look good on me, may be different for another skater. I love the process of learning my own creative process and helping someone else create something magical.
FSO: What are your plans regarding competition? Taking a season off? Hanging the competitive skates up, or planning to compete when you return to the U.S.? 
Moeller: I will be competing this season! I am not sure what will be my first competition yet, but at the latest, I will be competing in November at the Midwestern Sectional Championships. My short program has been choreographed and I am going to be choreographing my long program while I am here in the UK.
Update on 8/19: Jordan will be skating to "Ease My Mind" by Ben Platt choreographed by Jeremy Abbott for his short program. For his free skate, Jordan will skate to "Adagio in G Minor" as performed by the London Philharmonic Orchestra. It was choreographed by Anna Matzuszewski and Jordan Moeller.
FSO: Your coach, Kori Ade, relocated to Nashville in February. Are you planning to relocate and train in Nashville with Kori upon your return to the U.S.?
Moeller: I am not 100% decided either way yet (if I will return to Colorado Springs or move to Nashville), but am hoping to find some clarity in my decisions while I am here in England.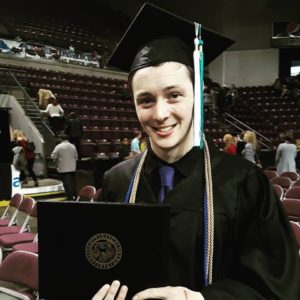 FSO: You graduated from the University of Colorado at Colorado Springs in December. Are you considering graduate school?
Moeller: I am considering going to law school at some point. I have met with several lawyers to discuss their day-to-day and, as of now, I am interested in pursuing some sort of career within the sport law field. I have begun studying for the LSATs, but other than that, I do not know when I will be attending law school yet.
FSO: Lastly, you held your annual One Skate at a Time show this spring. How did this year's show go and do you have plans for next year?

Moeller: I do have plans for another show. I have not set a date yet, but I am planning to continue my work with One Skate at a Time. 2019 was another successful year for the show. We all had a blast performing and the show itself went quite well. It ended up being a bit of a lower turnout, but we still raised more than $6,000 for Camp One Step and were able to send more kids to camp!
To learn more about Jordan, visit his official website at www.figureskatersonline.com/jordanmoeller