Header photo (2019 ISU Four Continents Championships short program) by Robin Ritoss; all personal photos courtesy of Brooklee Han
On July 1, 2019, Brooklee Han announced her retirement from competition on her social media platforms [click here to read her Instagram post]. Han represented Australia for her entire international career, starting in 2010 at the junior level through her seventh consecutive appearance at the 2019 ISU Four Continents Championships, where an injury in practice forced her to withdraw before the free skate. She competed at three ISU World Championships (2013-2015), the 2014 Olympic Winter Games in Sochi, Russia, three ISU Grand Prix events, and over twenty other senior internationals. In this second and final part of her interview with Figure Skaters Online, Brooklee Han shares personal photos spanning her entire career on the ice as well as stories from how she first started skating in New England to her experience of competing at the Sochi Olympics. To read part one of her interview, [click here].
*****
My skating career began shortly before my fifth birthday, when I began skating at a local rink near my family's home in Danvers, Massachusetts, but my love of the sport began much earlier. As a child I was very fortunate in that my parents exposed me to all manners of sport and art. My father was the Young Rider Reserve Champion of Australia and my mum worked for the U.S. Equestrian Team, so naturally I was around horses basically from birth onwards, but they also brought me to the ballet and the symphony. My favorite thing they brought me to, however, was Scott Hamilton's Stars on Ice show. My mum had grown up watching skating on TV with my grandmother and had skated on ponds as a kid, but neither of my parents were involved with skating as kids.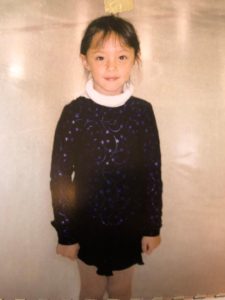 A story my mum likes to tell is from when I was about 2 years old and we were over at a friend's house for a dinner party. The kids were all in one room watching TV and all of a sudden I walked into the other room and proudly announced, "Scotty's on." Quite confused, the adults all walked into the TV room to see what on earth I was talking about and, lo and behold, Scott Hamilton was on TV skating. It was not too long after that I began begging my parents to go skating. Eventually they acquiesced and enrolled me in learn to skate classes at the local rink.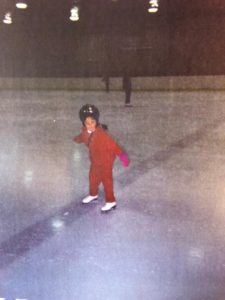 I do not have many memories from my early days on the ice. One of the rinks my mum would take me to for public sessions had a bit of a slope so I would work really hard to do forward swizzles up the one side and then I would fly down the other, as I rode the hill down. She also made me a pair of polar fleece pants with extra polar fleece sewn into the knees and bum as padding (photos, right and above, circa 1999-2000). As a result I never was afraid to fall and didn't understand why the other kids cried when they fell, as I believed falling didn't hurt. When I was about 6 years old I announced to my parents that I wanted to go to the Olympics in riding and skating and play my violin at Carnegie Hall, but I was going to focus on skating first because you had to do that when you were young.
I progressed through the early levels of skating at a fairly average pace and was successful at local events in the New England area (photo, left, of me pond skating in 2007), but like most kids, I hit a bit of a slump when I began learning my single Axel. Unlike most kids, however, it took me 3 years to get that single Axel. Obviously this was a very frustrating few years for me. Looking back I have no idea how or why I kept trying. I was a determined and stubborn little kid, I guess, well that or really dumb because one would think that taking three years to land a single Axel was a big sign from the universe that maybe figure skating was not the sport for me. But I persisted.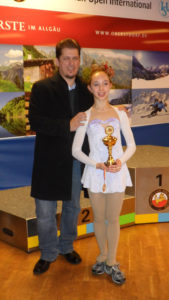 About a year after I (FINALLY) got my single Axel my coach at the time decided to step away from coaching to raise her daughter, so for about a year I struggled to find a coach to work with. Eventually, my family and I had, had enough and it was agreed I could go to a week of camp at the International Skating Center of Connecticut in Simsbury, Connecticut and then go to a low level championship event I had managed to qualify for and then I would be done with skating. At camp in Simsbury I ended up meeting Serhii Vaypan (photo, right, after winning my first international medal, junior silver, at the Bavarian Open in February 2011), who would go on to coach me from 2007 to 2016, taking me from a young skater with a single Axel and a few pathetic looking 'doubles' to three years later competing on the Junior Grand Prix (JGP) and eventually the 2014 Olympics. I still have no idea how we managed to pull that one off, but I guess my determination pulled through for me yet again. 
Although Serhii and I ended our coaching relationship in 2016 and I relocated to the Dallas, Texas area, I have been fortunate to work with some great coaches here in Texas including one of Serhii's childhood coaches, Evgeni Nemirovski (more on him at the end).
Despite growing up in the U.S., I have always wanted to represent Australia in international competition. My father never got the chance to represent Australia in international equestrian competitions, so I always hoped to fulfill his goal, albeit on the ice and not on a horse.
A lot of my favorite memories from my career center around the people I have met and friends I have made. Here are some of my most memorable: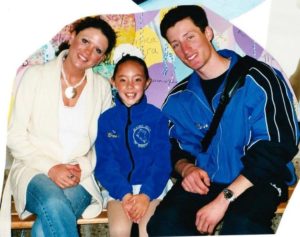 When I was 8 years old my family and I hosted Australian ice dance champions Natalie Buck and Trent Nelson-Bond (photo, left, in 2004). They were training with Natalia Dubova who was coaching out of a rink about 30 minutes from where we lived. Due to this I often got to work with Natalia, which was an incredible experience, especially for and 8 year old. She was the one who really inspired my love of performing and telling a story through my programs. (I can still here her yelling across the ice as I did my program, 'BRRRRROOOOKLEE, you must pick up the flowers. Now you must give them away.') During the summer, Natalia wanted me to skate on her private ice. This was a great honor, however, at the time Natalia had four senior international dance teams including, Nat and Trent, Loren Galler-Rabinowitz and David Mitchell, the top Chinese dance team and a top Russian team. This was back in the days of compulsory dances and original dance and one of the compulsories for the coming season was the Midnight Blues. The Midnight Blues is a great pattern dance to watch and in the corner there is a blues Choctaw finished off with a flair. Inevitably I would find myself in THE CORNER when one of the teams was running the pattern and would plaster myself on the boards and lean back as far as I could as free legs narrowly missed my head. Needless to say it was a stressful summer.
I began working with Serhii shortly after he moved to Connecticut from Ohio. My friend Elizabeth and I were his first full time students in Connecticut. Both on and off the ice Serhii ran a very tight ship and it was understood that Elizabeth and I were not to talk to anyone or each other during our training time. One day a little over a year after we started working with Serhii, Elizabeth and I were on the last session of the day and I was in a lesson. After months of trying I found myself upright and on one foot on a double Axel. Elizabeth saw it and came over to Serhii and asked if she could give me a hug, as she knew how hard I had been working to try and get my double Axel. Of course he said yes and we all had a big group hug in the middle of the ice.
Shortly after I began working with Serhii, we all realized that Serhii and I both got nervous at competitions, which was not a great combination, as ideally one of us would be calm and collected. We also knew that Serhii was very superstitious, so my mum, as only she is capable of, created a new superstition for Serhii. She had an old pair of socks with tiny cows on them, so she took them and created a list of why cows were lucky. At my next competition she gave them to Serhii and he laughed and said that we didn't need luck. Ironically enough I had a pretty bad event that day and when my mum asked if he had the socks with him, he said no. The next day I skated a much better program and when I got off the ice, Serhii pulled the cow socks out of his pocket. From then on cows were officially lucky.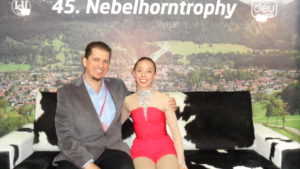 A few of my favorite lucky cow "omens" over the years have been the cow couch used in the kiss and cry at the 2013 Nebelhorn Trophy (photo, right), where I qualified the Olympic quota spot for Australia. They didn't put the couch in until the morning of the short program and when I saw it I burst into tears. I knew it was going to be a great week. My other favorite was in Latvia. In November of 2013 I went to Riga for the Volvo Open Cup and at that time Latvia was still using the Latvia Lat as its currency. I had had a rough practice after we arrived to Riga and I was not feeling good about the event. Serhii, my mum, my training mate, Teodora Markova of Bulgaria and I all went sightseeing and we parked our car in a parking garage. When we went to pay for parking my mum took out some coins and spotted a cow on the 2 Lat coin. All of a sudden the foreboding feeling in my gut disappeared. I went on to win the competition.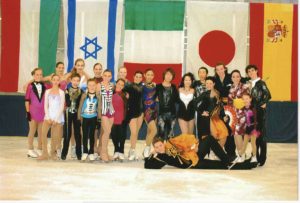 In Autumn of 2009, Nikolai Morozov brought all of his students to the International Skating Center of Connecticut in Simsbury, Connecticut, to prepare for the Olympic season. Nikolai had trained Shizuka Arakawa in Simsbury prior to her victory at the 2006 Olympics and he was hoping to invoke the same "Simsbury magic" for 2010. Prior to the start of the international season he decided to have a show, so his skaters could get their programs out. A handful of local skaters were invited to skate as well, myself included. At the end of the show we all took a group photo (see left), which I cherish to this day. I was so honored to get to share the ice with such incredible skaters as Miki Ando, Valentina Marchei, Nobunari Oda, Roman and Alexandra Zaretsky, Cathy and Chris Reed, Daisuke Murakami, and Javier Fernandez. While I dreamed of one day competing at the same events as these amazing skaters I never thought it would happen, but only three years later, I found myself at events alongside many of them.
One of the first people I met when I began competing internationally was my teammate, Brendan Kerry. Brendan and I would go on to compete at countless events together over the years, including two World Juniors, one Worlds, seven Four Continents and the 2014 Olympics. In 2010, Brendan and I did two JGPs together back to back. Our first was in Sheffield, England and our second was in Dresden, Germany. On the morning of the men's short program in Dresden I was leaving my hotel room, when Brendan came bounding down the hall. He was returning from an early morning practice. He came running up to me and was nearly giddy with glee. Immediately he shoved a video in my face: he had landed his first clean triple Axel on his practice that morning and was over-the-moon excited. To his dismay, I often enjoy reminding him of this story, as his enthusiasm and excitement were adorable.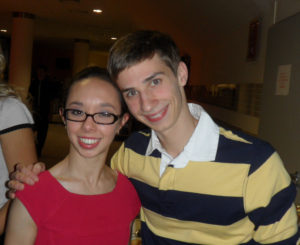 I remember first meeting Tim Dolensky at our first JGP together in 2011 in Sheffield. He, however, does not remember this, and believes our first "official" meeting was at 2012 World Juniors in Minsk (photo, right). Regardless of where we actually met (I know I am correct), I remember being immediately captivated by Tim's beautiful skating and innate ability to interpret his music, little did I know that six years later we would both be training in the Dallas area and he would be living with my mum and me. I am so glad that I got to know Tim better throughout the course of our careers. He is a very dear friend and the best older younger twin brother I could have asked for.
I first met Keegan Messing at the 2012 Nebelhorn Trophy (photo, below). Over the course of the week we chatted quite a bit and got to be friends. After a career best short program I found myself in fifth place and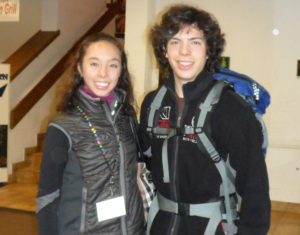 in the final warm up group for the free skate. Although I was trying my best to keep my cool I was definitely a bit overwhelmed to be in a warm up group alongside future World Champion, Katelyn Osmond and future Olympic Champion Adelina Sotnikova. Before we all got on the ice for our six-minute warm-up I was pacing back and forth behind the kiss and cry. Keegan was sitting in the stands and saw that I was clearly feeling a bit in over my head, so he came down to talk to me. He wished me good luck and after seeing the terrified expression in my eyes, he added, "If you are nervous just think about moose. They have antlers and that weird Dewlap under their chins. They are just so funny looking." Keegan's moose made me laugh and finally relax and I went out and skated another personal best program. At every Nebelhorn I have done since then, whenever I walk behind the kiss and cry I think about moose. (On a moose-related note, Keegan would go on to compete for Canada at the 2018 Olympics in Korea.)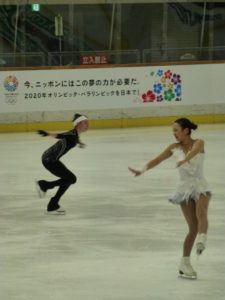 Coming up to the senior ranks during the 2012-2013 season, allowed me the incredible opportunity to compete alongside so many of my childhood idols. My first senior championship event was 2013 Four Continents in Osaka, Japan and my practice group consisted of the two Australian ladies, Chantelle Kerry and myself and the Japanese, Mao Asada (photo, right), Kanako Murakami and Akiko Suzuki. I had (and still do) looked up to these three amazing women since I was a very young skater and to be at the same event as them, let alone on the same practice ice was mind-boggling. It was so cool to be up close and personal to Mao's triple Axel and I loved getting the chance to truly feel Akiko and Kanako's love of skating. The media at our practices was insane. When Jackie Wong of Rocker Skating says that the flashes going off sound like machine guns, he isn't lying. I have not experienced anything like skating with the Japanese in Japan since then. It was a certainly quite the welcome to my senior championship career.
Serhii, my mum and I arrived at the Toronto airport for the 2013 World Championships in London, Ontario, along with many other skaters. The bus that was supposed to take us all from Toronto to London was late, so we were all sitting around waiting. Many of these skaters were people I had looked up to for years, including Carolina Kostner (photo, left). I was (and still am) quite shy so I was sitting off in a corner with my mum and Serhii and all of a sudden I look up and Carolina is walking over to me.  She sticks her hand out for me to shake and says, "Hi, I'm Carolina. I skate for Italy." It took me a few minutes to pick my jaw up off the floor and I am fairly certain I never managed to say anything intelligible in response, but I hope to have redeemed myself in the years since. I was fortunate enough to get to train with Carolina in Oberstdorf in the lead up to the 2014 Olympics and get to witness her comeback to competition at the 2016 Golden Spin of Zagreb. Carolina was and always will be a skater and person I look up to and strive to emulate on the ice.
I have so many great memories from Sochi. On the skating side of things, while I did not have a "dream performance" in either my short or free program, I am still really proud of what I did in Sochi. I am especially proud of my short program, as I made a mistake on my opening triple toe loop and was unable to do the combination. I NEVER missed that triple toe so it was a big surprise and I knew I had to do a combination on my triple loop if I had any hope of qualifying for the free skate, which was my goal for the competition. I had this forward spiral going into my triple loop and I remember thinking that this was it, I could let that messed up triple toe be my "Olympic moment" or I could turn things around and that is exactly what I did. At the time I was disappointed by my mistake, but looking back I am so proud of my quick thinking and how I maintained my composure at such a huge event. I may not have shown the world what I was capable of as a skater in that program, but I showed them that I was a fighter and I wouldn't have it any other way.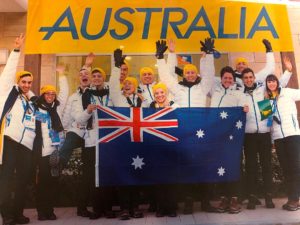 Obviously walking in the opening and closing ceremonies are two things I will never forget. Walking in the opening ceremony of an Olympic Games is the dream of so many athletes and to actually live that experience was incredible. In Sochi we entered into the stadium through an underground ramp that led to the center of the stadium, so we were marching in and there were thousands of people above us cheering and it was just the most amazing experience.
Aside from those experiences there were a lot of other little funny and fun things that happened:
The day before the opening ceremonies, Australia had a big welcome reception for the team. The event was televised and we were all introduced on stage in alphabetical order. Whoever had written the script for the newscaster had not done their research about figure skating as Brendan Kerry and I were introduced as competing in men's and women's singles ice dancing and Danielle (Dani) O'Brien and Greg Merriman were introduced as competing in mixed doubles ice dancing. The four of us found it quite entertaining and did our best to not burst out laughing on national TV.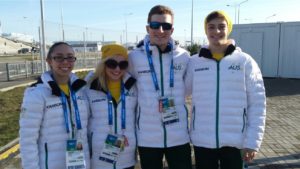 On the day of the opening ceremonies Dani, Greg, Brendan and I (photo, left) had to do a group interview for TV in front of the Bolshoi Ice Hockey Palace, but it was scheduled for right after my only practice session that day. My coach, Serhii, and I ran back to the Olympic village and I got changed into my opening ceremony uniform as quickly as I could, but I was already late. A staff member from the Australian Olympic Committee suggested I ride one of our team bikes down to the Bolshoi, to which I replied, 'I can't ride a bike and I don't feel like this is the time and place for me to learn.' Instead I sprinted over to the rink and thanks to some microphone issues I wasn't really all that late. Five years have passed since then and I still don't know how to ride a bike.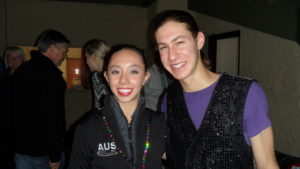 On another day I was eating lunch in the athlete dining hall and I ran into Jason Brown. I have known Jason since 2011, when we were both starting out internationally in juniors and we have been friends ever since. Earlier that season we had both been at the 2013 Nebelhorn Trophy (photo, right) where I secured the Olympic quota spot for Australia (side story: Jason's parents, Steve and Marla Brown, sat with my mum during my free skate and held her hand and I am so grateful for that. A few months later my mum and I went up to Boston to watch the men's free skate at the 2014 U.S. Nationals, as I was training in Connecticut at that time, and returned the favor. It was such a special season for both our families) and after seeing Jason's insanely AMAZING, and now iconic, "Riverdance" free program I told him that I was going to see him in Sochi, to which he replied something along the lines of 'I would love that, it's the dream, but its not my time yet, so many other guys are so good.' So when he found me in the Olympic Village dining hall he said, 'You aren't going to say 'I told you so', are you?'. 
Between the opening ceremonies and when I competed in Sochi there was a big break and we were only given a half hour of training time per day, so my coach, Serhii and I arranged for me to go to Oberstdorf, Germany to train for a week. Flying from Sochi to Munich we were on the same flight as Carolina Kostner, who, at that time, was training in Oberstdorf with Michael Huth. When we landed in Munich Carolina made sure that Serhii and I had a ride to Oberstdorf and that we were all set, which was so incredibly kind of her. It was amazing to train on the same ice as Carolina for a week. Her story of perseverance is so inspiring and I loved getting to share the ice with her as she prepared for the Olympics. 
All of the elite skaters training in Oberstdorf had a late session the night of the men's free skate. Being in Germany everyone was very excited for Peter Liebers, who had had a fantastic short program and of course Czech skater Tomáš Verner, who trained in Oberstdorf. Everyone kept checking the scores on their phones until finally someone just pulled up a stream on their computer and set it on the boards. I don't think anyone had a very productive session that night. 
Serhii and I flew back to Sochi the evening of the short dance event and we arrived to the Sochi airport right in the middle of the competition. We collected our luggage and I really wanted to get back to the village, but Serhii had found something he wanted to look at and I had to wait for him, so I parked myself outside of a restaurant that I had a giant flat screen TV. I managed to sit down right as Dani and Greg were taking the ice to compete and I was so glad that I got to watch them nail their short dance, which they had had some trouble with earlier in the season, and qualify for the free dance. I even forgave Serhii for making me wait for him. The next day I was getting off of a practice right as they competed their free dance, so I ran off the ice and into the skaters lounge so I could watch. Kathy Slack, who was one of the U.S. team leaders (sadly, she has since passed away) and a very good friend of Serhii's and always immensely supportive of me, came in and tried to talk to me about my practice, but I was so stressed and focused on the TV that I could barely say anything. I felt so badly afterward and I apologized profusely, but she completely understood my anxiety. 
When I was about to step on the ice for my 6-minute warm-up before the short program. My friend Isadora Williams (photo, left), who skates for Brazil, skated right after me and I were standing at the door ready to step on the ice. We both looked at each other and she said, "Oh my god, we made it." That was really the moment when it hit me that I was about to compete at the Olympics. We both wished each other luck and then got on the ice. It was such a small moment, but moments like this, I think, are what the Olympics is really all about. 
The ladies short program finished very late in the evening so after the draw for the free I didn't get back to my room in the village until around midnight and I had a 7 a.m. practice the next morning for my free program. I ended up getting about 4.5 hours of sleep that night, so after my practice the next morning I went back to my room and slept. My roommate, Deanna Lockett, who was one of our short track skaters tried to talk to me a few times, but I was completely unresponsive. That was probably the best nap of my entire life.
Deanna was competing the day after my free program and she had an early practice and everyone instructed me that I, for no reason, was to wake her up when I returned to my room after my event finished. Again our event finished very late and I didn't arrive back to the village until a little before midnight. I walked up to my room and was ready to put all my remaining energy into being as quiet as possible. Instead of finding all the lights off and Deanna sound asleep in bed, I found her and our short track coach, the legendary Ann Zhang, sitting on her bed waiting for me. They had made a bet on the ladies results and were arguing over who was correct, so they had waited up for me to settle it for them. I told them if it were up to me Carolina would have won, which they were not satisfied with, and instead I was instructed to consult skating twitter and get back to them in the morning. I am happy to report that Deanna had a solid outing in her races the next day, but I don't think their bet was ever settled.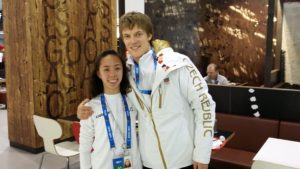 After my event was finished in Sochi there were about two and a half days before the closing ceremony and rumor had it that Tomáš Verner was not going to worlds and retiring in Sochi instead. I had looked up to Tomáš for years and I had loved getting to train with him in Oberstdorf so I obviously wanted to get my picture with him before it was too late. Instead of doing it the easy way and asking Dani and Greg, who were good friends with Tomáš to help me find him, I decided to try and hunt him down myself. Eventually I found him in the dining hall sitting with several members of the Czech and Slovak hockey teams, who I am pretty sure were all NHL players. I walked over to the table and asked Tomáš for a photo and they were all so confused. Throughout the Olympics everyone had been asking all the hockey players for photos (my favorite will always be U.S. pair skater Marissa Castelli with 6-foot-9 inch tall Zdeno Chára of the Boston Bruins) and they double-checked with me that I wanted a photo with Tomáš and not them. They ended up taking the photo (see above) for me, but they were a bit put out.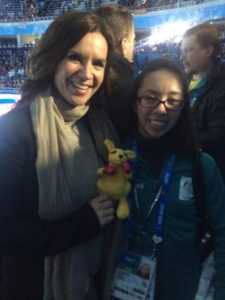 Katarina Witt was in Sochi to cover the figure skating for German TV. One day she happened to mention to our broadcast network in Sochi, Seven Network, that she had always wanted a boxing kangaroo. The network contacted me and asked if I would accept the honor of giving her a plush boxing kangaroo toy. That was not an offer I was going to pass up, so after the exhibition in Sochi I got to go up to the broadcast center and give Katarina her boxing kangaroo (photo, left).
During the closing ceremonies Dani, Greg, Brendan and I were all marching together and we were having a great time, chatting about the whole experience and we weren't paying attention to where we were and all of a sudden we found ourselves all alone right in the middle of the Austrian team. We laughed it off and kept walking with the Austrians. It was so incredible when we all qualified quota spots together at 2013 Nebelhorn Trophy, as Australia went into the competition with no spots and came out with spots in all the disciplines they had entered at Nebelhorn. We have all been very supportive of each other over the years and I am so lucky to not only get to call the three of them teammates, but friends.
I'll end with two post-Sochi memories.
At the 2014 Nebelhorn Trophy the ladies free program was one of the last events of the competition, so many of the other competitors were in the stands cheering and watching. When I was younger I trained in Simsbury, Connecticut with Alexa Scimeca (photo, right, at a local show in August 2012), and she, Chris Knierim and Jason Brown were all sitting together in the stands decked out in all the red, white and blue accessories they could get their hands on. When I got on the ice for my warm-up they all cheered like crazy for me. It was so funny to look up into the audience and seem them in their Team USA best, cheering for me, the Australian. I think more than a few people were confused.

In October 2017 I competed at Finlandia Trophy. Due to some scheduling conflicts, my main coaches could not come, so Evgeni Nemirovski, my choreographer and coach, volunteered to come with me (photo, left). Prior to working in the Dallas area, Evgeni had worked with Galina Zmievskaya in Ukraine, choreographing programs for Oksana Baiul and Viktor Petrenko. Despite being such a vital part of the coaching team in Ukraine, Evgeni rarely went to competitions with his students. Finlandia was Evgeni's first time out to an international event since the early to mid-1990's. Showing up to the rink in Finland with Evgeni was an incredible experience. Alexey Mishin and Nina Mozer had skaters competing at the event and when they saw Evgeni they immediately came over to say hello and shake his hand. Mr. Mishin even came into the rink to watch my practices. It was like I was showing up to a concert with the Beatles. I was amazed at the respect they all have for him. It really made me pause and appreciate all that Evgeni has done in his career as a coach and choreographer. I was so glad that I was able to get Evgeni out on the international stage again. It was an experience I will never forget.
Thank you so much to all my family, friends and fans who supported me throughout this crazy journey. I owe all these wonderful memories to you.