By Gina Capellazzi, Team FSO website administrator
Photos by Robin Ritoss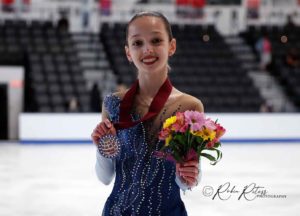 Skating fans have probably seen the video — 13-year-old Phoebe Stubblefield executing a triple Axel in the junior women's free skate event at the 2022 Cup of Colorado competition in August. She became the fifth U.S. woman to land a triple Axel in competition.
Just after that competition, Stubblefield, who trains at the World Arena in Colorado Springs, competed at the Cranberry Cup International competition at the Skating Club of Boston. She fell on her triple Axel attempt, but did win the bronze medal in the junior women's event, marking her first international medal and competition. In September, Stubblefield again landed a clean triple Axel at Skate Houston.
This week, Sept. 12-15,  Stubblefield is taking part in U.S. Figure Skating's Novice and Junior Challenge Skate in Lake Placid, New York.
Before the competition, Figure Skaters Online's Gina Capellazzi caught up with Stubblefield to learn more about this young skater who is turning heads with skating fans.
Figure Skaters Online: How old were you when you started skating and where and how did you start skating?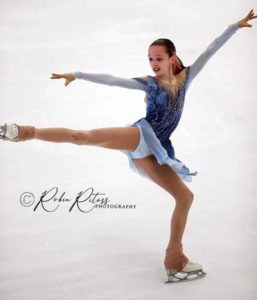 Phoebe Stubblefield: I was four years old when I first starting skating. The very first place I ever stepped on the ice was at the Houston Galleria. As God has his ways, my mom was in the mall to do shopping and thought that it would be fun to let me skate around. Apparently, several of the coaches there noticed me and told my mom that she should sign me up for lessons. So she did!
FSO: Before we talk about this season – what do you consider to be your biggest achievement in skating before this current season?
Stubblefield: Last year my 'best' performance was in Spokane, Washington, where I committed to everything. I have had a very bad popping problem, and last year my biggest achievement was to commit to everything in both programs. Spokane was my last competition in 2021, and I finally came through and delivered a fully committed program.
FSO: This is your first season as a junior skater – what has the adjustment been like from novice to junior?
Stubblefield: I honestly thought that junior was going to be super similar to novice, but I was very wrong. The program lengths are the same and that's about it. When I was a novice, everyone in the competition seemed like they were excited and ready to compete, but on my first junior warm-up, everyone seemed so determined, so confident and there was almost a feeling of bloodlust on the ice. I didn't realize how different it would really be. However, after several chances to compete as a junior, I've learned to take advantage of those feelings and I've allowed them to motivate me, not scare me.
FSO: Tell me about your coaches and what is it like to work with each of them?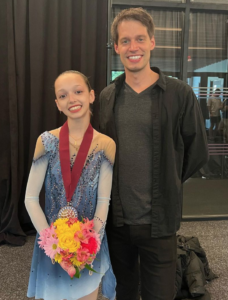 Stubblefield: My four main coaches are Viktor Pfeifer, Stephanie Kuban, Erik Schulz and Becky Bradley. I love each and every one of my coaches and I couldn't do any of the things I am doing now without them. Viktor (my main coach) is an amazing coach. I personally love the way he teaches. He gives me tons of exercises, and they are a crucial part of my training. He helps me balance jumps, skating skills, programs and spins so that I'm not overdoing any one of those things. Along with being an amazing coach, he also is a very easy person to talk to. I find this is very important with all of my coaches because I feel that I can tell them anything without being ignored or judged.
Stephanie is my second main coach. I know I technically can't have two main coaches, but in my case, I have to because if I don't have Viktor then I don't have his extremely helpful technical aspect, and if I don't have Stephanie, then I don't have the mental support and girl type understanding. Stephanie is a technical specialist, so her trained eye is so helpful. She always pushes me to do what I need to do in practice, even when I really don't want to.
Erik is my pole harness coach. I have landed every triple that I have worked on the harness with him on. While I'm on the harness with him, we can talk about almost everything. We can talk about Kit Kat flavors or the rink drama, all while being extremely efficient.
Becky and I work on spins. She is literally my mother at the rink, I can tell her anything that is wrong, and I can always ask for her amazing advice on anything. She is the ONE who has taught me all of my spins. She also gives the best hugs. 
FSO: What are your programs this season? Who choreographed them?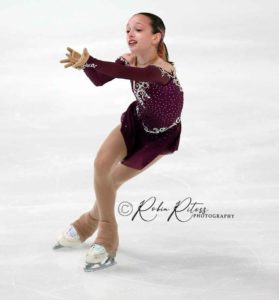 Stubblefield: My short is "Winter" by Vivaldi, and my long is a mix of "Experience" by Ludovico Einaudi, Daniel Hope, I Virtuosi Italiani and "Circles" by Ludovico Einaudi and Greta Svabo Bech. Both of these programs are choreographed by Ilona Melnichenko.
FSO: How did you start working on the triple Axel? When did you first begin training/practicing it?
Stubblefield: I started working on it for fun and I honestly do not remember when I first started it. I did really start working on it at the beginning of last year. 
FSO: What was your reaction when you first landed the jump in practice?
Stubblefield: When I landed it the first time in practice, my heart literally evaporated; I was SO HAPPY. I knew I was going to land it that day because I had gotten really close earlier that day. The main reason I was so happy when I did it was because it was the last day of skating before New Year's, I was 5 minutes over onto the next session, which I wasn't allowed on. Regardless, Viktor stood there videoing all of them and cheering me on. The odds were in my favor because the ice monitor hadn't kicked me off, and I had my mind set that I was going to land this in 2021. And with lots of persistence, I did it!
FSO: Was landing it at the Cup of Colorado your first time landing it in competition and if so, what was your reaction when you landed it?
Stubblefield: Cup of Colorado was my first time landing it. Unfortunately, I got too excited and couldn't refocus. I'm working on that!
FSO: Your Cup of Colorado triple Axel clip has been shared around the internet/social media – how do you feel about this kind of "publicity" and how do you keep things in perspective?
Stubblefield: I'm going to be very honest, I was very upset when my first Axel was posted.When that was posted, I saw how fast people started reposting and sharing it, I knew that the second I landed it in competition, it would be everywhere. Hours after I finished, I was already getting notifications.Unlike many others, I strongly dislike publicity. I enjoy posting photos of my friends and I, but I don't like other people posting about me. I try my hardest to ignore it all and focus on myself.
FSO: You won the bronze medal at the Cranberry Cup International. What was it like for you to win your first international medal?
Stubblefield: Cranberry was my first international medal, but it was also my first medal in any big event (as a novice and junior). I honestly was so shocked that I had really gotten third. I was so ecstatic when I was standing on the podium. It was a massive adrenaline rush and it was so fun. I was also very happy to share the podium with Anri (Phattaritida Kaneshige who skates for Thailand), as we train at the same rink and are good friends.
FSO: What are your goals for the rest of this season? What are your goals for the future?
Stubblefield: My goal for the rest of the season is to skate clean programs, BUT without having to think of committing to everything. That might not make sense. Another way to phrase it is: I want to make my competition goal to perform each and every element to the best of my ability, rather than having to think of just committing. My overall goal in skating is to be the first of something to land a Quad Axel. Axel is my favorite jump, and I want to have the title of being the first of something to land it. Even if I'm the first Scorpio to do it. (laughs).
FSO: If you could pick three adjectives to describe skating, what would they be? 
Stubblefield: Enjoyable, exciting, and fun
FSO: If you could pick three adjectives to describe your personality, what would they be? 
Stubblefield: Funny, talkative/social (depends on who I'm with), and perfectionistic.
FSO: What skater do you look up to and why?
Stubblefield: I honestly don't have someone that I "look up to". I try my hardest to be unique and original in my skating and personality.
FSO: What is your current schooling situation? What are your favorite and least favorite subjects?
Stubblefield: I currently attend the Colorado Springs School, where I have a fairly modified schedule to accommodate my skating. I don't participate in any electives (art, music, or drama), but I go to English, math, science, and history. I am in eighth grade and my favorite subjects are math and science. I have learned to embrace all four of the subjects, so I won't say I have a least favorite. History gives me a lot of homework and I struggle with writing too much for English.
FSO: When you aren't skating, what do you like to do for fun?
Stubblefield: I love baking, art, and listening to music, but so does everyone else! So, my more personalized hobbies are hanging out with friends, watching TV (anime specifically), and shopping. I also love photography, which to me means taking excessive amounts of photos of places, events, adventures, animals, and my friends. After I take these excessive photos, I can look over them and delete the bad ones and keep the good ones when I am bored and have nothing to do. I also have a lovely cat named King Julian (like the Madagascar character) who is nice sometimes, but has also scarred me in multiple places.
FSO: Many people probably don't know but you were in the 2018 movie "The Ice" and played the young Bailey. What was that experience like? 
Stubblefield: Being in the movie was an extremely fun experience, and I'm very glad that I was chosen to be a part of it.  It was an experience that I would love to take part in again. My acting has definitely improved since then. (laughs).