By Gina Capellazzi, website administrator
For more than 30 years, Stars on Ice has been dazzling and entertaining crowds throughout the U.S., with such names as Scott Hamilton, Kristi Yamaguchi, Ekaterina Gordeeva, Kurt Browning and more. This year is no different as the cast includes Olympic champions Meryl Davis and Charlie White and many 2018 PyeongChang Olympic hopefuls, including U.S. men's champion Nathan Chen and U.S. ladies' champion Karen Chen, who are making their Stars on Ice debut as "guest" skaters.
The two are appearing in the tour's six May shows and each are skating two solos in the show. Karen is debuting "Rise" by Katy Perry, choreographed by Uzbekistan's Misha Ge, and reprising a number she choreographed to the Butterfly Lovers' Violin Concerto. Nathan is performing his 2016-17 exhibition program to "Stole the Show" by Kygo ft. Parson James, which he choreographed himself, and a new show number to "Parachute" by Otto Knows.
"It is super awesome," said Nathan Chen, before his debut in Hershey May 4, "It is such an honor to be a part of the cast."
"It is very exciting," added Karen Chen. "It is completely different from competition. I'm not stressed out about it (laughs)."
The tour comes at the end of the 2016-17 season, a long season that proved to be full of highs and lows for both Chens.
For Karen, "roller coaster" is the word she uses to define her competitive season. The 17-year-old from Fremont, California started by taking home the bronze medal at the U.S. International Classic in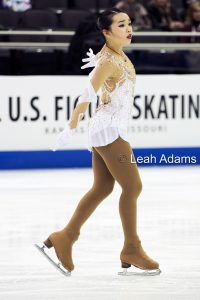 September. Hoping to ride that momentum into her two Grand Prix assignments, Karen finished a disappointing seventh at Cup of China and sixth at NHK Trophy. She also placed seventh at Golden Spin of Zagreb in early December. However, six weeks later, at the U.S. Championships in January, she climbed back up to the top and surprised many by skating two clean programs to take home her first U.S. title.
"Honestly, what I remember the most is the moment when I finished my long program, where I know I gave it my all, I skated my best and I put out two great programs," said Karen, recalling the U.S. Championships. "I was overwhelmingly pleased with myself."
With her season looking up again, Karen would lead Team USA into the Four Continents Championships in South Korea in February. But struggling to skate two clean programs, Karen would finish the event in 12th place, the lowest placement of the three U.S. ladies.
"I was dealing with a lot of things," Karen said of her performance at Four Continents. "I thought I could skate better. I expected myself to skate much better there."
During a pre-Worlds medal call in March, Karen attributed her less than stellar performance to both nerves and boot problems. Chen explained that the sole of her boot was collapsing during the event, which was causing a bit of ankle pain. She said the pain subsided after getting new boots.
Her performance at Four Continents had also increased the amount of pressure Karen was under to help Team USA ladies maintain the three spots for next year's Olympics. The placement of the top two U.S. ladies had to add up to 13 or less for the ladies to retain the three spots. 
"I did feel a lot of the pressure (for Worlds), especially coming off of Four Continents where I kind of had a disaster," Chen shared. "It was mentally a bit tough for me, but I did realize that it was my first Worlds and I kind of wanted to go into the competition with no expectations and just really kind of let myself skate and do my job."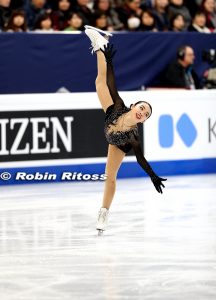 To help her prepare, Karen sought the advice of 1992 Olympic Champion Kristi Yamaguchi, who told her to "skate dumb" and to "let her body do what it knows best." Yamaguchi's advice helped as Karen earned a ISU personal best short program score of 69.98 and was in fifth place after the short program at Worlds. In the free skate, despite two mistakes, she also received a new ISU personal best free skate score of 129.31 and a new ISU personal best total score of 199.29 to finish in fourth place in her Worlds debut. With her fourth place placement and 2016 World silver medalist Ashley Wagner's 7th place finish, the two helped Team USA keep the three spots for PyeongChang.
Following Worlds, Karen joined Team USA in Tokyo for World Team Trophy, where the team earned a bronze medal. The fun team-format event officially ended Karen's 2016-17 competitive season.
"It was definitely the longest season (for me) ever so at the end it was a bit exhausting," Karen said. "I didn't expect to have to listen to my music that many times, for like almost over a year, so that was a bit tough."
"I also feel that the reason that this season was a roller coaster was because of those downs that I was able to realize my mistakes, pull myself up, get up and keep moving forward."
Looking into next season, Karen, who choreographed both of her programs for the 2016-17 season, says she doesn't think she will be choreographing her programs for the Olympic season.
"I would love to do my own choreography, but since it is an Olympic year, I kind of need special choreography," Karen said, noting she is still open to choreographing her own programs in the future.
She says she is still thinking about music and has some ideas, but nothing has been finalized yet. She says she will also seek advice again from Yamaguchi. 
After the tour is over, Karen will take some down time away from the ice, but says she will not be taking any vacations as she needs to get back in the zone rather quickly.
"My goal is to make the Olympic team, that is on the top of my mind, but I feel in order for that to happen that are a lot of other things that must happen, like my Grand Prixs and possibly making the Final," Karen said of her goals for next season. "Just a lot of things that I feel that I would be capable of doing, it is just a matter of me doing it.
Roller coaster enthusiasts can attest that roller coasters can be pretty "bumpy". "Bumpy" is the word Nathan used to define his 2016-17 competition season. After his 2015-16 season was cut short due to an injury during the exhibition at the U.S. Championships, the recently turned 18-year-old from Salt Lake City returned to competition on top, winning gold at his senior international debut at the ISU Challenger Series event, Finlandia Trophy.
Already making some waves for his four quads in the free skate there, the event was just the start of what would be a breakout season for Nathan. In his senior Grand Prix debut event, Trophee de France, Nathan broke the American short program record of 90.30, held by 2010 Olympic champion Evan Lysacek and finished just off the podium in fourth place. At his second event, NHK Trophy, Nathan earned the silver medal, finishing behind reigning Olympic champion Yuzuru Hanyu. In addition, he became the youngest U.S. man to medal in an ISU Grand Prix competition and qualified for the Grand Prix Final. In Marseille in December, Nathan won the silver and became the highest scoring American male skater in international competition history. He landed four quadruple jumps and six triples to win the free skate event, coming back from 5th place in the short program. 
Following his remarkably successful fall season, and with Adam Rippon, the 2016 U.S. Champion and only other U.S. male to qualify for the 2016-17 Grand Prix Final, out of the U.S. Championships due to injury, Nathan was the clear favorite to win his first national title in Kansas City in January. After skating a clean short program with two quadruple jumps that earned a U.S. record score, Nathan had more than a 17 point lead heading into the free skate. The title was basically his to lose.
Two days later, Nathan resoundingly won the U.S. title and became the first skater to land five quads in a free skate. In February, Nathan once again completed five quads in his free skate to win his first ISU championship title at the Four Continents Championships, this time beating Hanyu for the top spot.
"(I was definitely most proud of) Nationals because I was able to put out two clean full programs together when it really counted under pressure. So I'm happy about that," Nathan recalled. "Obviously, Four Continents was good as I was carrying a lot of energy over from Nationals."
But here's where the word "bumpy" comes in. Like Karen, boots became a problem for Nathan. During his pre-Worlds media call, Nathan said he was having some troubles with his boots as they were not withstanding the immense pressure put on them by multiple quadruple jumps. With only a brand new pair as a back-up, Nathan used tape and hockey laces on his boots for Worlds.
Despite the troubles with his boots, Nathan still attempted six quads in the free skate, but unfortunately, was unable to land two of them. While many had him pegged to take home a medal, or even win the world title, before the competition began, Nathan finished in sixth place in his world championship debut. Though he didn't come home with a medal, Nathan was still able to help Team USA gain a third men's spot for the Olympics with his sixth place finish and 2015 U.S. Champion Jason Brown's seventh place finish. Nathan said the added pressure to regain three spots was helpful to him.
"That (the added pressure of getting three spots back for the U.S.) helped me actually get through it (Worlds) better, " Nathan said. "It was cool to finally be at my first World Championships against all these guys and it was a really great experience."
Looking ahead to the Olympic season, Nathan says he is not yet sure if he will return to Canton, Michigan to work with Marina Zoueva, who choreographed his well-received short program this past season.
"I kind of want to try new people this year, but I have to talk to my team and see if that's a good decision or not," he explained.
Without giving too much away, Nathan says he is hoping to do something more upbeat for his short program and something a little bit slower for his free skate. In terms of the number of quads he's planning to do next year, fans shouldn't be surprised if he tries to go for lucky number seven in his free skate. Nathan says he is always trying to push himself further.
"As soon as I'm successful with one (quad), I try to do another and another. Once I'm able to successfully do six, maybe I'll push it, who knows, but at the moment, I think it is really just learning how to train that sort of program because you can't really train it every day," Nathan stated.
Though the Olympics is still eight months away, the excitement is already building for the Winter Games. There have been photo shoots, advertisements and sponsorships, many that include Nathan front and center. While his goal is to make the Olympic team, Nathan, who remains fairly calm amid all the media frenzy, says he is trying to stay focused on the present.
"I'm glad that people are excited for me and about me, that feels really great, but at the same time, I set my goals–daily goals, weekly goals and monthly goals–so I think that if I'm able to really focus on those things and try to not ignore, but block myself from the expectations and the other things, I can successfully get through this (next) season."