By Maura Sullivan Hill, Team FSO staff writer
Photos by Melanie Heaney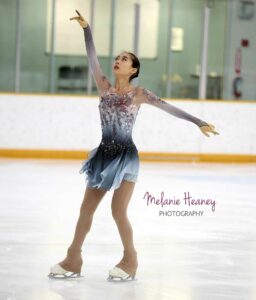 After three years skating in the junior ranks at the U.S. Figure Skating Championships, Illinois-based skater Elsa Cheng has qualified for her first senior Nationals, which will take place Jan. 23-29, 2023 in San Jose, California.
To qualify, Cheng earned personal best scores in both the short and long program en route to the gold medal at the 2023 Midwestern Sectional Singles Final in Lansing, Mich. in November. Her total score of 181.17 was the highest score in the senior women's discipline for whole qualifying series (Midwestern Sectionals, Pacific Coast Sectionals and Eastern Sectionals).
"My consistent training leading up to Mids, as well as the motivating atmosphere itself at the competition with all the other great skaters, helped me succeed," Cheng told Figure Skaters Online. "I'm most proud of being able to deliver strong programs just like I had practiced."
Cheng went into the competition with a clear objective: "My goal for Mids was to skate a solid program and give it my all and ultimately qualify for senior Nationals."
2023 will mark Cheng's senior debut, but she has previously competed at Nationals four times. She finished 7th, 5th, and 8th, respectively in her three years as a junior, from 2020-2022. In 2019, she finished 9th at the intermediate level.
"I love the atmosphere of Nationals and being on the same ice as those who are the best in the nation," Cheng said. "It is so thrilling and motivating."
This season, Cheng is skating to Libertango for the short program and the soundtrack from The Queen's Gambit for her long program. She is excited to have the opportunity to compete against the skaters she has watched on TV, when she takes the ice alongside them in the senior ranks in San Jose. Her goal for Nationals is to skate two strong programs and improve on her performances from earlier in the season.
Cheng trains with Jeremy Allen and Denise Myers at Twin Rinks in Buffalo Grove, IL, a suburb of Chicago, and represents the Skokie Valley Skating Club. Allen and Myers previously worked with 2018 Olympic Team Bronze Medalist and two-time U.S. Champion Bradie Tennell.
"I have worked with Jeremy, my main coach, and Denise for around five to six years now," Cheng said. "Jeremy is my main coach and mainly works on jump technique with me as a technician. Denise is my secondary coach and works on everything as a whole."
One of Cheng's best qualities is how much distance her jumps cover across the ice, which she attributes to off-ice training that helps her gain power for jumping. Down the road, she hopes to include a quadruple toe loop in her jump repertoire, but these days, her favorite jumps are the triple toe and triple lutz.
"My favorite part about jumping is feeling free," Cheng said. "My coaches developed a strong foundation for my jump technique from a young age, so as I got older, it really benefited my jumps."
Cheng has competed internationally on the junior circuit, at the Bavarian Open and Golden Spin of Zagreb. "I love traveling, so being able to compete internationally was really exciting, and I loved the thought of being in a country I've never been to before, competing with skaters from all over the world," she said.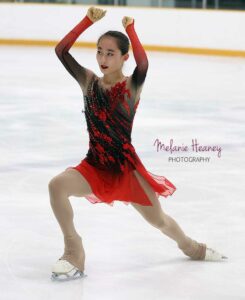 Based on her results at Nationals, there may be more international events in Cheng's future – the results from this event determine not only international assignments for the Junior and Senior World Championships and the Four Continents Championships, but could also set Cheng up for international assignments at Senior B or Grand Prix events next season.
When she's on the ice, Cheng says, "I love the sound of edges on the ice, as well as the wind on my face while I'm skating."
Off the ice, she is a senior in high school, and balances her training with classes by skating before and after school every day. "There have been times where balancing school and skating have been difficult, but over the years I have developed better time management to help with getting things done," Cheng said. "When I'm not training, I enjoy watching Netflix, hanging out with friends, listening to music, and occasionally painting."
You can watch Cheng in her senior nationals debut when the 2023 U.S. Figure Skating Championships kicks off in San Jose next month. The senior women take the ice for their short program on Thursday, January 26, and they'll compete in the free skate on Friday, January 27. Figure Skaters Online will be on site in San Jose and sharing coverage live from the event, so we'll be sure to catch up with Cheng after her performances. Stay tuned to our Nationals Hub for all the behind-the-scenes coverage!