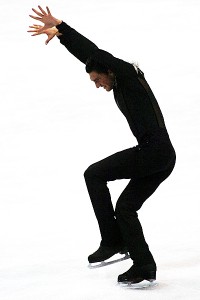 World Champion Evan Lysacek is favored to win the 2010 U.S. Championship in Spokane, Wash., following his victory at the Grand Prix Final last month in Tokyo, Japan. At that event, the lanky 24-year-old of Naperville, Ill., was near flawless, setting personal bests in the short program (89.85 points), free skate (159.60) and overall (249.45).
On Wednesday at the first official practice of the national event, Lysacek proved that his two golds and a silver on the Grand Prix were just the beginning. He landed a quad toe-triple toe combination with ease, despite not having even attempted the four revolution risk in competition since landing it at 2009 Four Continents Championship last February.
"I think that the quad is essential to winning the Olympics," said Lysacek, who held off on quads last year because of an injured foot. "If I make the Olympic team again this year, I want to be in the best position to win that I can be. Winning a gold medal at the Olympics has always been my dream. It's every skater's dream."
Lysacek won his first of two consecutive U.S. Championships when the event first came to Spokane in 2007. En route to winning that title, he landed a quad, marking the first time that he nailed that element. He also landed a quad-triple in his free skate at the 2008 event, although the quad was two-footed.
"I have such great memories from Spokane," Lysacek said. "I remember when we came out for the free skate, I looked up into the stands and the arena was completely packed. I was so pumped up by that. It was such great energy from the crowd, such a great vibe. I'm excited to experience that again."
The men's competition kicks off Friday at 7:30 p.m. local time with the short program. On Sunday, the men's free skate kicks off at 10:30 a.m., with the announcement of the 2010 U.S. Olympic Team expected sometime after 3 p.m.
Contenders
• Reigning U.S. Champion Jeremy Abbott, the first American man to win the Grand Prix Final, stalled in his first event of the season, the NHK Trophy on the Grand Prix series, placing fifth overall despite a second place short program. His sixth place free skate had problems throughout. Abbott fell on the opening quad toe, which was also downgraded for under rotation, then fell on the triple flip and triple Axel. But he bounced back with a vengeance at Skate Canada, winning the competition with a free program that included a quad. The gold qualified him for the Grand Prix Final, where he was fourth.
• Three-time U.S. Champion Johnny Weir experienced one of the lowest points of his career in Spokane when Lysacek ended his reign as the nation's best man. Then in 2009, Weir was even lower, finishing fifth at nationals, and considering leaving the sport for good. Weir's mom Patti rejuvenated him just in time for the current season, which has seen him place fourth at Rostelecom Cup, second at NHK Trophy and third at the Grand Prix Final. Weir too has a quad.
Sleepers
• Ryan Bradley experienced his most successful national championship the last time the event was at the Spokane Arena. In 2007, he outlasted three-time U.S. Champion Johnny Weir to win the silver medal behind Lysacek. Bradley had a terrible debut this season, placing ninth at Trophee Eric Bompard. But he won the bronze medal at Skate Canada with help from some quads. Bradley could perform up to three quads at nationals.
• Brandon Mroz has had a rough season so far, placing seventh at Rostelecom Cup and eighth at Skate America, but the "quad kid" had moments of brilliance last year that could come through again. He was second to Abbott at the U.S. Championships. Then at the World Championships, he was ninth, the second highest placing member of Team USA.
• Adam Rippon experienced his first taste of senior success when he won the bronze medal at 2009 Trophee Eric Bompard. He stumbled in his second event, taking sixth at NHK Trophy. Previously, he won back-to-back World Junior Championship titles in 2008 and 2009. Rippon was seventh in his senior debut at the 2009 U.S. Championships.
Missing
• Ross Miner withdrew from the event Wednesday because of an ankle injury he sustained last week while practicing the triple Axel. Miner, last year's junior men's champion, was scheduled to make his senior debut. He was third at the 2009 Junior Grand Prix Final in Tokyo.
__________
Figure Skaters Online strives to be an accurate source of information related to the sport of figure skating. To report an error, please e-mail the news editor. Include the article date and title in your e-mail.