By Scott Mammoser, Team FSO contributing writer
Photos by Giada Arioldi 
With all eyes of the winter sports world focused on northern Italy for the next three years, the Italian Ice Sports Federation used this past week's Grand Prix Final in Torino to ramp up its profile. The first season of the Olympic cycle, which will culminate in the mountains of Milano and Cortina in 2026, produced four gold medals during the senior Grand Prix series, two bronze medals in the Final, plus a junior men's title for Nikolaj Memola.
"We are happy about Italy improving," said Marco Fabbri, who won the ice dancing bronze medal with partner Charlene Guignard in the Final on Saturday. "We have some really good skaters right now, and it is good for the development of our country. There is a lot of pressure to skate in front of your home audience, but it gives you the energy that sometimes is not there."
Dance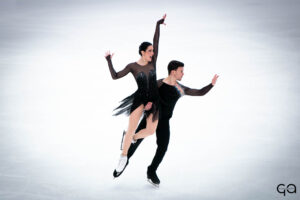 Guignard and Fabbri are 33 and 34, so they might need to pass the torch to the next generation by the time Milano-Cortina comes around. But for now, they are the four-time Italian champions, were fifth at the 2022 Beijing Olympics, and won Grand Prix events in France and England in November. They, themselves, took the torch from 2014 World Champions Anna Cappellini and Luca Lanotte, who they finished second to in seven-consecutive Italian Championships. Guignard and Fabbri are also coached by Barbara Fusar Poli, who won the 2001 World Championship and 2002 Olympic bronze medal with Maurizio Margaglio.
Pairs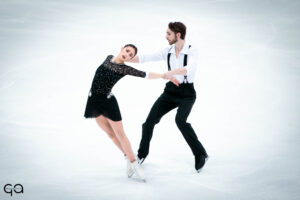 Sara Conti and Niccolo Macii were in disbelief after winning the bronze medal in pairs at the Grand Prix Final.
"We achieved a result we never expected, so we are without words," Macii said.
The team set a new personal-best of 187.02 points, and the 22-year-old Conti added that she would like to keep the momentum going for the second half of the season.
"We are very happy for them because we know they are hard workers and they deserve it," Fabbri said of Conti and Macii. "This year is very special for pairs because it's a transitional year, so there are new couples and teams. I am very happy they made it to the podium. I think that Italy is working really well in every discipline. We have a really strong team, and we are happy about it."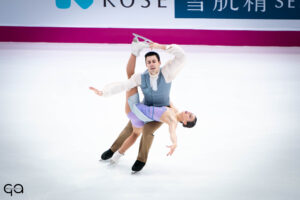 Rebecca Ghilardi and Filippo Ambrosini placed fifth in the Grand Prix Final. The Grand Prix Espoo pairs champions were 14th in the Beijing Olympics, one spot below seven-time Italian champions Nicole Della Monica and Matteo Guarise. Nicole Della Monica retired following the 2021-2022 season, but Guarise is  now skating with a new partner, Lucrezia Beccari. They made their international debut at the ISU Challenger Series, Warsaw Cup in November.
"Right now the Italian pairs skating team, they start when they are young with our coaches and then there is movement," Ambrosini said. "We try to tell the little kids about passion for skating and for competition."
Ghillardi and Ambrosini train with Conti and Macii in Bergamo, Italy, with coach Franca Bianconi, among others.
"The skating is improving in Italy because before there were just two pairs, and now there are a lot," Ghillardi added. "Even for men and for ladies, they are improving. All of the teams are working together."
Men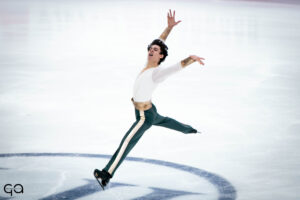 Perhaps the loudest the Torino Palavela became during the Grand Prix Final was when Nikolaj Memola won the junior men's event. The curly-haired 19-year-old from the Milan suburb of Monza, was the Riga Cup champion earlier this Junior Grand Prix season, and also won two Challenger series medals on the senior level. He joins an Italian men's pool that features Daniel Grassl and Matteo Rizzo. Grassl, 20, was sixth in a deep senior men's event at the Final in Torino. He entered the competition with a win at the Grand Prix event, MK John Wilson Trophy, in Sheffield, England and was seventh at the 2022 Olympics. Grassl is the first European to land a quad loop.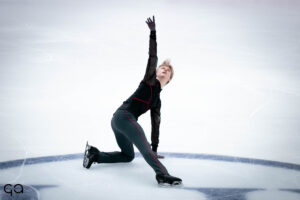 In addition, the 24-year-old Rizzo was the first Italian man to claim a Grand Prix medal when he won bronze at the NHK Trophy in 2018. The same day as the Grand Prix Final, he won the silver medal behind Team USA's Camden Pulkinen at the ISU Challenger Series event, Golden Spin of Zagreb in Croatia.
"Everyone in the senior event is just amazing, from Daniel Grassl to Matteo Rizzo," Memola said. "If I want to be there (2026 Olympics), I have to be as good as them. To make it there, that is my main goal. My goal is to add a quad jump to my program, but I am not as mature of a skater yet. I know it will look bad. I know I am not ready for a quad jump, and you have to be absolutely sure you can do it."
Women
In terms of the women, no one has risen with the pedigree of 2012 world champion Carolina Kostner. Lara Naki Gutmann, 20, is the reigning Italian women's champion. She participated in the team event of the 2022 Beijing Olympics, of which Italy placed seventh. Gutmann went on to finish 20th at Worlds, and this week, she was fourth at the ISU Challenger Series event, Golden Spin of Zagreb.
What's Next
Italy has qualified two men and two dance teams for the Saitama World Championships in March. At the European Championships, and with no Russians competing, it will be a golden opportunity again for Italy to grab some medals.
But first, the 2023 Italian Figure Skating Championships will take place in Bruneck, Italy, December 15-18.