By Gina Capellazzi
Photos by Leah Adams, Robin Ritoss and Ashley Cain
As the saying goes, "the third time's the charm." For Alex Krasnozhon, that saying holds true. After three attempts to win the junior title, the 16-year-old reached the top of the podium at the 2017 U.S. Championships in Kansas City in January. Krasnozhon will compete March 15-19 at his first World Junior Championships in Taipei City. Before he left for Taiwan, he spoke with Figure Skaters Online.
Figure Skaters Online (FSO): What did it mean for you to win the Junior title?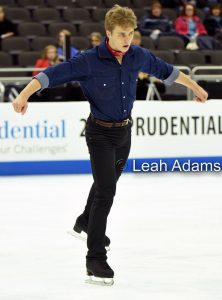 Alex Krasnozhon (AK): It was really hard for me to win Junior Nationals. It took me three years (to win). It was so hard especially after last year coming in third. I wanted to win last year. This year was really hard for me going into Nationals knowing no matter what the outcome is I have to move up to seniors. Obviously, there was some pressure in me, but I also think that this year I was expected to win. I was going into Nationals smarter. I wasn't like 'I'm going to win, this is my Nationals.' This year, I was like, 'I'm going to do my two best programs. That way I can win.' I didn't skate two perfect programs at Nationals, but at that time of the day and that point, that was the best that I could have done and I was very happy to win Nationals.
FSO: How was the experience of U.S. Figure Skating's first Junior Worlds camp in Chicago for you? What did you get out of it specifically?
AK: I really liked it because everyone got to skate with everyone, especially the guys. We push each other in a good way. The guys are doing quads. You see Vincent (Zhou) land a quad, then I would land a quad, Andrew (Torgashev) would land a quad and then I go for a triple axel. It was a great experience skating with the high level skaters. It was almost like skating in Junior Worlds where a lot of people are doing quads and triple axels. Each of us skate at a facility where there are almost no high level skaters so it is really hard sometimes to push yourself. It (Junior Worlds Camp) was an amazing experience. I also liked that we got to run our programs in our costumes and it was like a competition. That was very helpful, especially the feedback from the judges before Junior Worlds was very helpful as well. So I think camp was a turning point to work harder on some stuff and pull down on some stuff. For me, my jumping was really, really good, but my spins kind of went down. So as soon as I got back, I got back on track with my spins and right now, they are really good. They are back to level fours, they are fast and they have pluses (GOEs). So my biggest takeaway from the camp was they told me what I should work on before Junior Worlds and that was very helpful.
FSO: How are you feeling heading into your first Junior Worlds?
AK: I know this is my first time competing, but I also know that I'm turning 17 this year and this might be one of my last Junior Worlds. Going into Junior Worlds, I know that there are 12 guys, including me, that could win and there really is nothing to be afraid of. I can tell you that in the short program, 15 or 16 of us will be doing the same stuff–triple axel, triple-triple in the second half and triple loop. The one that is going to be better in the short program is going to be the one that actually performs the program, does the spins and gets positive GOEs. Once you get to the long, you have the quad. Whoever mentally will be there will win. So I think going into there, I feel prepared and I know what I have to do. I also know that stuff happens so I just want to do my total best and skate two clean programs. That's my goal. And I want everybody to remember my cowboy (free skate) performance.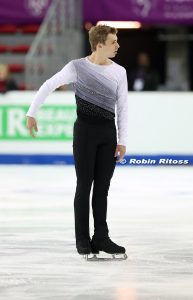 FSO: You said you want to skate two clean programs. What would make you happy at the end of your Junior Worlds short program?
AK: I think in my short program I would really like to hit 80 or come close to it. In terms of placement, if I hit 80, I'll probably be fourth or fifth. So really in my short program, I want to get into the last warm-up (for the free skate), that's my goal. I don't care if I'm first, second, third, fourth, fifth or six, as long as I'm in the last warm-up, I'm good. If I don't get into the last warm-up, I will still be happy. My goal is to skate clean programs, have level all four spins, step sequence and have no negative GOEs in my program. That's my goal for my short program.
FSO: Have you made any significant changes to your programs for Junior Worlds? Will you still open your free skate with the quad loop?
AK: Yes, I will still open my free skate with the quad loop. At one point, we were considering adding the quad salchow into the free skate, but two weeks ago, we decided to take it out. I think only one person at Junior Worlds will be doing two quads. Actually, Danny (defending champion Daniel Samohin) will probably be doing three. I'm better off doing one quad because that way I can get the max(imum) points out of my program. That is actually what I'm trying to learn–how to get max points without taking any big risks. Next year, since I'll be going to senior domestically, still staying junior internationally, I will have to add more quads but I have to still get those points on the triples and I think Junior Worlds will be such a good experience. As we saw earlier in the season at the Junior Grand Prix Final, the person that won, Dmitri Aliev, only did one quad and he still won and Alexander Samarin, who took second he did two quads. So I think I'm better off doing easier, simple stuff that is of more quality for now. Later, I want to do at least three or four quads.
FSO: Which aspects of your skating — besides the jumps –do you think you improved the most this season and plan to focus on going into next season?
AK: I think I have improved a lot on my skating skills and definitely my performance. I used to get on the ice afraid and shy, but now I perform and I feel the music more. I'm not afraid to go out there and show people that I actually can do stuff. I'm not afraid to show my emotions. I also think I made a huge improvement on my spins. They are faster. They are not just level fours now. They are plus 1 GOEs. I think one of the biggest improvements that I could have possibly made are my spins and that makes me really happy.
FSO: Do you think your free skate helped you with your performance skills? You skate to "Rodeo" by Aaron Copland.
AK: Yes I think so. If I don't perform my free skate, it looks awkward. I have to skate it all the way or otherwise, nobody will understand it. That helped me a lot. Just having that music and performing to it and realizing that if you don't do it, then everybody thinks it is awkward and nobody is going to like the program. So, obviously, my free skate helped me with my performance. However, my short program ("Etude Op. 10 No. 3 in E major" by Chopin) helped me feel the music. I picked my short program this year and when I skate to it, I feel the music and that helped me a lot. This is the first year that I'm not just skating to the beat and doing movements, but I'm feeling the music and putting my touch on the program.
FSO: What are you most looking forward to about going to Taiwan? Have you been there before?
AK: I never been over to Asia before. I have been to many places. A lot of places. I never been to Taiwan. Because I'm done early, on Thursday, I will have Friday, Saturday and Sunday to explore the city. I just want to look around and visit some famous places, like the Taipei 101. It used to be the tallest building in the world, but not anymore. After I compete, I want try to some of their food. Obviously after I compete! (laugh)
FSO: Next season, you will be competing senior in the U.S., but remaining on the junior level internationally. What are some of your early goals for next season?
AK: Next season, I want to win the Junior Grand Prix Final and obviously win two of my Junior Grand Prixs, if I get a Junior Grand Prix. We will see how that goes and if U.S. Figure Skating will decide to give me one or not. It will depend on how I skate at Broadmoor (Open, a club competition in June). I also want to start my season with three quads in my free skate. That's a good goal. I want to do two (quad) loops and a (quad) salchow. Since it is an Olympic year next year, I don't expect to make the Olympics. It is not my year. However at Nationals, I would like to make top 10. That's quite a big goal. I think next year in my short program as a senior I want to do a quad loop-triple combo. I think that will be quite impressive.
FSO: Have you given any thought on your programs for next season?
AK: I know we are going to do a flip-flop on this season, meaning I'm going to do a fun short and a classical long. I'm not going to do Michael Jackson because I did it last year, well, almost two years ago. I want to skate to something with a character, especially for my short because that will be my fun one. I haven't been really listening to music yet, because my season isn't over.
FSO: How would you describe the training atmosphere at your rink with your coaches, Peter and Darlene Cain, and your training mates, Ashley Cain & Timothy LeDuc, Amber Glenn and Brooklee Han?
AK: Since Ashley and Tim started skating, they have been quite an inspiration to all of us. To see them do unbelievable things, like when they got their first triple twist, that was amazing. I love skating with them. They both have had a long skating career–Ashley did pairs and she did singles and Timothy has show experience. When you look at Tim, I think he enjoys skating. I never see him get nervous. I think that's a true idol to look up to. How he enjoys being out there. Like some people get nervous and they don't perform well, but every single practice, every time he skates, whether it is a short or long program, he is into the program, like nothing matters and that's amazing. Skating with Brooklee is amazing too. I think she is the hardest worker I have ever seen. Amber is amazing, too. You see her doing those huge jumps and I think she likes to experience different things (like trying jumps with both hands over her head for fun). Skating with those people and being on the same ice is great. I think we support one each other.
Training with Peter has always been amazing. Peter and Darlene are truly my dream coaches. Why? Because Peter is a (ISU) technical specialist. He knows what I need to do. He pushes me all the time and he really knows how to get me going. If Darlene wasn't there every single day helping me out, I don't think my spins would be that good. She pushes me and she encourages me with my spins and footwork. She always pushes me to do something extra and I think that's amazing.
FSO: You moved from Russia to the U.S. when you were just 13-years-old. Did you find it harder to learn spoken or written English when you first came to the U.S.?
AK: When I first came to the U.S., I didn't know English. I knew some words, but I couldn't speak it because it is so different. If you ask Ashley (Cain), she would say I knew zero English (laughs), but I learned it. When you hear it 24/7 at the rink, it gets going. I think after a couple of months, I could actually talk to people and at first, only people that skated with me could understand me because of my accent. But then a year later, everybody could understand me. I think now I still have an accent, but people can understand me and I like that. As far as writing in English, I read a lot of books in English, I watched a lot of movies in English. Right now, my primary language is English because I study it in my online American school. I write all my essays in English and I think I'm quite good at it. I take AP Literature and I get like A+ in it. So as far as writing in English, I'm very good at it. I'm just trying to transfer my writing skills over to my speaking skills.
FSO: What are your favorite things about the American culture? Are there any things about the American culture that you still find strange or weird?
AK: When I first came, what I found was weird is that people basically live in their cars. You don't have to get out of your car to stay alive. I have seen so many people driving their cars in their pajamas to drop off dry cleaning, get breakfast at McDonalds, pick up dry cleaning, drop the kids off at school, go home and do laundry–still in their pajama pants–go pick up the laundry, pick up the kids, cook the dinner and then go to sleep. I think that was amazing to me. There are so many services that are drive-thru. Everything drive-thru. That was amazing.
The second weird thing to me is that there are so many restaurants in America. I have been in 15 different states now and there are so many food options everywhere. So much food. The portions here are so big. It is so weird to me. You see a lot of people not finishing their food and throwing it away. When I was in Russia, the portions aren't as big so if you don't finish it, you kind of feel bad that you are leaving food on the table, but here, with the portions so big, there is no way you can eat all of it. There is this place in Texas called Hardy's BBQ and it is literally the best barbecue you could ever have. When I go there, I usually get two pounds brisket and a half a sausage. By the time I get out, I'm like 'how did I eat all of that?!' and you don't want to come back there for like at least six months.
What I like about America is opportunity to become anything you want. What amazes me is once you can become 18, you become a real estate agent, or buy online stocks, you can go to college and do pre-med and become a doctor and go to medical school. If you work hard in America, you actually get what you work for and I think that is amazing.
FSO: None of your family is here with you in the states. So how is it to have your family back in Russia and move to America at such a young age? Do you miss them and Russia?
AK: I don't think that I miss Russia, but I do miss my family. My mom comes during the summer and stays for a few months and we rent an apartment. My dad comes for competitions. He comes for Nationals and stays with me three weeks after Nationals and we usually go on vacation and then we just live in an apartment together. I think when I first came it was hard. I think not being able to come home, talk to your parents and play with your (younger) sisters when you're 13 is very hard. I couldn't call them all the time. As I got older and have been here longer, I have gotten used to it. I still miss them, but I try not to think about it. I know that I am better off here. At first, I did not want to come here, but when I got here and the second I saw the rink and I met Peter, I knew it was the right decision.
FSO: You are doing an online American school, correct?
AK: Yes! I'm a sophomore and I'll graduate in two and a half years.
FSO: What are your career aspirations after you finish skating?
AK: I want to go to medical school definitely. That's what I'm working towards. Last year, I took AP Biology. This year, I'm taking AP Chemistry and AP World History. Next year, I'm going to try towards AP Physics. We will see how that goes. (laughs).
FSO: Any colleges sparking your interest?
AK: Right now, my top choices are John Hopkins University and the University of Chicago. If I don't make it there, then I'll go to the University of Texas at Arlington. They have a great pre-med program and a good medical school.
FSO: Do you have a favorite subject in school? Do you find any subject hard for you?
AK: There is no subject that is hard for me, but my favorite subject is probably science, any science. Because in science, you study, you memorize the terms and you understand everything, unlike history where there is so much. You can not learn everything in history, where as in science, you know the rules, you solve the problem. In Biology, you still have to memorize terms but in Chemistry, if you know how to balance your equation, you will get A's in all your assignments.
FSO: Any plans for the off-season? Any vacations?
AK: I'm going to take a vacation, but I don't know where (laughs). I think I may take a trip with my Dad to Chicago or something. He might come to Texas for a conference and I might join him and take the week off and maybe go to California or something. He's never been to that part of America and I have been in California.
FSO: Now time for some fun questions! What is one thing you can't travel without to a skating competition? (skates and costumes don't count)

AK: I can't travel to many competitions without my American flag belt. I take it to every competition.
FSO: If you could live in any place in the world, where would you live and why?

AK: I would probably live in Texas because Texas is the only state where you get what you pay for. It is really easy to build your dream house. There is so much land and there are so many opportunities in Texas. Everybody in Texas is nice. In New York, somebody will slam the door on you, if you go to California, they will just let the door go, but in Texas, they will open the door for you.
FSO: If you were a Crayola crayon, what color would you be and why?
AT: I think I would be blue, because my eyes are blue and I like the color blue.
FSO: If you were visited by a genie and given three wishes, what would your three wishes be?
AT: I wish for a pill that would cure cancer, become a neurosurgeon and for my family to achieve their dreams, especially my sisters.