By Maura Sullivan Hill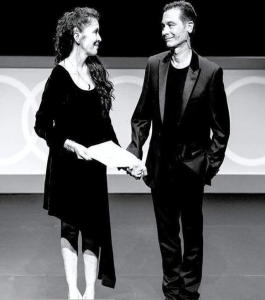 Tai Babilonia and Randy Gardner first took each other's hand on the ice at the ages of 8 and 10, respectively, in 1968. It was the start of a journey that led to five pairs titles at the U.S. National Championships, from 1976-1980, and a win at the 1979 World Championships.
They overcame Olympic disappointment, after an injury to Gardner took them out of the 1980 games, and weathered personal trials, like Babilonia's battle with addiction, to embark on a successful career as professional skaters and performers. Now, 50 years later, the duo is as united as ever — though not on the ice quite as much as they used to be. They don't perform much these days, but Babilonia works on presentation with the students that Gardner coaches, and they both perform in his stage show, "Go Figure: The Randy Gardner Story."
"I can't believe we're saying 50 years, and it seems like it went by fast," Babilonia says. "But in another way — my god, that's a long time! From 8 and 10 years old, and I just turned 58, it's mind-blowing."
Gardner echoes his partner, and muses on what has made it work for so long: "It's quite special. I never thought we'd be doing this. It's a lot of compassion, compromise, exploring and growing together, and a shared passion for skating and work and being a pair team. A lot of life lessons have come along the way, too."
As the great "Tai and Randy" — as fans call the beloved pair — celebrate this 50th anniversary, the Ice Theatre of New York (ITNY) will honor them at its annual benefit gala and performance on Oct. 30.
"We honor skaters who have displayed artistic aspirations within their skating career, or who have stayed in skating and enhanced the sport during their lifetime, and Tai and Randy personify that," says Moira North, the founder and artistic director of the Ice Theatre of New York. "Going into their 50th anniversary of working together, we wanted to honor them. It is a professional marriage that needs to be celebrated."
The Show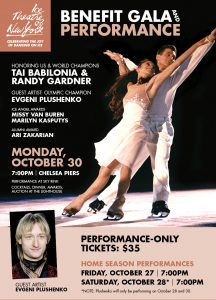 The Ice Theatre of New York is the first nonprofit ice dance company in the nation, dedicated to figure skating as one of the performing arts and a dance form. For more than 30 years, ITNY has provided "a venue for artistic voices and collaborations, to see what's possible in our icy world," as North puts it. The company also puts on performances and skating clinics for students in the New York Public Schools in all five boroughs, exposing them to a new form of physical activity and artistic expression.
ITNY's annual fall benefit show and gala is their main source of fundraising, and this year's show not only honors Babilonia and Gardner, but will also feature a performance from Russian Olympic and World Champion Evgeni Plushenko.
It's Plushenko's first show on U.S. soil in 11 years, and he is returning to skate in honor of his agent, Ari Zakarian, the recipient of the ITNY Alumnus Award. Zakarian, a former ITNY performer, will receive the award in recognition of his success as an agent and producer of ice shows, particularly in Russia, Japan, and Korea.
After the show — which will feature a number about global warming, a tango, and an ensemble number to "Rhapsody in Blue," among others — ITNY will present the awards at the gala, which will include a silent auction, dinner, and dancing. Missy Van Buren and the late Marilyn Kasputys will receive the Ice Angel Awards for their generous financial and volunteer support of the organization through the years.
Grateful to Be Honored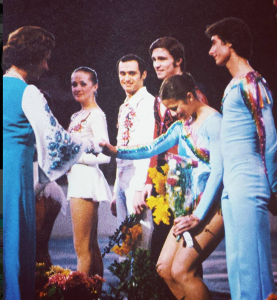 Babilonia and Gardner were paired by their coach, Mabel Fairbanks, the first African-American inducted into the U.S. Figure Skating Hall of Fame for her efforts to break the color barrier in the sport. Both said that they never expected to still be working together 50 year later, but it is a friendship and partnership for which they are profoundly grateful.
"I call it five decades of the best roller coaster ride ever," Babilonia says. "Yes, we did some amazing things on the ice and representing our country, and we had an amazing professional career. But through all of it, it's the friendship for me. I'm so proud of it and protective of it."
The pair won their first national title in 1976, but their performance in 1975 didn't give any indication of what was to come. Babilonia remembers struggling with a growth spurt that year.
"It was almost like I forgot how to skate," she recalls. "It was the roughest year for me and Randy. The lifts were hard, the jumps were off, and there was chatter around us, about maybe needing different partners."
But Babilonia and Gardner — and their coach, John Nicks — didn't waver. "The next year, everything went back to normal, we won our first national title and qualified for the Olympic team," she says. "You don't see that now. If someone is having problems, they are onto the next partner, but that wasn't even a thought for us."
Though both Babilonia and Gardner attribute their commitment to each other as the key to their success, they are grateful for the support of family, friends, coaches, and mentors.
"I'm looking forward to all the people that are going to be in the room: past honorees; people who I, or Tai and I together, have looked up to; mentors and people who have been an inspiration and support to us," Gardner says. "The room is going to be full of those kinds of people, and it's an honor to have them there as the Ice Theatre of New York is honoring us."
Babilonia agrees: "It is going to be special, and I'm so honored. I'm starting to work on my speech, because there are a lot of people in our circle to thank."
Tai and Randy Today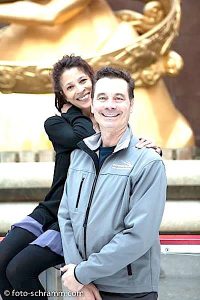 These days, Babilonia and Gardner still work as a team, just in different capacities. They'll occasionally break out some pairs moves — like their famous spirals or spread eagles — for fun, but their last formal performance was in Scott Hamilton's CARES Foundation ice show in Cleveland three years ago.
Gardner is on the ice several times a week as a coach and choreographer in the LA area, and Babilonia often works with him to help students polish their programs and presentation skills. Babilonia also works as a motivational speaker with "Ready, Set, Gold!", a mentoring program in Los Angeles middle and high schools led by former Olympians and Paralympians. Her son, Scout, is now 22 and will graduate from the police academy in December.
And though they aren't performing on the ice any more, they do perform together in Gardner's stage show, "Go Figure: The Randy Gardner Story." Gardner says the show is a live autobiography, and 1976 Olympic Champion Dorothy Hamill is also part of the cast. After a successful debut in LA in 2015, the show will have a 10-day run at the Delaware Theatre Company in Wilmington, Delaware, starting January 18, 2018. For details and tickets, visit the DTC's website by clicking here.
To buy tickets for the Ice Theatre of New York benefit show and gala, or to donate to ITNY, visit the ITNY website here.
And for more from Babilonia and Gardner, check out their thoughts on the current pairs scene heading into the Olympic season.