By Maura Sullivan Hill
Tai Babilonia and Randy Gardner are the last U.S. pairs team to win a World Championship title, in 1979. They took some time out from preparations for their 50th anniversary season to share their thoughts on the current pairs scene.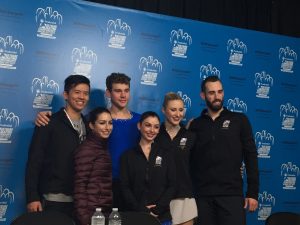 On the U.S. pairs teams:

Tai: "I'm going to be honest…I don't get too attached because I never know if they are going to stay together! It's pretty wild that just one team is going [to the Olympic Games]. Bottom line, U.S pairs need to stay together. This partner switching doesn't work. They want this quick fix to be on the Olympic team, but there is no longevity in that. I'm not putting anyone down — it's just something I can't comprehend because it is a different mindset than Randy and I, who were so committed to staying together. I wish them the best of luck, and my advice is to stay together through the good times and the bad times."

Randy: "The U.S. teams show promise, however, to stay competitive with the international scene, it might be helpful to have some sort of unified training and coaching strategy to compare ideas, techniques, and the like. Even an exchange with some of the international coaches might be beneficial."


On the incredible difficulty and athleticism on display in the pairs event, from quad twists to throw triple axels and side-by-side triple lutzes:

Tai: "I can't comprehend that; I don't even know what that feels like! We did a throw triple salchow, which seems so old school now. It seems too dangerous, and I question the rules. The people who make the rules need to put themselves in these skaters' skates; try to understand the pounding on the knees and the bodies. Give me a nice Ina Bauer or an edgy, long-held spiral, but with all the skaters have to do [to meet IJS requirements], there's no time for that."
Randy: "It's incredible to watch – a great advancement for the whole sport. It's unimaginable that people can throw those kinds of elements out there on the ice!"
On the headline-making pairs team from North Korea, who qualified for an Olympic spot in September:
Tai: "I watched their long program online, and it was a breath of fresh air. It looked like they were enjoying everything, but they were also doing the hard stuff. What stood out to me was their personalities. Congratulations to them!"
Randy: "Sports always seem to bring the world together, especially at the Olympics. I know everyone will be watching this North Korean pair team, and with them making this kind of breakthrough, it can only enhance figure skating and the Olympics has a whole. These little steps seem to, in some ways, smooth out world politics. Or at least, get people thinking."
Remembering two-time Olympic champion and four-time World champion pairs skater  Ludmila Belousova Protopopov, who passed away in September:
Tai: "In 1976 in New York City, we were doing a show called Super Skates at Madison Square Garden and Ludmila and Oleg were also in the show. Randy and I had a really good outside death spiral, and during rehearsal, they taught us the forward inside death spiral, which they invented and called the life spiral.
They were two of the nicest and most gracious people. The longevity, that they kept skating through their 80s, who does that? That's inspiring! If you love it that much and are passionate about it, anything is possible and they did it, they are proof."
Randy: "When we were a young pair team, the Protopopovs came to our training rink in Santa Monica for a visit. They had just recently defected and were getting ready to make a living here in the US with their skating. When they stepped out onto the ice that, my heart melted. Then our coach, John Nicks, had them work with us on a few moves, namely the death spiral. They demonstrated, watched us, gave instruction and I absorbed every word they said. So did Tai. Then a few years later, we competed with them in the World Pro Championships. Tai and I tied for first place with them. What an honor.  
We have lost a true legend in figure skating after Ludmila's passing. I know Oleg must be devastated, as she was his whole life. And their performances showed their love for each other, time and time again, and will go down in history as perfection! Never again will we have such a legendary pair team grace the ice like they did."