By Gina Capellazzi, Team FSO website administrator
Photos by Melanie Heaney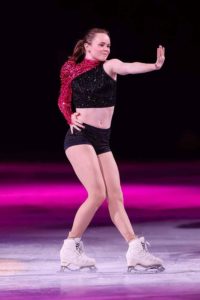 "Some things in life are worth waiting for" — and for Mariah Bell, that statement surely holds true. In her 11th competitive season, at age 25, Bell won her first U.S. title and became the oldest U.S. women's champion since Beatrix Loughran in 1927. She also became the oldest American women's singles skater to compete at the Olympics since Loughran in 1928.
Bell finished in 10th place at the 2022 Olympics. Just a month later, Bell competed at the World Championships, where she won a small bronze medal for her third place finish in the short program. Bell just missed the podium, finishing in fourth place overall behind fellow American Alysa Liu.
The now 26-year-old is appearing in her first Stars on Ice tour. When Figure Skaters Online spoke with Bell before the Hershey show of the tour, Bell expressed her joy in performing in the 2022 tour, and also shared her thoughts on her season and her futu
FSO: What has it been like to participate in your first Stars on Ice tour?
Bell: It has been so much fun. We are really a family. The cast gets along so well. It's so tiring, but so much fun. Every day when we're finishing, like when we do the last pose, I'm so sad. That's one more show done. I just want it to go on forever, but we still have a lot of tour left, so yeah, it's been so fun.
FSO: Did any of the cast members who have been on tour before tell you what to expect?
Bell: They told me to expect that rehearsals would be kind of hard and they were. But this (tour) is quite different I think than other years because I think people were going home during the week and then flew back, and (during this tour), we really have been together since we started, so that's been really cool. Everyone told me how much fun it was gonna be. I had an idea it was going to be fun, but it's kind of exceeded my expectations.
FSO: You, along with the cast, got to experience some pretty cool things in between shows – like you went to Walt Disney World and the Elton John concert. What have those experiences been like for you?
Bell: It's been so cool. Again, I don't think that's something, that in years past, many casts have been able to do. So I think it's just another way that makes us feel so close and it's really like a celebration of all the hard work we've done. So I feel like both on and off the ice, we are able to really have fun and just kind of let loose. It's a great experience.
FSO: What are you skating to in the show?
Bell: The short program that I had choreographed (for the 2021-2022 season) that I didn't end up using – Lady Gaga. That's one of them. And then the other one is a violin piece, but it (the song) is "Easy" by Adele. I just love the song. I'm wearing my short program dress from this season.
FSO: Who choreographed your "Easy" program?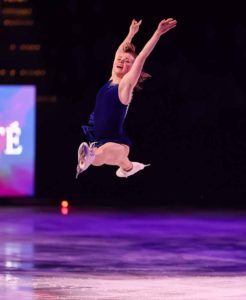 Bell: I did! I did it just like a week or two before we came (the start of the tour). My short (Lady Gaga) was choreographed by Adam Rippon and Cordero Zuckerman.
FSO: Turning to the season – if you could sum up your season in one word, what would it be and why?
Bell:  Fulfilling. I think there was a lot that I didn't like, but you know, ultimately, it was kind of scary because I felt like everything I've done in my career was leading up to this moment and either I could succumb to it or maybe it wasn't meant to be. But I was able to fulfill everything that I thought I could.
FSO: What were you most proud of this season?
Bell: There's three big things for me. There's winning Nationals. The goal was just to make the Olympic team, but to win and have it be no question on if I should be on the team or not was good. Obviously, going to the Olympics (was something I was proud of), but also getting third in the short at Worlds was awesome.
FSO: What was your favorite memory from the 2022 Olympics?
Bell: Walking in the Opening Ceremonies was amazing. And then the moment when I finished my long was also really cool because there wasn't a lot of people there physically watching in person, but there was like one half of the rink that was all the other athletes and they were so loud.
FSO: What did you think of your performances at the World Championships?
Bell: It was really interesting because we knew the field was going to be a little different (without the Russian athletes), but I tried not to focus on that too much. And it was really interesting because I think I speak for everyone when I say it was a long, tiring season. It was weird to be at the Olympics and then be like 'Oh wait, but you're competing again now.' But I had a really great time. (My) short (program) was amazing. (My) long (program), I think, because it was the end of the season, I was a little fatigued. But I'm really proud of the long too. Obviously, it was a bummer to be so close to a medal and not get it, but I genuinely was so happy for Alysa (Liu) because I knew a least one American lady should have been on the podium at Worlds. So that was really, really cool.
FSO: What was like to finally skate your "Hallelujah" free skate at the World Championships, the program you had hoped to skate at the 2020 World Championships?
Bell: It was really amazing. It was so sad that Worlds (in Montreal) didn't happen, but I'm fortunate in a way I guess because it really let me feel that I could do "Hallelujah" this year, which I think was the best year to do it. It was really amazing to get to do it at Worlds. I tried not to think too much about it because I was like, 'Is this gonna be the last time I'm gonna do Hallelujah?'. But anytime I do it, I just really enjoy doing it. It was really special.
FSO: Have you given any thought on what your plans are for next season?
Bell: I really haven't. I'm so honored that people are invested in knowing what I'm doing, but if I knew, I would say. I don't think I'll go for another four years, but another year is definitely a possibility, especially with no Russians skaters skating.
FSO: How does the ban on Russian athletes impact your decision on your future?
Bell: I think it opens up the door of possibility for a lot of skaters. I saw it (no Russian skaters) for myself at Worlds so that's something that's definitely on my mind. However, right now, I'm trying not to make too many decisions because I know it's been a long season and I'm tired. But I know, for sure, I'll never just walk away from skating. But I haven't decided yet and I'll wait till after the tour (to make a decision).
FSO: Any plans for college?
Bell: I went to the University of Colorado at Colorado Springs for a few classes before I moved to California for training so I definitely want to go back to college. I have no idea what to study, but that obviously the next thing. It's fun to think of other opportunities now. There's a lot of things that I've done in skating that I'm still proud of and they were some of my biggest goals. So whatever I do, if I keep skating or not, like I know, it'll be really exciting the next couple of years.
FSO: What do you think of the future of the U.S. women's figure skating going forward, especially with the retirement of Alysa Liu and with your plans unknown? How do you think the U.S. women stack up internationally?
Bell: We just saw Isabeau (Levito) win Junior Worlds, so that is incredible. We don't know what is going to happen long term with the Russian skaters. It is kind of a big question mark. But at least for the next two years, we're very very competitive. I think you can take anyone, in the top six or seven at U.S. Nationals, and they will do well internationally, given the field that we have now. So it will be really exciting. I mean, every four years, no matter what if people keep skating or not, there's a new kind of layer of skaters that kind of move up so it'll be exciting to see what happens there. I don't think a junior lady has won Junior Worlds in quite a while.
FSO: Rachael Flatt was the last U.S. woman to win Junior Worlds in 2008.
Bell: So it (Levito winning Junior Worlds) is really promising and exciting.