By Gina Capellazzi, Team FSO website administrator
Header photo by Danielle Earl
Other photos by Robin Ritoss, Danielle Earl and Stars on Ice
After a successful season, which included winning her second consecutive world medal, Loena Hendrickx, of Belgium, hit the road with Stars on Ice, performing for audiences in Japan before heading to North America for the Canadian and U.S. tours. This was Hendrickx's first time performing in North America.
Before the final show of the tour, Hendrickx chatted briefly with Figure Skaters Online' Gina Capellazzi about the past season, performing with Stars on Ice and her plans for next season.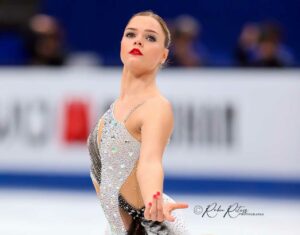 FSO: What were you most proud of this past season?
Loena Hendrickx: What I am proud of is that I did earn a lot of medals. Like every competition, I had a medal. That was like unexpected because my season was pretty hard, difficult and rough, especially mentally. I really felt that the post-Olympic season training was much harder than training the year before, where everything was like easy. Last season, I struggled a lot mentally. I really had to train harder and it was harder for my body as well. So that's also the thing that I'm most proud of because at Worlds, the mental part was there again. But it was there [at Worlds] that I enjoyed skating again. Before Worlds, it was just like, 'I have to compete, I have to train', and the love of the sport was disappearing a bit. And then I was talking with my mental coach [Eline Berings], and she said, like, 'Why are you doing this? Because you love this, right?' And I was like, 'Yeah, sure. I do love this.' But I lost the feeling of it. And because of her [Eline], I got the feeling back. And at Worlds, that was the first competition that I really enjoyed because I was there and I was proud of myself. I didn't want to have any pressure on me. There were a lot of expectations (on me) and that was just something different that I had to learn to adjust to.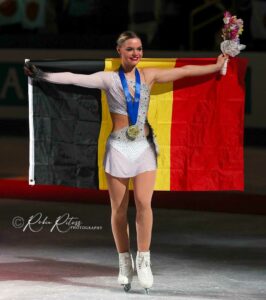 FSO: You continue to make history for your country with winning the first European medal for Belgium women and also helping qualify three Belgium women for the World Championships. What was it like for you to see three women from Belgium compete at the World Championships? What did that mean to you?
Hendrickx: It was already crazy that we got two of them [spots for the Belgium women at the World Championships] and then at the last minute, there was a third Belgium girl who qualified and who got her her points. So I felt very proud because I was the one who made this moment happen. Like, I gave them the chance to be at Worlds together with me. It's just so special that I did have the three places and they filled up. In previous years, we had two spots at Worlds and Europeans, but I was always like the only one.
FSO: This was your first time performing with Stars on Ice in North America. What was like to perform across Canada and the U.S.?
Hendrickx: It's crazy because I feel really honored to be here as a European person and to meet all these amazing people and to meet them in a different way than competing. It's just amazing. I never thought that I would love it the way I love it now and it's just amazing to explore the world by doing what you love.
FSO: Any cities that you visited that were memorable?
Hendrickx: It's a tough question because I saw so many different places in a short time. I really the love the cities where I explored the most. Vancouver was very nice in Canada. Seattle was nice. California was nice. Palm Springs. It's just like totally different than what I'm used to in Belgium.
FSO: What programs did you skate to during the tour?
Hendrickx: I skated to "Circus" by Britney Spears and "Loneliness" by Loni.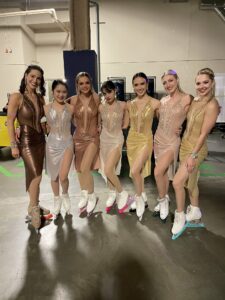 FSO: What was your favorite part of the tour?
Hendrickx: I think like skating from the beginning, from the moment that the music starts and enjoying it from the first moment. That was a thing that I really liked and learned here [at Stars on Ice]. I still have to jump so I have to focus, but I was always like, if the jumps are over, then I can enjoy. Now, I really learned that I can enjoy it from the first seconds [of the program]. And of course, the audience helps a lot.
FSO: What was it like doing the group numbers?
Hendrickx: It was so different and so much more fun. It's such a unique experience here and a chance opportunity. So I feel really honored to be here and to experience this.
FSO:  What's next after the tour?
Hendrickx: I will have a little rest. And then, I still have two more shows in Japan to do. Then I'll be working on my new choreography and training again. I hope to be ready next season for competitions.
FSO: Have you started working on programs for next season?
Hendrickx: I do have both programs choreographed already. Like the basics are ready. But still a lot of work to do.
FSO: Can you give fans any clues or hints to what your programs are for next season?
Hendrickx: It's still a secret, but I'm doing some of the choreography during practice [at Stars on Ice].
FSO: Who is your choreographer this season? Adam Solya?
Hendrickx: Yes
FSO: In 2021, you left your longtime coach to be coached solely by your brother, Jorik. What is it like working with your brother?
Hendrickx: I think it's the best choice I ever made. He is so creative. Every practice is different. I don't know where he gets inspiration. We had a camp last year in Slovenia, where we had, I think, like 12-hour skating skills, and he didn't repeat one step. So it was like a 12 hours of different steps. So that's what I like the most about him. Also, he knows my body pretty good so he knows when to tell me like 'easy going now because otherwise you will get injured.' And I want to go, go, go go until it's too late.
FSO: Jorik is also doing some camps in Belgium this summer. Will you help him out at those camps?
Hendrickx: If I'm in Belgium, of course, I will be there as well.
FSO: Is skating growing in Belgium? Are more kids getting into skating?
Hendrickx: Because of my results, I got more and more media attention and I'm in the news. People really noticed that so it's getting bigger and more kids are starting skating. That's the thing you want to achieve as an athlete — to inspire the little kids and get them to skate.
FSO: What are your goals for next season?
Hendrickx: I'm hoping to just enjoying everything, enjoy competing again. No pressure, just doing what I love.