By Figure Skaters Online
Photos by Robin Ritoss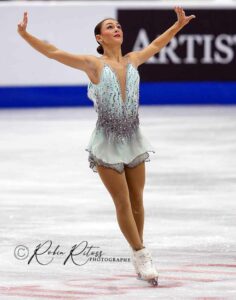 Ava Ziegler made quite a splash in her first senior season. Following a fourth place finish at Philadelphia Summer International in 2022, which was her first senior event, the 17-year-old from Dover, New Jersey won her first Challenger Series event – gold at Budapest, Trophy.
Two weeks later, Ziegler was called up to compete at Skate Canada International following the withdrawal of fellow U.S. skater Kate Wang. Ziegler surprised many with her third place short program, where she earned a new personal best score. Unfortunately, a seventh place free skate dropped her to fourth overall, just shy of earning her first Grand Prix medal.
At the 2023 U.S. Championships, Ziegler finished ninth. She closed out her season by winning the bronze medal at the 2023 Coupe du Printemps in Luxembourg.
Now in her second season on the senior circuit, Ziegler won silver at the Cranberry Cup International at the Skating Club of Boston. At the end of last month, she was invited to her first Champs Camp and just a few days ago, she received a Grand Prix assignment – NHK Trophy.
This week, she will compete at Lombardia Trophy, the first ISU Challenger Series event of the 2023-2024 figure skating season.
Figure Skaters Online caught up with Ziegler briefly just after Champs Camp. (Note: This interview was conducted before it became public that Ziegler was added to the NHK Trophy roster)
Figure Skaters Online: Let's start with last season – what were you most proud of last season?
Ava Ziegler (AZ): I was most proud of my mental maturity.
FSO: What was your favorite moment of last season?
AZ: My favorite moment was winning Budapest Trophy.
FSO: Moving onto this season – What did you think about your skates at Cranberry Cup? What were you most proud of and what was something that you  disappointed in?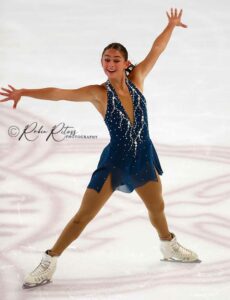 AZ:  I was super happy with my skates at Cranberry Cup. There are things that I can improve throughout the season, but the overall, the competition was successful.
FSO: Do you make any changes to your programs after Cranberry Cup? What have you been working on as you prepare for Lombardia Trophy?
AZ:  I've mainly been working on my program presentation and musicality.
FSO: What are your goals for Lombardia Trophy? What are you most looking forward to about traveling to Italy?
AZ:  My goals for Lombardia Trophy is to be as consistent and calm as possible. I mostly look forward to trying the food and exploring the country.
FSO:  You recently attended your first Champs Camp? If so, what was the experience like for you? What did you gain from the experience? What sort of insights/feedback did you get on your programs?
AZ: This was my first Champs Camp. It was a great learning experience and an amazing environment.
FSO: What are your goals for this new season?
AZ:  My goals for this season is to be consistent and confident and to just really find and show my love for this sport.
FSO: How has training been going? What have you been focusing on the technical side and what have you been focusing on the artistry side?
AZ:  Training has been going well. I have been working on cleaning up my technique and pushing my programs out to make them look bigger.
FSO: Are you attending school or did you graduate from high school?
AZ:  I attend Bridgeway Academy and I am going into my senior year of high school.
FSO: Fun question – you went to a Taylor Swift Eras tour concert – how was it?
AZ:  The Taylor Swift concert was so much fun and such an amazing experience.
You can learn more about Ava Ziegler on her official website.