By Figure Skaters Online
Photos courtesy of Tim Dolensky and Miwako Nagata
After his sixth-place finish at the 2019 U.S. Championships in Detroit, Michigan, Tim Dolensky decided to leave behind the world of competition to embark on another phase of his skating career. He signed an eight and a half-month contract to be a performer on Royal Caribbean's Symphony of the Seas, one of the cruise line's newest ships.
Dolensky's contract aboard the Symphony of the Seas ended in December, but his adventure on the high seas isn't over just yet. Dolensky is preparing for his second contract — this time aboard Royal Caribbean's Freedom of the Seas, which is currently in dry dock in Spain for renovations and will return to San Juan to resume its sailings in the spring of 2020.
Before leaving for Spain to work with his fellow Freedom of the Seas on-ice cast members, Dolensky took answered some of Figure Skaters Online's questions about life at sea and what it is like to be an on-ice performer aboard a cruise ship.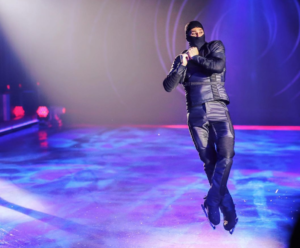 Figure Skaters Online (FSO):  So tell us about your first cruise contract! What was the ship you performed on and where did it sail? 
Tim Dolensky: I sailed on [Royal Caribbean's] Symphony of the Seas, which had several different itineraries to Mexico and some other Caribbean islands, such as St. Thomas, St. Kitts and St. Maarten.
FSO: So why did you decide to set sail and skate on a cruise ship?

Tim: I had decided to wanted to perform on a cruise ship whenever I decided that I was finished competing. I had talked to Timothy LeDuc [2019 U.S. pairs champion] about them since he used to perform on a cruise ship before he came back to competing. It sounded like a lot of fun. So far, I have only done one contract, which was eight and a half months. [Tim's first contract ended in December 2019 and he has just begun his second contract.]
FSO: What did you perform in the show and what kind of skating elements did you do?
Tim: We performed two different shows. Our main show was "1977 ", which had a story to it and included lots of different sets and many different characters and costumes. Our other show was called "iSkate 2.0" and was more of a combination of individual numbers that showcased us performers.
As far as elements went, I did several backflips, double Axels, a triple Salchow and a triple loop. It took a little while to get used to jumping on such a small surface of ice.
FSO: What was a typical day on the ship like? In terms of practice time, show time, leisure time? What did you do for fun on the ship when you weren't performing?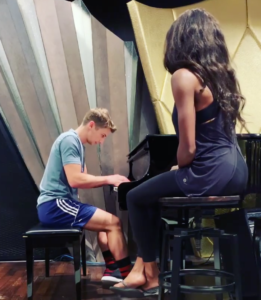 Tim: So we pretty much have the day free except for our warm-up ice and shows which could take all afternoon and evening. We would also do different things such as perform in the ship's parade twice a week, spotlight other shows, and help with the public skate sessions. When we have those extra things, it could make the day fairly busy. Any extra time I have I usually spend in the gym, reading, or hanging out with my friends. Sometimes I would play the piano when it wasn't too busy and sometimes I would get off the ship when it was at port to get food or go to the beach.
FSO: How do cruise ship audiences respond to the show? Is it different than skating in front of a knowledgeable fan audience at a competition?
Tim: Most of the time, the audience was very responsive and there was a lot of applause, especially at the end of the show during our bows. Audience attendance varied depending on the time of the show and other events that were happening at the same time on the ship.
FSO: What were you most excited about regarding performing on a cruise ship, and did it prove to be true?
Tim: I was most excited to meet new people and to make new friends. This turned out even better than I expected because I made so many new friends and made new relationships with so many unique and cool people from all over the world. I will be in touch with a lot of these people for a long time to come. Getting to know the performers from the other casts on the ship was my favorite part of the whole experience.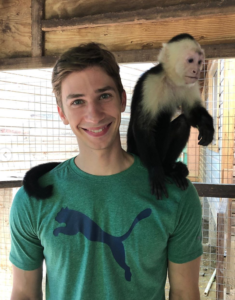 FSO: What was the best part of being on a cruise ship and skating being your job?
Tim: The best part about this job was being able to travel to some really cool destinations that a lot of people pay a lot of money to go there on vacation! It was so cool to wake up in a different place everyday. To be able to get off and explore these places was truly a blessing that I was so thankful for. It is also nice when you have a really good audience and it feels good to know that they enjoyed your performance in the shows.
FSO: What was the toughest part?
Tim: The toughest part about it is the schedule. It got a little wearing after a while to do two shows almost every night, especially when they can be as late as a 10:45 p.m. show. We would finish really late after that and by the time you go eat again and get ready for bed it was usually 2 a.m. at the earliest and it can be difficult to be on that kind of a schedule for multiple days in a row. At least it was for me because I'm not naturally a night owl.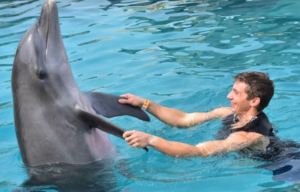 FSO: Where were some of your favorite places you visited during your time off?
Tim: I was able to have time off in every place that we went to over the course of my contract. My favorite places were St. Maarten and San Juan, Puerto Rico. Both of those places are especially beautiful and you can do some really cool things there.
FSO: Many skaters have spoken openly about the challenges of transitioning to post-competition life. How has it been going for you?
Tim: The post-competition life has been really great. I don't have to wake up early every morning and go bust my butt anymore, literally! I still enjoy being active so I still go to the gym regularly. It's nice to be able to train and work on anything in the gym that I want to instead of being on a certain training program that I have to stick to for competing. As of yet, I do not miss competing and I love to be able to perform for audiences still. I think I will feel worse or miss it more when I stop doing shows and skating all together.
FSO: Have you decided if you'll return to competition at some point, or stay on the professional skating track?
Tim: At this point, I have no plans to return to competition. I have plans to finish college once I save up enough money and I have other plans for my future outside of skating. I'm really looking forward to living the rest of my life!
Eventually I plan to go back to school to study music, which is what I had wanted to do in the first place, but could not because of skating. I would love to earn a degree in music education and I want to be able to teach music at a school one day, preferably as an orchestra teacher.
—–