By Gina Capellazzi, website administrator
Header photo (Maddison Bullock with young flower girl extras) by Layna Griffith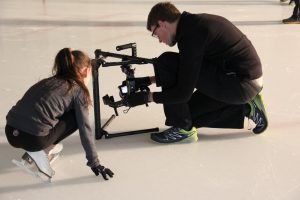 Maddison Bullock has seen her share of figure skating movies from The Cutting Edge to Ice Princess, but in her opinion, many of the skating movies out there didn't accurately portray her sport. 
"I was always a little bit disappointed with a lot of the skating movies that were out there," she said. "I loved The Cutting Edge, but aside from that, I was like, 'this doesn't seem realistic' and this sport is so serious and these movies make it seem so small and trivial." 
So that's why the former competitive figure skater turned actress and filmmaker created the newest inspirational sports drama, Ice: The Movie. The movie tells the story of best friends, Bailey Grantham and Peyton Shaw, and their struggles and triumphs as elite competitive figure skaters.
"It's a unique perspective of what it is like to be in an individual sport, but also shows a teamwork component to it" is how Bullock described the film.
Bullock, who once trained at the Broadmoor World Arena in Colorado Springs, says she got her "first taste of the entertainment industry" when she moved from Colorado Springs to Los Angeles to pursue her love of acting, while attending college at UCLA for history. During that time, she also got involved with more of the behind-the-scenes aspects of filmmaking. Upon graduation in 2014, Bullock began appearing in various short films and TV series. In 2016, she began writing the screenplay for The Ice. In addition to writing the script, she also assembled the cast and crew, produced and even starred as Grantham in the film.
"I was wearing a lot of different hats and it gave me a huge respect for filmmakers," Bullock added.
Bullock cast Lisa Mihelich, a former figure skater, as her co-star, playing Peyton Shaw in the movie, and 11-year-old Elise Freezer, the juvenile girls' pewter medalist at the 2017 U.S. Championships and who appeared in SunTrust Bank's television commercial during the Olympics, to play the younger version of Peyton.  The younger Bailey was played by 8-year-old Phoebe Stubblefield, a skater discovered by Bullock while visiting the World Arena.  
"I went in to get my skates sharpened and I saw her on the ice and I was like, 'Oh my God, she skates so much like myself,'" Bullock said of Stubblefield.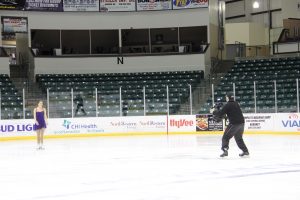 The film also features Michael Monks, known for his  movie roles in Street Kings and Garfield; Gregory Itzin, known for his TV role in 24; Mike Manning, who has appeared on MTV's Teen Wolf and the Disney Channel movie, Cloud 9; and Patrick O'Brien Demsey, who played Mike Eruzione in the movie, Miracle. The film also includes cameos by 2013 U.S. Champion Max Aaron, two-time U.S. Champion Alissa Czisny, and 1984 Olympic pairs silver medalist Peter Carruthers.
"They had a really good time," she said of the appearances by Aaron, Czisny and Carruthers in the film.
The bulk of the movie was shot in December 2016 in Colorado Springs, Bullock said, because of the tight-knit skating community there. She says a lot of her former coaches and some of the judges that judged her as a young skater played those same roles in the film, as well as members of the area skating clubs skated as extras in the movie. Bullock, Mihelich, Freezer and Stubblefield did all their own skating in the film and Bullock says skating doubles were not used in the film in order to keep the movie authentic.
"It basically became this movie–by skaters for skaters," Bullock proclaimed.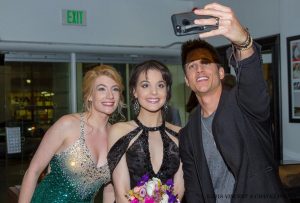 The movie premiered at the Ricardo Montalban Theater in Hollywood, California on February 20, 2018. Among those in attendance for the premiere were Tai Babilonia, Brittany Vise, Tiffany Vise and Sean Rabbitt.
"It was so Hollywood and wonderful and fun," Bullock said of the premiere.
The movie is available for purchase through Amazon in U.S. and U.K. and worldwide through the video-sharing website Vimeo. To promote the movie, Bullock also has established an ambassador program. Skaters of all levels from all over the world can apply to the program (* see Editor's Note below). Skaters will be selected to receive a special discount Vimeo code for the movie that they can share with friends and family. One dollar ($1) from every purchase using that code will go back to the skater for his or her training costs. 
"It's a cool way to encourage skaters to spread the word about the film and also potentially put money back for their own training expenses," Bullock added.
Since its release, Bullock says she has been floored by the positive reaction to the movie from both inside and outside the skating community.
"At its core it's a family movie about young women going for their dream," she said. "There is something in it for everybody. I haven't heard anything negative yet, so I'm really very happy with it."
Ice the Movie isn't just a movie. Bullock says she working on a book about the film. 
"The book is basically about the character Bailey, her experiences and told from her point of view," Bullock explained, who says she is currently seeking out a publisher with the hopes to be able to release the book in time for Christmas and the holiday season later this year.
And not just a book either–Bullock, who isn't able to share all the details, says she is also in development for a skating TV show.  
But until then that comes out, Bullock has just been been busy spreading the word about her first film.
"It has been such a magical experience to see something come from my mind to a big screen," she said.
—
*Editor's Note: To learn more about the ambassador program for Ice: The Movie, skaters can send an email to Bullock at icethemoviefamily@gmail.com.