By Gina Capellazzi, website administrator
Header photo by U.S. Figure Skating; all other photos by Leah Adams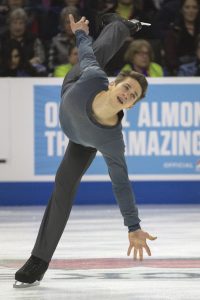 After the 2016-17 season, Tim Dolensky made some major changes in his life. He moved from his hometown of Kennesaw, Georgia, to Euless, Texas, to train with Peter and Darlene Cain. After three consecutive 7th place finishes at the U.S. Championships, Dolensky is hoping to break that streak and hop onto the podium this season.
Dolensky, who will turn 26 later next month, will kick off his 2018-19 season on June 21 at the Broadmoor Open in Colorado Springs. Before his first competition, he caught up with Figure Skaters Online.
Figure Skaters Online (FSO): What are your thoughts on your performances during the 2017-2018 season? What were you most proud of? What were some of your challenges?
Tim Dolensky (TD): My thoughts on last season are that my season started off really well, early, and then it took a sharp turn in Salt Lake (U.S. International Classic) in the long program and that really threw me for a bit. But what I like about last season was that I was able to come back at Nationals and skate better.
FSO: Speaking of Nationals, it appears that lucky number 7 has been your number for the past three seasons, finishing in 7th place at Nationals for the past three seasons (2016, 2017 and 2018). Talk about that.
TD: It has. (laughs) I know I finished seventh again (at Nationals in 2018), but I feel like this seventh was a good seventh, because everyone was in it this year. For the past two years, either Jason (Brown) or Adam (Rippon) or somebody else has been out. So I feel like it was good. Though obviously I want to do better. But hey, I'm consistent at least. (laughs)
FSO: It's probably been a little frustrating to keep seeing 7th place next to your name. What in your mind will it take for you to finish higher this season?
TD: I plan to really work on my confidence this year. Obviously that is what makes a difference for me when I compete. I think it is clear outwardly how I look when I'm confident versus when I'm not. So that is really the last piece of the puzzle for me. I feel like I'm really one of the best in the U.S., I feel like if I can get that to click and really believe that, then I can do anything. 
FSO: Last year, you made some big changes–moving from Atlanta to Dallas to train with Peter and Darlene Cain. So, looking back, how has it been to live and train in Texas and how has it been to train with the Cains?
TD: Oh I definitely I feel like I made the right decision. I feel like maybe it should have been done earlier, but for other reasons, I didn't want to, but I can only look at the future now. I definitely feel like it was the right move. As far as the place geographically, it (Dallas) is not that different from Atlanta. It is the south, which I like, but it is a little bit hotter. (laughs) I love living where I am and I love training here. It is motivating every day to walk in and everyone around me is at the same level, doing the same things as me and working as hard as me.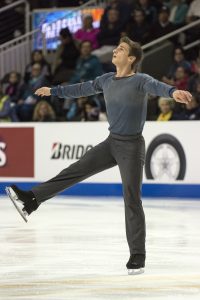 FSO: Looking to the new season, what is your short program and free skate music? Who choreographed them and what is each program like?
TD: So my long program, I'm keeping from last year ("Faux" by Novo Amor, choreographed by Ryan Jahnke). I had that thought, even at the end of last season, of keeping it because one, I never really competed it to my best ability that it could be. Two, I also feel that it is really difficult, especially now with the way IJS (scoring) is, to have two new programs, at least if you want to work on other things. So I really wanted to keep it because I really love it. All I had to do was shorten it by finding a section that was around thirty seconds to take out because the time was going down… which was really hard because I love the whole program. I took out a part in the second half so that it builds a little quicker.
FSO: As you alluded to, the International Skating Union (ISU) has shortened the time duration from four minutes and thirty seconds to four minutes for the men's free skate, starting with the upcoming season. What do you think about the change?
TD: I remember when they (the ISU) were talking about this last year and I remember my first reaction was, 'no'. Change–we don't like change at all. The more I wrapped my mind around it and have been changing my program so that it is this way now, the more that I like it. I think it is good. With the way IJS is, our long programs are quite exhausting. Actually, mine is still quite exhausting because what I took out was a bit of my breather section, if you could call it that. I didn't want to change too much. So even though they made that rule that only three (jumping) passes in the second half will count as bonus,  I wanted to keep it the same as possible. So I still only will have two jumps in the beginning, then two spins and steps and five jumps in the second half, and only the last three will count, I know. But for me, I already think I'm a step ahead because I have mileage on this program. I wanted to keep it the same. (On the duration change), I like it so far, but we will have to see how events go.
FSO: And your short program?
TD: My short program is new. As much as everyone loves that ("Awake My Soul") Mumford and Sons program, three years would have been a little too much! (laughs) I think this one, after I have had it for a little bit, this one can top that even. I feel really strongly about this one and so do Peter and Darlene. We love it. So it is called, "Spark" by a British group called Amber Run. I already had it in mind at the end of season last year when I discovered the band. I was like, 'I really like them'. I thought one of their songs could make a really cool short program. It is kind of a similar style to the Mumford and Sons program, like the casual, simple choreography. The way it starts is really me. It's a little less folksy than Mumford and Sons was. A little bit more alternative. And it gets a little rocker-like going into the third jumping pass and step sequence. It has these really cool accents. It is a hard program! I have been struggling more with the short than the long recently; there is a lot in it. I think if I can compete this one well, I can hit it out of the park.
FSO: Who choreographed your short program?
TD: I was going back and forward in my head, but I decided to have Daniil Barantsev here (in Dallas) choreograph it. I started working with him a little bit on choreography last season, like tune-ups and stuff on what I had. I work with him well. He's similar to Ryan (Jahnke). He has a little bit of that Russian ice dance flair and I think he did a really good job with the short program.
FSO: What are your goals for training this summer, on the technical side (jumps, new spins, etc.) as well as program component aspects?
TD: I would like to get my quad Salchow consistent. I feel like I'm already on my way to doing that. It has gotten a lot better in the off-season. That is one of the things that is really important to me. I also want to get my triple Axel even more consistent than it already is. That's technically what I want to accomplish. In terms of program components, I'm really happy with what I have, but I want to build more on it. I feel like I found a style to my skating now. I want to take that and go further with it. As far as that side of my skating, it is working.
FSO: What club competitions will you be competing in this summer?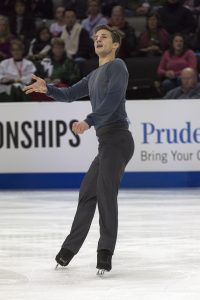 TD: I will be competing at Broadmoor Open and will be competing both programs there. I also will be doing the new Peggy Fleming Trophy (artistic) event, which will be really fun. I'm not doing the Aerial Challenge (jump event) this year because I didn't want to do too much. It's already hard right now training three programs, so after this event when I go down to two, it will be really easy! (laughs) I think we are doing Detroit (Skate Detroit, July 20-21) after Broadmoor, and that's about as far as we have gotten.
FSO: What are your goals this season?
TD: My ultimate goal for this season is to podium at Nationals because I feel that is well within my ability. If I can do what I have, I can easily do that. And has kind of been my goal the past couple seasons.
FSO: We are entering a new quad for the next Olympics; do you have plans to compete for the next four years or are you taking it one season at a time?
TD: I'm pretty much going to take it one season at a time.  It really just depends on how this season goes. I really want to have another breakout season. So it really going to depend. I'm just focusing on this year and keeping my focus shorter.
FSO: Any fun plans for the summer?
TD: Not right now. Just training and working.
FSO: How is music going for you? Have you been playing on your new keyboard lately? Do you have any time to compose any music?
TD: I definitely have been playing. I love it. The keyboard was a bit on the expensive side, but it was totally worth it. I play almost every day. I haven't composed recently. I would love to skate to one of my pieces again in the future, but as I just said, I'm not sure how long I'm going to go and there is always something that I really want to skate to. I love playing. It is always going to be a part of my life.