By Heather Carrelli, webmaster for Tarah Kayne and Danny O'Shea
Header photo by Heather Carrelli
The 2nd annual Skate It Forward show was held in Columbus, Ohio on June 16, 2018. Figure Skaters Online webmaster Heather Carrelli traveled to Columbus to see the show. Below is her review, along with a chat she had with some of the skaters.
---
Review
I had the pleasure of attending the 2nd annual Skate It Forward show in Columbus, Ohio on June 16 and it was a wonderful experience. The show began as a fundraiser for the Ronald McDonald House in central Ohio last year and since I love skating and helping support great causes, attending this show is a big treat for me. There was an awesome guest skater cast that included 2017 U.S. Champion and 2018 Olympian Karen Chen; 2018 U.S. silver medalist Ross Miner; 2017 U.S. bronze medalist Mariah Bell, France's World competitor Romain Ponsart, 2018 U.S. Junior Men's Champion Camden Pulkinen, Team USA competitor Livvy Shilling, and 2018 U.S. bronze medalists and World competitors Deanna Stellato and Nathan Bartholomay. The emcee for the evening was two-time U.S. Champion and 2014 Olympic team bronze medalist Gracie Gold.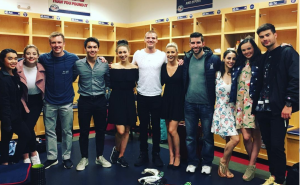 The show started off with a group number featuring all the guest skaters in cute gold and red outfits skating to "24K Magic" by Bruno Mars. It was a fun energetic way to start the show!
Next was a young skater from the Skating Club of Western New York named Ella. She's been a patient at Nationwide Children's Hospital in Columbus and has stayed at the Ronald McDonald House, so this cause was very important to her. She raised almost $3000 for the show this year and skated an adorable number to "Life Goes On" by the Beatles.
Livvy Shilling skated a fun number to "One Night Only" from Dreamgirls  in a sparkly pink dress and brought a lot of sass and personality to this program. She actually reminded me a bit of Ashley Wagner at times.  She landed a great triple Salchow and had some gorgeous spins in her number.
Next was a group number with some of the local skaters who skated a fun program to "Dancing on the Ceiling" by Lionel Richie.
Camden Pulkinen skated a soulful program to "Sweet Creature" by Harry Styles. He landed two gorgeous double Axels and a double toe in this program along with demonstrating his trademark charisma and smooth skating.
Next up was the pairs team of Alexis and JD who I didn't know prior to this show. He originally was a hockey player and she a synchro skater before teaming up, and they competed together twice at the U.S. Championships at the Novice level. Fun Fact: They actually got married in an ice rink on New Year's Eve 2014! They recently completed a tour with Holiday on Ice in Europe. In the show, they skated a really fun program to "Rhythm of My Love" and impressed everyone with some awesome pair tricks.
We had another group number with some of the younger skaters from Central Ohio and they were SO cute! They skated to "Twist and Shout" and there was one little guy in this group who stole everyone's heart. He had to follow the others at times to remember what he was supposed to do but he was so much fun to watch!
Mariah Bell skated a gorgeous program to "Stand By Me" (a mellow version sung by a woman) and she didn't hold back on the jumps. She landed a double Axel-triple toe combination and a great triple Lutz, along with showcasing her amazing spins and wonderful presentation. I really enjoyed this program!
The boys did a really fun group number to "Can't Touch This" that showed off some fun tricks, Ross' awesome cantilever, and each of the guys' personalities.
The last program before intermission was a hockey skills set run by Lee Harris, who is a coach for the Columbus Blue Jackets' hockey team. It was fun to see these kids show off some hockey skills for us. It was set up as a boys vs girls competition too that ended with the two teams tying (each team won two events) so they all got a trophy at the end of it!
The first number after intermission was fun girls' number to "Who Run the World" by Beyoncé which was really energetic and sassy. I could tell the girls were all having a great time!
Romain Ponsart skated a wonderful number to "Your Song" from Moulin Rouge that got a great reaction from the crowd. He landed some big jumps in this program (quad toe, triple Axel, and triple Salchow) along with doing a fun cantilever and some really solid spins. I really enjoyed this program and I was glad the crowd agreed with me!
Next up was another group number with some of the higher-level local skaters who did a really great program to "Can't Stop the Feeling" by Justin Timberlake. Everyone did a really great job in this program but there was a guy in this group who caught my attention because he had some really awesome spins.
A group from the Theatre on Ice skating program did a wonderful group number to a medley of songs from The Lion King. Their costumes were adorable and I loved how well they brought the theme from the movie onto the ice.
Deanna Stellato and Nathan Bartholomay were next to skate and they performed a really great program to "I Have Nothing" by Whitney Houston. They landed a gorgeous throw triple loop and their lifts definitely wowed the crowd. They're looking much more like a complete team now and I loved this program!
The final group number was the highest level of local skaters who skated a fun program to "A Sky Full of Stars" by Coldplay. They skated with jean jackets and sparkly tops and showed off some really nice spirals and jumps in this program.
Ross Miner skated his awesome "Downtown" short program as an exhibition and definitely got the crowd going with it. He landed a triple Salchow, double Axel, and triple Lutz along with showing off his fun charisma and some really nice spins. It was great seeing him look confident and happy out on the ice in this program.
Karen Chen was the last of the guest skaters to perform and it was "Never Enough," a solo sung by Loren Allred, from The Greatest Showman. I thought the program was beautiful. She landed a triple Lutz and double Axel along with showing us some great expression, speed, and artistry.
The finale number was to a song called "Finesse" (I think…this was another song choice that I didn't quite catch at the time) and all the guest skaters looked like they were having fun during it. Seeing so many group numbers in this show was definitely a treat since we don't often get to see that at skating events. I think the entire group had a great time with them too!
Overall, I really enjoyed the feel and personality of this show. Sometimes a skating show can have too many mellow song choices and it can get a bit boring but I thought the mix of music choices was really well done. I also attended Skate It Forward last summer so I was thrilled that they held it again this year. I really hope they're able to hold it for many years to come since it's a great way for a fan to get a skating fix during the off season and I also love supporting a great cause. 
Cast Chat
Following the show, I got the chance to catch up with Camden Pulkinen, Karen Chen, Deanna Stellato and Nathan Bartholomay. Here are some tidbits from our conversations.
Camden Pulkinen
Pulkinen is very excited about the upcoming competition season and says he has a lot of fun events coming up. He told me that he's planning to debut his new short program and free skate at the Broadmoor Open in Colorado Springs, June 20-23, 2018. He will also compete in both the Aerial Challenge jump competition and the inaugural Peggy Fleming Trophy, an artistic event for junior and senior level skaters. (Editor's Note: Camden finished second in both the Aerial Challenge and Peggy Fleming Trophy. For the latter event, he adapted his 2018-19 season short program, "Oblivion" by Astor Piazzolla that was choreographed by Stéphane Lambiel. In the Broadmoor Open Senior Men's competition, Camden won the short program (77.87) and finished second (128.13) in the free skate, performing to a medley from "West Side Story" that was choreographed by Tom Dickson. He finished first overall with a score of 206.00.)
Pulkinen told me he is looking forward to competing again on the Junior Grand Prix this fall and plans to debut as a senior at the 2019 U.S. Championships. He also is hoping to be able to compete in his first ISU Challenger event later this year to test himself at a senior international competition. Making the transition from junior to senior is a really big leap and he is excited about the challenge. He also understands that it doesn't always go as smoothly as one plans, so he is preparing by working really hard this summer.
Pulkinen isn't too concerned about skating two different levels in the same season. He already has been training the longer versions of his programs, so skating the shorter ones for the junior events should be relatively easy. He said its better to go through the transition of junior to senior at the start of this new Olympic quad so he can really get his feet under him and see where he stands overall.
For right now, Pulkinen is very excited to get the season started.
Karen Chen
Chen was very excited to talk about her experience as a regular cast member with Stars on Ice this past spring. Last year, she appeared as a guest star, so this was her first time being part of the full-time cast and she said she had an amazing time. Chen enjoyed the time with her fellow cast mates and she said she thought the show was really fun. Although it was also exhausting, she really enjoyed the experience overall. She took a little time off after the tour to recover from the long Olympic season, but says she now is excited to be back in the rink to get ready for the new season.
Chen is gearing up for the Grand Prix series as her start to the new season and is currently working on her free skate choreography. Her short program is to "Illumination – Firedance" by pianist Jennifer Thomas, which she previously announced via her Instagram account.
Chen says a lot of her motivation for the new season comes from her Olympic experience. She told me that a lot of things that happened at the Olympics were amazing. However, the competition itself didn't quite go the way that she had dreamed, and so she says she is pushing forward for the next four years to hopefully make the next Olympic team. It is a big motivation, she said, noting that she wants to have that "dream experience" in 2022.
Chen is also getting ready to take the SAT and ACT exams so she can start looking into colleges and figure out the next part of her education journey.
Chen says the changes that happened during the off-season have been crazy. Her coach Tammy Gambill is moving to Colorado Springs and Chen says she will have some adjusting of her own to do with her training, but she's excited about that. Chen is just taking things one step at a time after a very, busy and long Olympic season.
Deanna Stellato and Nathan Bartholomay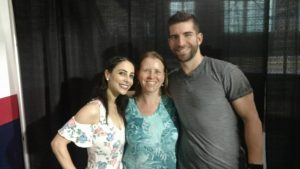 Stellato and Bartholomay came straight to Columbus from U.S. Figure Skating's national pairs camp in Westminster, Colorado. They say they were encouraged from the camp experience and are interested to see how the new rules will affect everyone. They think it will push all the skaters to improve their elements and consistency.
With the U.S. only having one pairs spot at 2019 Worlds, they both agree that this will push all the U.S. pairs to work even harder and should make the competition really strong over the course of the season. They said that their main goal for this coming season is to get that one pair spot for Worlds and then go to Worlds and finish in the top ten to get two spots back for Team USA.
They also told me that while last season was encouraging and a great experience for them, they were also pretty exhausted by the time they finished skating at Worlds since they had been competing pretty much non-stop since the previous April. Stellato and Bartholomay liked getting all the experience, but it made for a very long season. They loved what they were able to accomplish, though, and are excited about getting this upcoming season started soon. They will be competing at the Cranberry Open in about a month and will also announce their programs on their social media in the near future. They are looking forward to finding out the Grand Prix assignments at the end of June and are hopeful that they can get at least one event this fall. 
I asked them how the quad Salchow throw was coming and they both lit up and said that it was going really well. They plan to put the high-risk element in their long program again and feel much more confident going into this season with it after the competition experience from last season. They said the new changes to the grade of execution scores made them think twice about it at first (the move was also devalued a bit in the new scoring), but have since decided to keep doing it. They believe the the quad throw helps them stand out among the other pairs and they feel confident in their ability to land it more successfully in competition this season.