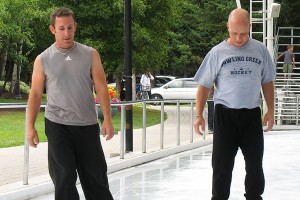 Dan Hollander's resume includes everything from two-appearances at the World Championship to a long-term stint with Champions on Ice. Now it also includes choreography for his idol Scott Hamilton, the 1984 Olympic gold medalist.
"I was completely blown away when Scott asked me to choreograph a show program for himself," Hollander said. "I was shopping at Great Lakes Crossing with my now fiancee Ashley (Wyatt) when I received an email from Scott.  He wanted me to call him because he had a favor to ask. I called him right away and he explained that he had this song that he imagined props and a schtick, and wanted to know if I could choreograph it for him.  Of course I said 'yes,' being all cool, but I was totally doing the happy dance much to the entertainment of Ashley and the rest of shoppers."
Although Hollander was caught by surprise that Hamilton wanted his help with his program, it was not completely out of the blue. Hamilton had skated with Hollander in Sun Valley, Idaho, over the summer, then asked him to perform in the Scott CARES show with Cheap Trick, which served as Hamilton's return to skating after a few years off the ice.
"Working with Scott was amazing," Hollander said. "The hard part is he likes to create steps with the props following, where I work the opposite.  So just like any other gig, I had the idea, layout, and props worked out before arriving.  At first, I was a honestly a bit intimidated.  After I showed him the general layout and idea with music and the walker, he approved and we started to fill everything in.  He would have an idea or I would, and then the other would expand on it.  It was really cool to work with someone who can act well and has the comedic timing to pull everything off. "
The program the two worked on, "Everything Old is New Again," aired during Kaleidoscope on Ice cancer awareness show on Fox on Thanksgiving Day. The show also featured 2010 U.S. Olympic team member Rachael Flatt and 2010 U.S. Championship bronze medalist Ashley Wagner.
Hollander, also known for his comedic timing, also received Hamilton's input on his own skating.
"As I was skating around on a practice session with Scott, he would randomly give me a correction or two," Hollander said. "I let him know to please feel free at anytime to tell me anything.  Each time I would skate by Ashley I would say, 'Oh my God! Scott Hamilton totally just gave me a correction. How cool is that?'"
Hollander had met Hamilton only a couple times before. "I had meet him at a Governing Council when the World Team use to be in attendance and another time backstage before a Stars on Ice show," he said.
Now Hollander says his wish-list of skaters to work with is complete.
"Although I'm waiting for Keauna McLaughlin and Rockne Brubaker to get the time to get together to choreograph this cool, top secret, rocking show routine I came up with for them," Hollander said. "Its been about two years in the making.  The 'getting ready for the Olympic trials' thing just kept getting in the way.  Hopefully we can get it done soon because its a cool idea and I know they can pull it off."
Hollander also offers private coaching and instructs seminars throughout the country through his company Dan Hollander Productions. He is also the headliner for the 34th Annual Ice Show "Legends on Ice" in Berkley, Mich., March 26-28.
"I am working on a number of projects in 2010," Hollander said. "I plan on creating a few shows and selling them to different venues if possible.  I have also been producing demo/resume videos for skaters to get into shows.  Alberto Martinez, a Zamboni driver who picked up skating college, posted his and landed a gig within three days in Singapore.  And as always, create new and fun skating routines to perform."
He'll also be tuned into the 2010 Olympic Winter Games in Vancouver, Canada, although he has not been in-tune with skating for the last few years. I hardly watch skating anymore except for Nationals, so I couldn't really tell you who could win the Olympics.  I love skating, but I'm having a hard time liking my sport lately," Hollander said.
"To be honest, with the change in the judging system I miss the programs of old," he said.  "Footwork can no longer fly across the ice because so many things have to be included.  Spins that use to be pure, a nice position held for a long time now have so many different positions and edge changes that I can't appreciate most of them.  Programs are all beginning to look that same and only a select few actually stand out."
But perhaps the most enjoyable thing Hollander will do this year is help plan his wedding to Wyatt, who he proposed to on Dec. 31. "New Years eve at Busch Gardens, where she was skating in the show, is where I proposed to her in the park under the fireworks," he said.
Hollander and Wyatt met in June 2009.
"I was on my way to Sun Valley this last June and stopped in Kansas City, Mo., to teach a seminar," Hollander said. "Katie Holmes, my good friend and coach, used to teach Ashley and thought we would get along well together.  With some prodding from Katie, Ashley asked me out the last night I was there.  We met for diner, and went to a modern dance show she had tickets to,  Quixotic Fusion.  I was ready to just go home after, but we decided on Cold Stone for ice cream.  We sat outside for like three hours after it closed down just chatting away.
"I didn't plan to meet anyone nor was I looking.  The next two days I drove to Sun Valley, talking to her on the phone most of the drive.  She visited me a week later and she ended up staying the entire summer. "
To keep up with Hollander, follow him on Twitter at www.twitter.com/danhollander/.
__________
Figure Skaters Online strives to be an accurate source of information related to the sport of figure skating. To report an error, please e-mail the news editor. Include the article date and title in your e-mail.