With five days remaining until the Opening Ceremony of the 2010 Olympic Winter Games in Vancouver, Canada, Figure Skaters Online is highlighting Olympic moments to remember from the sport of figure skating.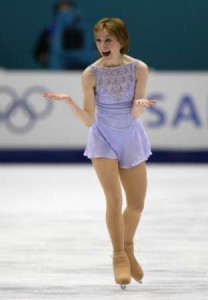 On Feb. 21 at the 2002 Olympic Winter Games in Salt Lake City, Utah, Sarah Hughes of the United States recorded one of the biggest upsets in Olympic history when, with the performance of her young life, she soared from fourth place after the short program to the top of the standings.
"I didn't want to skate for a gold medal," Hughes said. "I went out and had a great time. I said, 'This is the Olympics. I want to do the best.'"
Hughes showed none of the tension of her short program, rollicking through seven triple jumps, five in combination — a more difficult routine than the ones by silver and bronze medalists Irina Slutskaya and Michelle Kwan, who were the overwhelming favorites for gold. She skated so well she could hardly believe it.
"I think a lot of people counted me out and didn't think I could do it," said Hughes, who came into Salt Lake as the third ranked American behind Michelle Kwan and Sasha Cohen. "I didn't even think it would be possible, so just to be sitting here with this medal around my neck, I didn't think it could happen."
Kwan was off pace in her program, two-footing a triple toe loop in combination and falling on a triple flip. But until Slutskaya skated, in the last position of the evening, Kwan's combined score would have been enough to beat Hughes. Slutskaya's sloppy performance in the free skate earned her second and pushed Kwan into third for the bronze.
"I think I was a little more disappointed in Nagano, just because I skated much better," said Kwan, who won the silver medal to Tara Lipinski at the 1998 Olympic Winter Games in Nagano, Japan, despite a brilliant performance in the short program and free skate. "Tonight it was one of those things. I don't know what didn't go my way."
When Hughes found out she won, while sitting in the locker room with her coach Robin Wagner, both famously screamed and fell to the floor. "We were both so shocked, because it wasn't even on the radar screen," Wagner said.
Cohen finished fourth.
• Click here to watch Hughes' free skate
__________
Figure Skaters Online strives to be an accurate source of information related to the sport of figure skating. To report an error, please e-mail the news editor. Include the article date and title in your e-mail.