By Gina Capellazzi
Photos by Leah Adams and Jason Brown
When asked if he could describe, in one word, the 2013-2014 competitive figure skating season, a season that changed his life, the reigning U.S. Champion chose the word, "surreal."
"I know I use that word a lot," Brown said with a laugh. "But I do feel it was all surreal."
With a "Riverdance" free skate that went viral on YouTube to earning a spot on the 2014 U.S. Olympic team in Sochi and winning an Olympic team bronze medal, the 2013-2014 season put Jason Brown in the forefront of U.S. men's figure skating. A name that only devoted figure skating fans had ever heard of was now making headlines for his consistency on the ice, as well as his outgoing personality and famous ponytail. The Highland Park, Illinois native gained a following of fans, not only in the U.S, but around the world.
And with the 2014-15 competitive season in the books, Brown has added more accolades to his growing resume.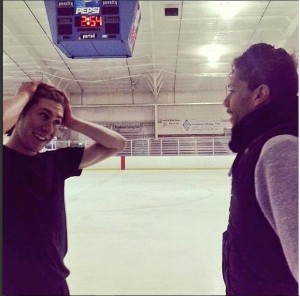 After returning home from Sochi, appearing in select Stars on Ice shows last summer, and meeting the President of the United States, Brown put his away his beloved "Riverdance" program and began working on two different programs with his longtime coach Kori Ade and choreographer Rohene Ward. While his short program to Little Walter's "Juke" featured more of what Brown's personality is like off the ice, his free skate program to Maxime Rodriguez's "Tristan & Iseult" showed more of Brown's maturity and growth as a skater. Brown said he was ready for whatever Ade and Ward came up with.
"It is awesome to have a coach and choreographer who are confident and believe in themselves and believe in me in a way that they are like, 'We have a plan, we know what is going to happen next'," Brown said when talking about his programs.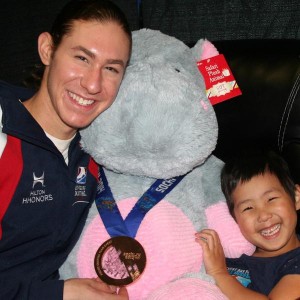 He debuted his programs at the ISU Challenger event, Nebelhorn Trophy, and won the gold medal after he placed first in both the short program and free skate. However, Brown's big season debut would take place right in his own backyard. Brown was selected to compete at Skate America, which was held at the Sears Centre in Hoffman Estates, Illinois, just a short drive from Brown's hometown. The arena was packed with Brown's family and friends, as well as hundreds of fans dressed in their "Team Brown" T-shirts. While the arena atmosphere was electric, the jitters and nerves of performing in front of a hometown crowd did not get the best of Brown. He captured the first silver Grand Prix medal of his career.
"It was unbelievable seeing the overwhelming support from family and friends. That was what was so special about that event," exclaimed Brown. "It was home, everyone came out to support me. I just felt so proud to be from Chicago. Winning a medal in front of them was just an awesome bonus."
Skate America was also the start of Brown's partnership with the Ronald McDonald House Charities. However, what many people may not know is that Brown's work with them started before that event. Two years ago, Brown was asked to do an event with the charity in Colorado Springs. It was there that he decided he wanted to do more to help this cause.
"I just fell in love with the families, fell in love with the cause, "said Brown. "I was so moved by them."
From there, Brown decided to come up with ways that he could help the organization and be a part of it while involving the sport he loved and the people who support him. That's when he decided to donate the stuffed animals that he receives on the ice to the kids who are served by the Ronald McDonald House.
"It is something that the audience can get involved in," Brown added. "In skating, people show their love and support by throwing stuffed animals on the ice after a performance. So I kind of want to pay it forward—they show their love and support to me and we are all going to show our love and support by donating the stuffed animals from the ice to the Ronald McDonald House charities."
It went so well in Chicago that Brown got to do it again at the U.S. Championships in Greensboro and World Team Trophy in Tokyo. Brown hopes to continue to do this at every event in which he competes.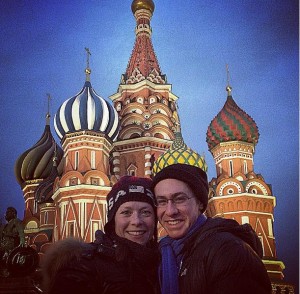 After Chicago, Brown returned to Russia to compete in his second Grand Prix event, Rostelecom Cup. This was Brown first trip to Russia since the 2014 Winter Olympics in Sochi. After finishing in seventh place in the short program and fourth in the free skate, Brown would finish in fifth overall, missing his chance to qualify for the Grand Prix Final in Barcelona, Spain. The event was an emotional and difficult one for Brown. Brown's agent, Shep Goldberg, had passed away the morning Brown had left for Russia. As a tribute, Brown dedicated his free skate at Rostelecom Cup to Goldberg. Brown admits it wasn't a perfect skate and that he gave it his all, just like Goldberg did.
After returning home from Russia, with no Grand Prix Final to prepare for, Brown used the additional time to start training for the U.S. Championships in Greensboro. After winning silver at the 2014 U.S. Championships, Brown was considered a favorite for the title in Greensboro and all eyes were on him to see how well he would do. But the added pressure didn't seem to get to Brown. He won the short program with the second highest point total (93.36) in U.S. Championships' history and was the leader heading into the free skate.
"It was insane. I was expecting to go out there and skate the best that I could. I was ready and I was trained," said Brown. "But when the scores came up, I was like, 'Oh my God, what is happening? This is so exciting.'
When it came time for the free skate, Brown knew he needed to just remember that it was a new day, a new skate and that anything could happen.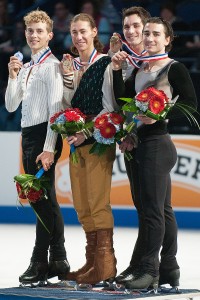 "I just knew the crowd was getting excited and the hype was getting bigger and bigger," said Brown. "I just wanted to go out there and give them a great performance that I have worked so hard on the past couple of months. I wanted to go out there and show them how hard I had been working, take it all in and enjoy the moment."
Brown finished second in the free skate, with an under-rotated second triple Axel being his only error. However, his combined short program and free skate total score was enough to earn him his first U.S. title, something that still hasn't quite sunk in.
"It is one of those things that you dream about for so long, so it is going to take some time for me to believe that it actually happened," said Brown. "But at the same time, I feel that I was ready this year to step into the spotlight and I was ready to own up to my goals. I wanted to be National Champion."
Brown's successful season didn't stop there. Figure Skaters Online will have part two of Brown's year-in-review next week!