By Scott Mammoser, Team FSO staff writer
Header photo by Yoriko Suzuki
Not only does this weekend's Skate America begin the ISU Grand Prix of Figure Skating Series, it will be the first senior Grand Prix event for Andrew Torgashev. The 22-year-old American is coming off a season that saw him win bronze at the U.S. National Championships and skate in his first World Championships. The competition will be Friday through Sunday at the Credit Union of Texas Event Center in Allen, Texas.
"I have tried to prepare as best as I can," Torgashev told Figure Skaters Online ahead of Skate America. "It is still early in the season. I have done a lot to try and prepare for this, so I am excited to go there and show what I have been working on. It's been a goal for a while to have my first Grand Prix, and it is good to have this opportunity now."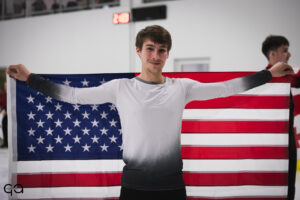 Torgashev began his 2023-2024 season in early September with a bronze medal from the ISU Challenger Series event, Lombardia Trophy in Bergamo, Italy. He posted personal bests in both the short (86.41) and long (146.85) programs for a combined score of 233.26. Olympic silver medalist Yuma Kagiyama won the event.
"I always try to prepare as best as I can in training, so when I am there, I can just focus on competing," Torgashev said. "I prepared for that score (at the Lombardia Trophy), and it is a realistic skate for what I have been preparing. The short program was above what I was training, so that was a good one to experience. Third at a Challenger was a nice way to start the season."
The bronze medal was Torgashev's first on the Challenger Series since placing with a silver in China at the Asian Open four years earlier. Ankle surgery cost the 2015 U.S. junior champion two seasons. Now he appears back in top form.
"I am building content in the program to compete with the top 10 at Worlds," said the Florida native who now trains in Irvine, California with Rafael Arutyunyan. "In terms of injury, I don't think we are ever safe. It's always something to be very mindful of. Especially, if we are trying to add more quads into the program and more difficulty, it requires more loads in training. Overall, I feel more confident."
Choreographer Shae-Lynn Bourne is someone Torgashev really admires, so when the former Canadian Olympic ice dancer suggested "L'enfer" by Stromae for this season's short program, he was thrilled. Torgashev said he listened to the music about 20 times as soon as Bourne sent it to him.
"My goal last year before Nationals was to skate of a quality where Shae-Lynn would do a program with me for the next season," Torgashev said. "I am glad it worked out. This (short program) is about dealing with loneliness and all of these thoughts in your mind. This one is very dear to my heart, and it is a joy to train. I can speak only highly of Shae-Lynn. My words can't do her justice. It's an honor to have her do that program."
Misha Ge, two-time Olympian from Uzbekistan, choreographed Torgashev's free skate, which is to two Muse songs, "The Void" and "Madness."
"The story of the program is freedom and trying to let go of the past and just letting myself skate freely," Torgashev explained. "It's difficult with jumps and everything to completely perform choreography and technically, but it's our jobs.
"In the free, I will go for two Axels, I will go for a (quad) toe. I may go for a (quad) Sal(chow). It's all about the training process. It will get there, but right now, it's still shaky in my opinion. In the short, I will go for one quad, whether it be toe or Sal(chow) and (triple) Axel in the second half."
In addition to the choreography, Torgashev added that he would not be where he is without Rafael Arutyunyan, complementing the venerable coach's knowledge and demanding motivational techniques.
Skate America will also match Torgashev with Ilia Malinin, the defending U.S. champion and World bronze medalist. Torgashev mentioned that the Virginia-based Malinin does sometimes visit the Irvine, Calif., rink to train with Arutyunyan.
"What he's doing is almost unreal," Torgashev said of Malinin. "Sometimes, I have to stay realistic of what I am capable of."
Other competitors in the men's competition at Skate America include: Kevin Aymoz of France, Shun Sato of Japan, Deniss Vasiljevs of Latvia, and Stephen Gogolev of Canada.
"I think there are some good guys in this competition," Torgashev added. "I think it will be fun to compete with them. In terms of competing, I think it is always exciting, and this is an important competition, and it is in the U.S."
Though he has a bye to the U.S. Championships, Torgahsev said he has elected to compete in Sectionals. However, since Eastern Sectionals is just a two weeks after Skate America, Torgashev said he may forgo competing at Sectionals to focus on another competition. As of now, his next event will be the U.S. Championships in Columbus, Ohio in January, but he noted he will be prepared for any other possible Grand Prix or Challenger Series events.