By Gina Capellazzi, Team FSO website administrator
Photos by Stars on Ice, Robin Ritoss, Isabeau Levito
HERSHEY, PA — In her first senior international season following her 2022 World Junior title, Isabeau Levito had a great deal of momentous achievements. She won silver medals at both of her Grand Prix events – Skate America and MK John Wilson Trophy – to qualify for her first senior Grand Prix Final. At the Final, Levito won the silver medal, the first Grand Prix Final medal for a U.S. woman since Ashley Wagner won bronze at the 2014-15 Final. Then a month later, at the age of 15, Levito won her first U.S. title and was named to the Four Continents and World Championships teams. Unfortunately, illness caused her to withdraw from the free skate at Four Continents. Yet, the now 16-year-old came back to compete in her first World Championships, where she finished just off the podium in 4th place. Levito finished the season at World Team Trophy, where she won a gold medal with the rest of Team USA.
In May and June, Levito skated in her first Stars on Ice tour, which traveled to eight cities in the U.S. Before the final show of the tour, Levito chatted briefly with Figure Skaters Online' Gina Capellazzi about the past season, performing with Stars on Ice and her plans for next season.
FSO: You had an incredible season. What were you most proud of?
Levito: Nationals! I skated very well at Nationals! I was so proud of myself because it was the best that I skated all season.
FSO: What is it like for you to hear your name, followed by 'national champion', especially at Stars on Ice when they announce it before you skate?
Levito: It's really fun because it makes it more realistic. Because after Nationals, I went straight to Four Continents and I never really got time to marinate the fact that I won Nationals. But everytime they call me and they're like 'national champion', I'm like 'yay!'
FSO: What were your thoughts on finishing fourth in your first World Championships? Were you disappointed that you didn't make it on the podium?
Levito: No, [finishing fourth] was my own fault, which hurt. Knowing that if I didn't fall [on the opening triple Lutz], I would have [possibly medaled]. But it was an amazing accomplishment for my first senior year. Knowing that I have many more to come, it is definitely inspiring. It definitely makes me excited for the next Worlds, since I already got so close to [the podium.]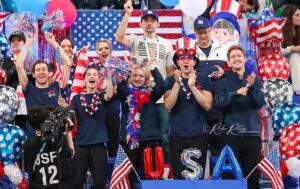 FSO: What was World Team Trophy like for you?
Levito: I'm so glad I went. It was so amazing. It had fun aspects to it, but it was still a competition, which was fun. It was cool when you were like getting on the ice for your actual competition and then you hear your teammates go, 'Go Levito!' or it was like 'Let's go Levito!'
FSO: That was your first time at a team event?
Levito: Yeah, World Team Trophy was a lot of fun! I'm really glad I got to do that.
FSO: What is it like to be on tour with Stars on Ice?
Levito: It is insane to already be here on tour. You think of 'on tour' and and you think of a certain thing, but that's not how I felt. I just felt like it was just this lapse of time where we hung out, we skate, we hung out, we skate. Then we hung out, we explore, and it just feels like no time has passed at all, but it was like a whole year [passed] at the same time. I don't know. It was like an interesting void where you forgot about everything else in your life.
FSO: What programs are you skating to in the  show?
Levito: I'm skating to "Material Girl" and my "Swan" program from a few years ago. You get the best of both worlds.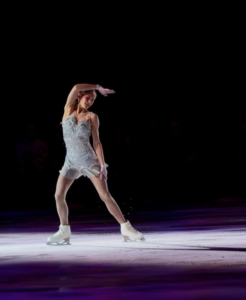 FSO: Are you sad to see the tour coming to end?
Levito: I am like ready to go home because we really did not sleep barely at all [last night]. So I'm very tired. But as of yesterday and the rest of the tour, I wasn't ready for it [to end].
FSO: Have you started thinking about next season?
Levito: Yes, I have music and I'm about to start choreographing them.
FSO: Who will be choreographing your programs?
Levito: My coach, Yulia [Kuznetsova]. She will be doing both programs.
FSO: Can you give fans any clues or hints to what your programs are for next season?
Levito: See I would give you clues, but I mean you have to use it in your journal so, unfortunately no. (laughs). But I'll be announcing them relatively soon.
FSO: What's your goals for the season?
Levito: To go in with a different mindset. I was just thinking about this while I was on tour. Usually, I'm just happy to be there and want to do my best, but I think I want to be more focused on achievements this year. I'm always trying to just skate my best, but I think this time I'm going to set more specific goals.
FSO: What are your plans after the tour? Will you start training or take some time off?
Levito: I'm excited to get back [to training]. Absolutely. So I'm going to take three days off, but then I'm excited to get back [to training].