By Gina Capellazzi, Team FSO website administrator
Medal photo by U.S. Figure Skating, all other photos by Robin Ritoss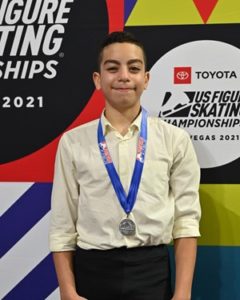 Jacob Sanchez has medaled on three levels at the U.S. Championships - silver in 2018 (juvenile), bronze in 2019 (intermediate) and pewter in 2021(junior). In his third season on the junior level, the 15-year-old from Montgomery, New York is hoping to medal once again on the junior level at Nationals and also aims to make Team USA's Junior World Team.
As he prepares for his first qualifying series event -- Figure Skaters Online's Gina Capellazzi caught up with Sanchez, a rising star in U.S. men's skating.
Figure Skaters Online: How did you start skating and when did you get serious about skating?
Jacob Sanchez: I wanted to be a hockey player at first, so my mom brought me to the rink to try out skating. I really just couldn't skate in hockey skates so my mom thought it was a good idea that I try figure skates. At first, I was a little hesitant, but then I tried it and I was able to balance and glide across the ice. I had a lot of fun. Then I came back again to practice and after that, my mom had enrolled me for the Learn to Skate program that they had at my rink. I went through almost the whole program before going into freestyle sessions and having a coach. Then after my first competition, I was five, I remember going out on the ice and falling before I got into my starting position. I remember skating the program and then after I remember going to my mom and saying, 'Mom, I want to do this.' That's when I started to really become committed and when I was about seven, that's when I made the final decision to really pursue skating and make sure that I reach the goals that I want and have set out for myself.
FSO: What do you like most about skating?
Sanchez: The things I like most about skating is probably feeling free on the ice, going fast, and just feeling like I have no barriers. I like to perform. I love performing to an audience. It's always one of the highlights of when I skate.
FSO: On the flip side, what do you like least about skating?
Sanchez: How stressful it can be. Sometimes when I skate, there are some days where I'll have very good days and just after that, I can just have a series of bad days. It just really gets me stressed out. It improves as time goes on.
FSO: Tell us about your coaches.
Sanchez: My coaches are 1984 Olympic pairs bronze medalists Oleg Makarov and Larisa Selezneva. I've been working with them for almost nine years. Oleg does more of the jumps and the technical aspects of my skating, while Larissa, she does more of skating skills, choreography and overall presentation. She will still work on my jumps and technical elements, but her main side is the component side. I love working with them.
FSO: What are your programs this year and who choreographed them?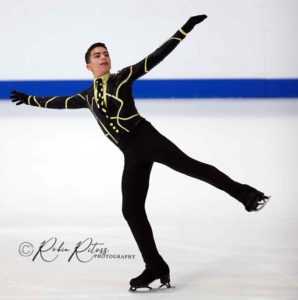 Sanchez: For my short program, it's like a jazz kind of cover to the song "Singing in the Rain". That's for the first half and in the second half, it's a song called "Rain Dance". It's more of a hip-hop kind of song. That's where I do my footwork and I really get into the program. My free skate is a cover of "Who Wants to Live Forever" by Queen, but it is performed by The Tenors. It's my second year using that program. My coach Larisa (Selezneva) choreographed the programs.
FSO: You weren't able to go to the U.S. Team Cup in Milwaukee in July. Did you have an injury?
Sanchez: Yeah, I was supposed to compete in Milwaukee, but a week and a half before I sustained an ankle injury. I was off the ice for about a week and a half. I couldn't jump so I couldn't be ready in time for Milwaukee.
FSO: How is everything now?
Sanchez: Everything's good. I recovered and I've been back to full on training since the beginning of July.
FSO: What have you been working on technically? Triple Axel and quads?
Sanchez: For the technical side of skating, I've been working on overall consistency and of course, getting a triple Axel and a quad in the short program and a triple Axel and a quad in the free skate. I've been just trying to practice them as hard as I can. They're coming along okay. The triple Axel is getting better than my quad attempts. I'm able to land a triple Axel, not clean yet, but it's getting a little more consistent.
FSO: You made your debut on the Junior Grand Prix last season in Gdansk, Poland, and placed sixth. Do you know whether or not you're going to get a Junior Grand Prix assignment this year?
Sanchez: Right now, I don't have any invite to a Junior Grand Prix. I'm hoping that I get one this season because last year, I really enjoyed going to Poland. It was a very fun experience. I would love to experience going on the international stage again.
FSO: What was it like competing at the Junior Grand Prix in Poland?
Sanchez: Skating in Poland had to be one of the most fun competitions I've ever been to. The atmosphere was good and the competition (was good).  I feel like competing in my first international competition (outside the U.S.), I was well satisfied with how I skated and I was very happy with how everything went. If I had the opportunity (to compete in another Junior Grand Prix), I would definitely do it again.
FSO: You won silver in the junior men's event at the Cranberry Cup International at the Skating Club of Boston last month (you won bronze in the inaugural event last year). What did you think of your performances?
Sanchez: I feel like I could have done better in both the short and long with just consistency and not  making silly mistakes. For me, it was alright because I had missed a competition and to go out and compete in an international competition after not competing for about a month and a half, I felt like I did pretty well. I mean I enjoyed it too. This year was definitely more fun than last year.
FSO: How was it more fun this year?
Sanchez: There were more international skaters. Like last year, there weren't as many skaters from different nations coming to compete because of all the restrictions from COVID. This year, it was so much cooler to see all these other skaters that I may have never seen before and to watch them and try to implement some of their strategies they're using into my skating. Also, getting feedback from the judges that were at the event and the officials. When we went for a draw, they told us that there were two International Skating Union judges that were like world-level judges and that we would be getting some of the best judging so I felt that was a very good opportunity to get the best feedback that I could to try to implement those ideas into my skating.
FSO: What is your next competition?
Sanchez: My next competition is Middle Atlantics for the national qualifying series, and then after that, there's another competition that I'm doing in Pennsylvania for the qualifying series also (Editor's Note: That competition is Challenge Cup.)
FSO: Since Cranberry, what have you been focusing on in your training as you prepare for your national qualifying series events?
Sanchez: My main focus has been just improving on consistency. I've been just trying to focus on getting all my jumps in and also improving on my choreography, my spins, and my presentation.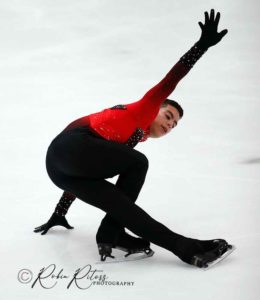 FSO: What are goals for this season?
Sanchez: My goals this season are to set personal bests for myself at these competitions coming up. My top goal for this year is to qualify for the Junior World Team or at least qualify for the World Team camp. Being on the podium at Nationals would also be one of my big goals for this season.
FSO: What are you most proud of so far in your skating career?
Sanchez: Probably my ability to perform and the feedback that I've gotten from just competing and how there are people that enjoy my skating. That makes me really happy to hear that there's others, other than just people that watch figure skating, that like what I'm doing and how I skate.
FSO: Are you still involved with Diversify Ice?
Sanchez: Yes, I'm an ambassador for Diversify Ice. As an ambassador, I feel like it's a big role, not just to promote diversity in figure skating and just in ice skating in general, but to reach out to the other skaters of color and of different races to encourage them to try skating and letting people know and conveying the message that skating is for everybody.
FSO: What year are you in school?
Sanchez: I'm a sophomore in high school this year.
FSO: What school do you attend?
Sanchez: I just switched to homeschooling this year, but last year, I was at Valley Central High School (Montgomery, N.Y.)
FSO: What is your schedule like now that you are not in a public school setting? When do you go to the rink and when do you do school?
Sanchez: I usually do school before I go to skate and then I would bring my laptop with me and if I have any breaks, I would try my best to get some schoolwork done and of course I work on it afterwards. And just trying to stay on top of my work and stay consistent with it.
FSO: So how much time do you spend at the rink?
Sanchez: Usually, I ski three to four hours a day and then I usually have an hour of off-ice or stretching ballet, either one of those. That is my schedule six days a week. On Sundays, I usually go to the gym for like an hour and a half.
FSO: What has the transition been like - do you miss the public school setting or do you like the homeschool so far?
Sanchez: I like homeschooling so far because my program is like a self-paced program and I don't feel like I'm rushed. I feel like I can take my time more than being in-person. Of course, I miss the social aspect of going into school, seeing my friends, seeing my teachers and just being around a lot of other people. I feel like now that I'm at home, I can focus more and really focus on what I'm doing to get everything down.
FSO: Is college something you are thinking about?
Sanchez: College has been on my mind since the beginning of ninth grade. As of right now, I want to study either physical therapy or aviation.  I don't really know which college I want to go to. I haven't really started looking yet.
FSO: What do you like to do outside of skating?
Sanchez: Outside of skating, I like to play different sports -- lacrosse, football, soccer, basketball, hockey and baseball. I like to do a lot of sports. Also, in my free time, I like to play video games and I usually play with a lot of my friends that are from school and my friends from skating. I just enjoy doing that a lot.
FSO: You mentioned hockey. Are you more comfortable on hockey skates now?
Sanchez: (Laughs): I've been skating on hockey skates now for about like a year and a half. Just about two months ago, I started to really get into hockey a little bit more. Now I'm at a level where I could probably do good in a low-level game, but I just don't have the time to practice that much right now. So I don't have time to really play it as a sport.
FSO: Do you have pets?
Sanchez: Yeah, I have two dogs - a Jack Russell Maltese mix and a mini Doberman.
FSO: Do you have any siblings?
Sanchez: I have an older brother and a little brother.
FSO: Are your brothers into skating?
Sanchez: My little brother is a little bit into skating, but he plays soccer. Then my older brother, he did track, but now he's in college so I don't know if he wants to keep doing it or not, but he's a good track runner.