By Gina Capellazzi
Photos by Leah Adams and Rachael Flatt
Rachael Flatt has earned a lot of accolades during her skating career—from World Junior Champion to U.S. Champion to Olympian. On October 25, Flatt adds Hall of Famer to the list, becoming the youngest inductee into the Colorado Springs Sports Hall of Fame.
"I am still shocked by that (the induction). I'm really looking forward to celebrating the honor amongst the other unbelievable accomplished inductees," Flatt, 24, said. "Hopefully, I can continue to live up to the legacy of other Colorado Springs Sports Hall of Famers."
Flatt will be inducted alongside Marty Louthan, Air Force quarterback (1980-1983); Dan Karcher, radio voice of the Sky Sox; Arlene Pieper Stine, first female marathon finisher in America; Dewey Reinhard, Colorado Springs Balloon Classic founder and the 2000 Palmer High School Boys Basketball Team. Previous figure skaters inductees include Jill Trenary, Peggy Fleming, Carlo Fassi, David and Hayes Jenkins, the 1961 World U.S. Figure Skating Team and Edi Scholdan, and Christy Krall.
While the honor recognizes her athletic career, Flatt's accomplishments go well beyond the ice rink. Flatt actively pursued her education while training, graduating from Cheyenne Mountain High School in Colorado Springs in 2010, the same year she won her senior U.S. title and finished 7th at the Vancouver Olympics.
"My favorite memory by far is the moment Team USA walked into the stadium," Flatt said, recalling her Olympic experience. "We all huddled together and chanted, "U-S-A" so loud and with such conviction that the Canadian volunteers couldn't help but jump in. I was sincerely proud, humbled, and honored to represent the United States of America in that moment, and I realized I could carry that pride, humility, and honor with me the rest of my life."
Following her Olympic season, Flatt won the silver medal at the 2011 U.S. Championships and qualified for the World Championships. However, a week before the event, Flatt was diagnosed with a stress fracture in her right tibia and ended up finishing 12th in the event. Following that season, Flatt relocated to the Bay Area where she attended Stanford University and began training with Justin Dillon and Lynn Smith in Oakland, California.
"Balancing school, training, other skating-related obligations, rehab for injuries, all my other on-campus activities and trying to have some semblance of a normal college social life…it was pretty exhausting," Flatt said.
Injuries continued to plague Flatt during the 2012 and 2013 seasons. It was also during those years that Flatt says she received a lot of flack and criticism from fans, coaches, judges and the media.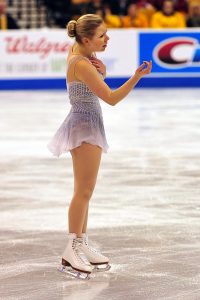 "To go from winning the 2010 U.S. Championships and competing at the 2010 Olympics to being a cast-off just over a year later, it's absolutely crushing and heartbreaking," she explains. "I was at such a low point being injured and pushed to come back too early — all while starting college at one of the most prestigious schools in the country. I felt conflicted all the time about quitting skating because there was a huge lapse in support."
Yet, Flatt decided to finish her career on her own terms, competing three more seasons despite extremely rough outings. After qualifying through Regionals and Sectionals, something she says she hadn't had to do in years, Flatt competed at the 2014 U.S. Championships in Boston, what would be her last competitive season.
"I left skating when I was emotionally ready and injury-free for the first time in almost eight years. Even though it wasn't anywhere near my best, it was the right time for me," she explained. "That made the transition to focus solely on my last year at school more manageable, and I am still proud of the decision I made.
The following year, in the spring of 2015, Flatt earned a bachelor's degree in biology and a minor in psychology. During her time at Stanford, Flatt was the junior class president, served on the senior class cabinet, was a member of Alpha Phi sorority and the contemporary dance group.
"I'm amazed at how much I did on top of juggling a full pre-med academic load and my skating." Flatt said looking back on her time at Stanford.
Balancing a full course load and a sport wasn't unfamiliar territory for Flatt's college roommate, Jasmine "Jazzy" Camp, who was a member of Stanford's Women's Basketball team. Flatt said they supported each other through all the successes and challenges of being a full-time student athlete.
"She's one of the most caring and supportive people I know," Flatt said recalling her roommate. "She helped me immensely when I retired from skating during our junior year. We still talk frequently, but I'm hoping I can go to Atlanta and visit her soon."
Since graduation, Flatt has been working at Stanford doing research on mobile mental health technology. She says her primary focus is an NIH-funded trial for eating disorders and healthy body images.
"Two other projects I'm working on are focused on app development for PTSD and an online anxiety self-help group study," she said. "Additionally, I'm hoping to build upon our current work and create evidence-based mental health and sports psychology programming specifically for athletes."
Flatt had planned to attend medical school, but says she had reservations before she submitted her applications.
"To be completely honest, I have already experienced one intense career with regards to skating and I wasn't enthusiastic about jumping directly into another career immediately following graduation from Stanford, " she explained, stating that she has postponed pursuing a medical degree for the time being.
Flatt says she is exploring graduate school programs, including a combined master's in public health and M.B.A. program, or a Ph.D. program.
"I'm weighing my options, doing my due diligence, and I hope to make a decision soon!"
Currently, Flatt is living in Palo Alto where she shares a townhouse with a roommate. Palo Alto is just a 10-minute drive from the Stanford campus.
"I absolutely love it," she said about her new city. "I'm relatively close to the beach and all that San Francisco has to offer, from the culture, to sports, to food and the weather is unbeatable," she said.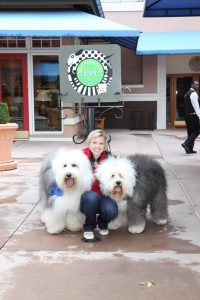 Flatt admits that she does miss the Colorado snow. She also misses her three Old English Sheepdogs, Fred, Ethel and Little Rickie, but says she hopes to get a dog soon when her schedule isn't so hectic.
"I'm definitely taking a suggestions on breeds at the moment," she said. "I'm thinking a Sheepadoodle or something similar since they are absolutely adorable."
Despite having a full-time job and the possibility of graduate school on the horizon, Flatt hasn't completely hung up her skates. She is currently coaching some students in San Jose and has participated in benefit shows including Skate for Hope and An Evening with Champions at Harvard University. Flatt is also a member of a number of committees for U.S. Figure Skating, including the Athletes Advisory Committee and International Committee Management Subcommittee. She has also choreographed a few programs for students, including Angela Wang's 2014-2016 "Paint it Black" short program. When comes to choreography, Flatt says she has immense respect for Lori Nichol, who choreographed several of her programs.
"Unlike anyone else, she knows how to capture the audience and create choreography that is unbelievably complex while simultaneously crafting a story that tugs at your emotions," said Flatt. "I would love to be able to create such exciting choreography, but I'll leave that to her."
Looking back on her skating career, Flatt has no regrets and said she wouldn't do anything differently. As she continues to moving forward with the next chapter of her life, she has some advice for those following in her footsteps on the ice.
"Make sure you really love what you are doing. If you're not happy, actively change something in your situation."
Fun Questions With Rachael:
FSO: If you never were a skater, would there be another sport you would have pursued or what would you be doing instead?
RF: "If I hadn't skated, I probably would have pursued skiing. I'm an avid skier, albeit slightly reckless at times, which is why I chose to stop once I focused seriously on my skating. I bet I would have wound up in a few downhill skiing events because I'm drawn to the speed and fearlessness it requires. I can not tell you the number of times I had ski school instructors tell my parents that I needed to try out for the local ski teams!"
FSO Upcoming travel plans?
RF: "My boyfriend and I are taking two weeks off to explore New Zealand and hike Milford Sound. We're both extremely excited for this trip since New Zealand has been on our bucket list for a while."
FSO: Favorite vacation destination?
RF: "Hawaii – I'm a beach girl at heart!"
FSO: What's your favorite social media platform?
RF: "Not a lot of free time to post on social media, quite honestly. I do use Twitter and Instagram on occasion, and I have an official athlete Facebook page, but update it rarely.
FSO: You're the new addition to the crayon box? What color would you be and why?
RF: "The exact shade of blue the ocean is in Hawaii. Although, I'd probably end up being just like Harold and the Purple Crayon and drawing with that color everywhere.