By Heather Carrelli, FSO webmaster
Editor's Note: Heather Carrelli, website manager for Tarah Kayne and Danny O'Shea, is writing a blog, on her experiences as a fan at the 2019 U.S.  Championships. This is blog number 6.  Here are links to read her previous blogs: #1 (Arriving at U.S. Championships), #2 (The Detroit Adventures), #3 (Let the Senior Begins), #4 (Day of Dance and Alysa Liu), #5 (Emotionally and physically draining day)
My final day of the U.S. Championships actually began with an off the ice tradition that started for me several years ago and concluded with a fun men's final and the exhibition of champions later in the evening. Hopefully this blog won't be as long as the last one since it was a much shorter day at the arena! (Edit: Nope, still a long blog! Sorry guys…)
Anyway, the first event of my day was a fun one that I always look forward to at skating events held in the U.S. My mom and I have belonged to the Friends of Figure Skating for several years now and U.S. Figure Skating always hosts a breakfast for the fans where we get to spend some time with the skaters and enjoy breakfast with our friends. This year's event was held in the Motor City Club which happened to be right behind where our event seats were so it was very convenient for us! After getting some food and drinks, we were treated to a fun Q&A session with Ice Desk host Nick McCarvel, RockerSkating's Jackie Wong, and Olympic bronze medalist Mirai Nagasu.  After the Q&A ended,  all of the skaters were brought up for a group picture. Then we were finally able to get up and start talking to everyone and I made a beeline for Danny O'Shea so I could make sure I talked to him first (Tarah Kayne hadn't come to the breakfast). I had been worried about how he and Tarah were doing but even though he was still disappointed and bummed out about their free skate mistake, he kept smiling and told me that he was all right. I'm glad I was able to give him a big hug, some words of encouragement, and the presents that I had brought for him and Tarah. Everyone wanted to talk to him and he didn't leave until he'd spoken to all of those fans. It warmed my heart to see so many people give him some love and encouragement. I know it meant a lot to him and hopefully he and Tarah are able to take the disappointment from Detroit and turn it into something beautiful down the road. I was still at the breakfast when I noticed Tarah had joined Danny. So I was finally able to talk to her too (and give her a big hug). I'm glad I was able to speak to both of them and to see for myself that they were doing okay. It made my morning that I was able to connect with my two of my favorite people and know that they were all right. I worry…what can I say?! =)
OK, my entire time at the breakfast wasn't just spent with Tarah & Danny. After speaking with Danny, I went looking for Deanna (Stellato) & Nate (Bartholomay). I've known them for a couple of years now so it was fun to see them and congratulate them on a great competition. We chatted and caught up for a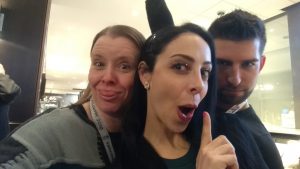 while and then took a really fun selfie.  After that, I spoke to Lorraine McNamara and Quinn Carpenter, who I hadn't met before, and they were super sweet. We also did a selfie together. I'm looking forward to seeing how they develop and grow as team in the future. My mom and I spoke with Bradie Tennell, who was happy and friendly. She was very appreciative when I told her how much I enjoyed her programs and that I could see the presentation improvements that she'd been working on.  After retrieving my digital camera,  I heard someone near me say, "I finally found you!" and I looked over to see Jessica Calalang with her pairs partner Brian Johnson. Jessica and her former partner Zack Sidhu had sat with me and some other friends at the Greensboro Friends of Figure Skating breakfast in 2015 and we'd kept in touch over the years so she had been running around the room looking for me. That's a first for me at one of these breakfasts! Usually I'm the one running around to talk to people but I thought that was super sweet of her and it was great catching up with her and getting to know Brian better. I think they have SO much potential as a team and I can't wait to see them again after they've had more time together. After chatting with Jessica and Brian for a while, we worked our way around the room again and tried to speak to more of the skaters that we either don't see very often or hadn't met before including Ashley Cain & Timothy LeDuc, Kaitlin Hawayek & Jean-Luc Baker, Rachel & Michael Parsons , and Hanna Harrell. We also spoke to new U.S. champion Alysa Liu who was absolutely adorable and so sweet. I felt like a giant next to her though and I'm only 5'1" (on a good day)! We had a funny moment earlier in the morning where we were trying to get to Madison Chock & Evan Bates (who I've known for quite a few years now) but they got pulled to the other side of the room. Evan said on their way that they weren't leaving yet, so I kept an eye on them throughout the rest of the morning just to make sure they hadn't left yet, and sometime in between talking to people, I noticed them heading out of the club area. I made a beeline for that side of the room and called out to Evan who thankfully heard me and stopped them from leaving so they could chat with my mom and I for a few minutes and get a couple of pictures. I hated that I had to chase them down but I would have kicked myself if I had just let them leave without at least trying to see if they had a few minutes to chat before heading off. I'm so thankful to them for taking a little bit of their time to get some pictures, share some hugs, and for us to wish them luck in their next competitions. They're awesome! Before the event was over, I also spoke briefly to Mirai. I also talked and took a picture with Jackie Wong. All in all, it was a very good experience at the Friends of Figure Skating breakfast and if you haven't done it before, I highly recommend it because one, it helps support the skaters and two, you get to have fun experiences like this at the various competitions.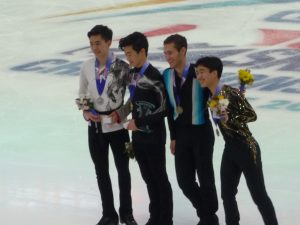 The men's final had quite a few good moments but some up and down performances too. There were a couple of standout programs for me in the early groups including William Hubbart, Emmanual Savary, Alexander Johnson  and Tim Dolensky. The big names were all saved for that last group and it all started off with Alex Krasnozhon, who skated pretty great overall. One of my favorite performances of the night was from Tomoki Hiwatashi, who skated an amazing free skate and brought the audience to their feet.  Jason Brown wasn't the cleanest technically, but I always enjoy his footwork, his expression, his flexibility, and his spins so I really enjoyed seeing his free skate in person. Vincent Zhou skated a pretty incredible program and I really like this style for him (the music really works for him). The highlight of the entire competition though was Nathan Chen, who literally brought the house down with an incredible free skate filled with quads, triples, footwork, and not one big mistake. He was phenomenal and I was standing for him before he was even done with his program. He created a moment for us with his program and I'm ecstatic that I was there to see that in person. Just amazing!
After the men's award ceremony (where we got the funniest moment of the entire week when we saw Nathan Chen trip over the carpet on his way to get his gold medal), we went to Kid Rock's restaurant in the arena for dinner.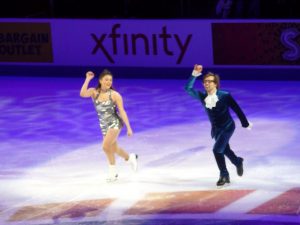 The last skating event of the week for me was the Exhibition of Champions and I thought it was a very enjoyable show. I don't want to recap the entire exhibition but I would like to highlight a few things that I enjoyed the most. I always enjoy seeing (Kaitlin) Hawayek & (Jean-Luc) Baker's Austin Powers exhibition program but I was very glad to find out from them at the Friends of Figure Skating breakfast that this is the last season that they'll be using it. I look forward to seeing them try something new next season! I also enjoyed seeing all of the junior champions (Caroline Green and Gordon Green's program was very cute) and it was great to see the girls with the Figure Skating in Detroit program skate a group number. (Karina) Manta & (Joe) Johnson skated their "Sweet Dreams" free dance, which was just as enjoyable as it had been during the competition. I love (Deanna) Stellato & (Nathan) Bartholomay's "Hallelujah" exhibition choice and was thrilled to see them skate it so well. It's a gorgeous program! It was a lot of fun to see all the Detroit Alumni skaters come together to do a really fun group number (I especially loved seeing Todd Eldredge skate live again because I haven't seen skate for quite some time) and I also enjoyed seeing the girls and guys each come up with group numbers to perform as well. Jason Brown never disappoints in an exhibition. He skated to "Can't Stop the Music", one of my favorite songs, and his energy and smile continue to be infectious and adorable. I loved that program so much and he definitely had a lot of fun skating it for everyone!  I also loved (Madison) Chock & (Evan) Bates Beyonce exhibition program and I am still amazed at how far they've come as a team since they first got together years ago. Alysa Liu continues to be the most adorable young lady on the planet and she skated her "Don't Rain on My Parade" SP (with a triple axel AND a 3-3 combo included!). Cain & LeDuc skated a lovely program to a song that his sister had written for them which was really cool. Nathan Chen skated to a James Arthur song called "Back from the Edge" and man oh man, he's just AMAZING and you can tell that he loves skating this program. The finale to any exhibition is always slightly chaotic with the skaters trying to throw souvenirs out into the crowd.  I was bummed out that no one had the slingshot to get the t-shirts way up into the higher levels like they used in previous years. The skaters did their best to throw things as far as they could and two of my friends actually ended up catching shirts. It was a lot of fun to see all the skaters having fun and I thought it was a great way to end our time at the arena that week. I must say again though that this was one of the COLDEST arenas that I've ever been in (I think St. Louis in 2006 is the only one that was colder) but I'm glad that I have so many great memories from the week because that made my shivering and layering up all week totally worth it.
Well, this officially ends my last blog for this series about my adventures at U.S Nationals and I really hope you enjoyed reading it. Thanks once again for all the support and hopefully I'll get another opportunity to share about my skating adventures in the future and who knows, maybe there will be less hotel drama next time! =)