By Heather Carrelli, FSO webmaster

Hello from snowy and icy Detroit! For those of you who don't know me, my name is Heather and I'm a contributor here at Figure Skaters Online in addition to being the website manager for Tarah Kayne and Danny O'Shea. I will be writing a blog from here in Detroit, also known as the site of the 2019 U.S.  Championships, and I'm looking forward to sharing my thoughts and reactions to everything this week with you guys. Thanks for going on this journey with me!
Day One: My mom and I arrived in Detroit on Monday Jan. 21 (I've traveled with my mom to various skating events since 2009) and thankfully, we didn't run into any bad weather during the trip. We actually postponed leaving for Detroit by a day because the weather was so bad between home (Cincinnati) and here and that worked out quite well for us in the end. We were able to drive to U.S. Nationals this year, which was really nice after having to fly the last few years! Our drive was a straight shot up the highway through Ohio and into Michigan and we arrived at our hotel with no big problems (aside from trying to figure out our parking situation, but thankfully our hotel staff helped us out). We are staying right downtown and are just a couple blocks from the QLine which we were told will drop us off right in front of Little Caesar's Arena(LCA). Our hotel isn't anything fancy, but we have a microwave, fridge, two comfortable queen beds  and free breakfast, so I can't complain about anything. Everyone has been friendly, helpful, and personable at our hotel,  which I've appreciated since that hasn't always been the case for me on my various trips around the United States. We didn't have any events to attend at LCA after we arrived so we spent our first evening in Detroit checking out the maps of the area, relaxing in our room, and eventually having dinner at the restaurant attached to our hotel (which had excellent food, good service, and reasonable prices).
Day Two: Our second day in Detroit started off with breakfast at our hotel and then checking out the senior pairs practice at LCA starting at 11:15 a.m. Our hotel staff were right in that the QLine dropped us off right in front of the arena and we actually discovered today that the arena isn't actually too far from our hotel so we could theoretically walk to it from there. The problem is that it was SO cold outside that you could barely put one foot in front of the other without feeling like your face and legs were frozen! We decided that it was way too cold to walk so we stuck with taking the QLine up the road to get to the arena. We had a bit of confusion once we got to the arena because only one entrance had ticket scanners open and we ended up going to two different entrances before we finally found the right one. One of the arena workers did confirm that more entrances would be open once competition started this week so hopefully that happens soon because it will be mass confusion if they only have one gate open for spectators.
Once inside the arena (and everyone at the open entrance was personable and friendly so kudos to them for that), we had another bit of confusion as we tried to find the section where our seats were located, but eventually we figured out how to get there and were able to join a friend of ours to watch senior pairs practice. The arena overall seems very nice and has a lot of food options (one of which was actually open during practice so MASSIVE kudos to LCA for that!). The jumbotron might be the largest one that I've ever seen in all my years of attending skating events (and I've traveled to various skating events around the U.S. and Canada since 2004) and I really like that the kiss and cry is quite visible there as well. The seats are also comfortable and it looks like they're keeping the very top level of seats closed off so hopefully that means the arena will be full for the senior events later this week.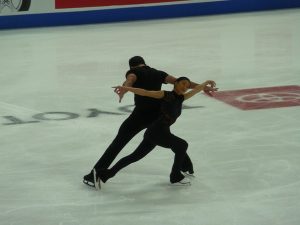 Pairs practice went off without a hitch and it appears that all the pairs made it Detroit safely (I heard today that some single skaters are stuck in various cities due to weather delays so hopefully they're able to get here soon). The first group included Alexa Scimeca Knierim and Chris Knierim, who looked pretty solid (we admittedly missed a good chunk of their practice due to our arena confusion, but what we saw looked pretty good). The second group included Tarah Kayne & Danny O'Shea, who I thought looked really solid and very happy to be there. They did a run through of their short program during the practice and looked so confident and sure of themselves. I'm excited to see them compete this week! We had a Zamboni break then which is when I discovered that one of the big food areas was open in the arena and I was able to get some waters for my mom and I (which are only $3 each, a nice change from San Jose last year when the drinks at the arena were a lot higher). The third group of pairs teams included Deanna Stellato-Dudek and Nathan Bartholomay, who also looked really good overall. They did a nice run through of their long program and I think their lifts are outstanding. The last group of teams included Ashley Cain and Timothy LeDuc along with Haven Denney and Brandon Frazier. Ashley and Timothy did a run through of their long (without most of the elements) and they looked really solid and confident overall. No signs of Ashley's injury during their practice! Haven and Brandon didn't have a coach with them at this session (John Zimmerman is at Europeans with Vanessa James and Morgan Cipres, not sure who will be with them for the competition), but also looked pretty solid overall. They landed some nice throws and their lifts were also really good. I think the pairs competition is going to be one of the toughest events here as about five pairs all have the potential to be on that podium! 
After pairs practice, we decided to head back to our hotel to eat our dinner leftovers for lunch and relax for a while. I had woken up with a headache this morning and while I was able to make it through the pairs practices, the aching actually got so much worse that after having lunch, I laid down in our room so I could try to take a nap and sleep off the pain. I took some Excedrin Migraine before laying down and while I felt somewhat better after I woke up, we passed on going back to the arena for the junior ladies and men's short programs, so I could continue to rest. I am feeling better now so hopefully the worst of it is behind me and I feel fine for the rest of the week. Tomorrow is a full day of junior events and I really want to be headache free, so I can enjoy them!
This concludes my first blog entry from the 2019 U.S. Championship and thanks once again for reading this and going on this journey with me!