By Maura Sullivan Hill, Team FSO
Photos by Robin Ritoss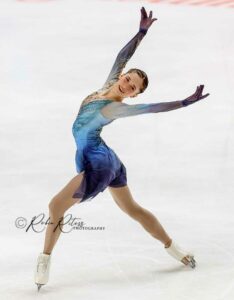 Heading into the 2023 U.S. Figure Skating Championships in San Jose, 15-year-old Isabeau Levito was the clear favorite to win the women's title. Last year's bronze medalist at this event and World Junior Champion, and the silver medalist at this year's Grand Prix Final, Levito was having a seamless transition to her first full international season as a senior skater.
But the expected outcome is not a given under the unique pressure at the U.S. Championships. With expectations high, it would have been easy to crack under so much pressure. But not Levito, who skated to gold with poise, joy, and lightness.
She rose to the occasion, winning her first U.S. title at the senior level with a U.S. personal best free skate and overall score.
"I felt so proud to have achieved what I achieved. My score and just overall in the placement, I'm just very proud of myself for having collected myself and done the program that I needed to do," Levito told reporters in the post-event press conference.
Skating last in the event with just a 0.02-point lead over Bradie Tennell after the short program, Levito said she focused on suppressing her nerves and staying composed.
"Going into this event, my entire goal for both programs was to not let little, minor, silly mistakes happen," Levito said. "Sometimes it just happens, [but] I like to really focus on staying in control and in my zone, and I feel as though I did just that today and I am very proud of myself for it."
Despite her continued success this season, a solid free skate had eluded Levito, so she said she was glad to have put it together at the U.S. Championships.
"I also feel as though this entire season, I haven't been my absolute best in my free skate, and to finally have skated my free skate the way I've been training to and working towards this entire season, I actually can't even find the word to describe it right now," Levito said.
The skaters who finished behind Levito did show signs of some of that U.S. Championships pressure, with slight bobbles keeping them from the top step of the podium.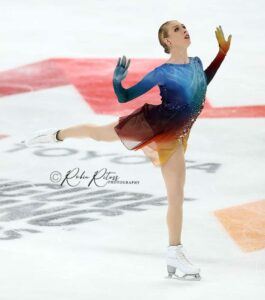 Bradie Tennell earned the silver medal, her fifth at a U.S. Championships at the senior level. Tennell, the 2018 and 2021 Champion at this event, continued her comeback season, after missing all of the Olympic season last year with a foot injury.
Tennell and Levito were virtually tied after the short, where Tennell seemed to have returned to form with a triple lutz-triple toe combination and her stellar spins. In the free, Tennell underrotated the back half of a double axel-triple toe combination and doubled a planned triple lutz later in the program.
Despite the mistakes, Tennell has vastly improved from her outings on the Grand Prix circuit earlier in this comeback, when she finished 12th at MK John Wilson Trophy in England and 8th at the Grand Prix Espoo in Finland.
"I am very proud of myself. Obviously, I'm a little disappointed in my errors, but I think given how the season has gone and my road to competing again, I think I have a lot to be proud of," Tennell said. "I was giving myself a pep talk earlier in the mirror, because that's what I do. And I said to myself, 'You dreamed of this for an entire year, and now you're here.' And I told myself I wanted to go out there and I wanted to soak up every moment and be present, and I did that. Even with the mistakes, I'm really proud of myself."
Tennell moved to Nice, France, this season to train with her longtime choreographer Benoit Richaud and Cedric Tour, seeking a fresh start after the disappointment of missing the Olympic season. "After this last year, I really just needed some distance from everything, and a new environment to start a clean slate," she said. "The kids laugh at me when I try and speak French, which is very humbling. But it's a really fun challenge, and my team there is amazing. It was a really good decision for me."
Bronze medalist Amber Glenn was also on the comeback trail after a disappointing Olympic season, and in a new training environment herself. She moved from her home state of Texas to Colorado Springs to train with Damon Allen, Tammy Gambill and Viktor Pfeifer.
Last year at Nationals, Glenn had a difficult short program and ultimately withdrew from the event after testing positive for COVID-19. This year in San Jose, she had a couple blips in an otherwise solid outing in both programs, much like silver medalist Tennell.
In the short, Glenn was on the way to a perfect program when she had a rough landing on the triple loop. In the free skate, she came close to a clean triple axel, but got negative GOE for stepping out on the landing. Glenn bounced back immediately with a clean triple flip-triple toe combo, but then doubled a planned triple salchow and singled the second half of her triple lutz-double axel sequence.
"I'm very happy with how I did, but I'm disappointed with some of the mistakes I made, all on very silly, minor things," Glenn said at the press conference. "Honestly, it was terrifying being back here after the conclusion of my season last year. So it was just a big mental hurdle for me, but I was happy I was able to actually enjoy myself again, and enjoy competing and perform and feel connected to a crowd. It just gave me a sense of relief. My love for skating has reemerged this year, and at 23, doing that has been very hard but very rewarding."
Levito, Tennell and Glenn were all named to the 2023 World Championships and Four Continents team. Starr Andrews, who earned the pewter medal in San Jose, is the first alternate for both events.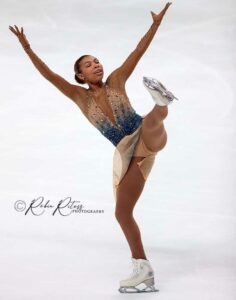 Andrews is the first Black woman to medal at the U.S. Championships in 35 years, since Olympic Bronze Medalist Debi Thomas in 1988.
After singling two planned triples in her free skate, Andrews seemed surprised and delighted as her scores came up in the kiss and cry and she realized she would be on the podium. Even with the mistakes, she set a new U.S. personal best score in the free skate and for total score.
Andrews shared on her Instagram what the moment meant to her: "To be the first African American woman in 35 years to stand on that podium is beyond an honor and I couldn't have done it without my team and all the support around me. I just want to say thank you from the bottom of my heart for everyone who believed in me […] Even though I made two huge mistakes in my long, I am so glad from how much I improved over the last year. I hope to keep improving and showing my star power."
Fourteen-year-old Josephine Lee vaulted from 11th after the short to a fifth-place finish in her senior debut. She skated first in the second-to-last group, taking the lead with an exuberant performance, and held onto it through seven more skaters, until Glenn took the ice as the third skater in the final group. Lee opened her program with a clean triple flip-triple toe combination and earned a standing ovation from the crowd.
For more photos from the women's event, visit our 2023 U.S. Championships Hub, and stay tuned for coverage of all the other skaters in the competition in our upcoming Stories from the Shark Tank article next week!