By Maura Sullivan Hill, Team FSO
Photos by Robin Ritoss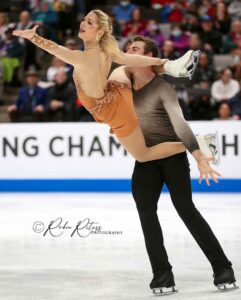 Alexa Knierim and Brandon Frazier won their second U.S. pairs title as a team on Saturday, Jan. 26, topping the field by over 30 points. As the 2022 World Champions, Knierim and Frazier were unquestionably the favorites heading into San Jose and the 2023 U.S. Figure Skating Championships. And when you're that far ahead of your competitors, what is the motivation?
Both skaters spoke reflectively in the post-event press conferences, and it was clear that appreciation for their journey and experiences in the sport, rather than medals or titles, are what drive them these days.
"It means the world to me, and I think I can speak for Alexa, too," Frazier told the media in the post-event press conference. "Especially after missing last year, to return and to return to the top of the podium, it's a great achievement. But more importantly for us, we've been reflecting a lot throughout this season on our personal journeys and our partnership, so coming here, it's just so many emotions of the U.S. Championships every time. This was a week full of emotions and that was all heart tonight."
This second title with Frazier makes it five total for Knierim, who was a three-time U.S. Champion while skating with her husband, Chris Knierim. She said, "I'm just so wrapped up in doing what I love that the numbers of championships, gold medals, for me here will never amount to how much I just love skating. I could have no medals, and I would probably feel the same way about it. I'm pretty proud of having five, [and] I think younger me would be like, 'That would be so cool to do,' but now it's more about the artistry and the movement on the ice that I care about most."
The duo took a commanding lead in their intense short program, set to music from the television show "Stranger Things," landing solid side-by-side triple toe loops and a huge throw triple flip. Their score of 81.96 points was a new U.S. Championships record in the pairs short program.
Knierim and Frazier had a 15-point lead heading into the free, where the only issue was a single toe loop in combination with their triple toes, instead of a planned triple toe-double toe-double toe combination.
Emily Chan and Spencer Howe improved on last year's fourth place finish with a silver medal performance in San Jose. They took the ice last in the free skate, after Knierim and Frazier earned a huge ovation from the crowd.
"Giving out the performance that we did today, for us personally, it means a lot to us, and being here on the podium also means a lot to us," Chan said during the press conference. "As a team, we have been through a lot this season in terms of getting experience and going through the ups and downs of training and going through the challenges together as a team."
Despite a fall on the throw triple loop, the duo looked to be relishing their free skate performance, set to "Unchained Melody." This silver medal continues the strong season they've been having so far, including two silver medals on the Grand Prix series and an appearance at the Grand Prix Final.
Ellie Kam and Danny O'Shea won the bronze medal in their U.S. Championships debut as a team. O'Shea is a former champion at this event, with previous partner Tarah Kayne, and he and Kam teamed up this fall. Before competing in San Jose, they won the 2022 IceChallenge competition and earned a silver medal at the Golden Spin of Zagreb in December.
"It's been a lot of fun. It's been a crazy quick season. We started in mid-September, and this is our third competition as a team," O'Shea said. "To be third at Nationals in our first season together and our third competition, there's so much room for us to grow and improve from where we're at, and we know that."
The pair got off to a bumpy start in the free skate with a fall on the exit of their opening triple twist, but then got right back up to nail side-by-side triple salchows. They showcased only throw double jumps, rather than triples, as they continue to work on their elements and timing.
The top three teams were all named to the World Team and will compete in March in Saitama, Japan. The alternates for Worlds are Anastasiia Smirnova and Danil Siianytsia, who did not compete at this event due to injury; fifth place finishers Valentina Plazas and Maximiliano Fernandez; and sixth place finishers Katie McBeath and Nathan Bartholomay.
Pewter medalists Sonia Baram and Daniel Tioumentsev were named to the 2023 World Junior Championships team and will compete alongside 2023 Junior Pairs Silver Medalists Naomi Williams and Lachlan Lewer in Calgary, Canada.
The 2023 Four Continents Championships will take place in Colorado Springs from Feb. 7-12, and Chan/Howe, Kam/O'Shea and Plazas/Fernandez will skate for Team USA.
Check out photos of all these skaters in action during the pairs event in San Jose by visiting our 2023 U.S. Championships Hub.