By Rylie Smith, Team FSO contributing writer
Photos by Robin Ritoss
SAN JOSE, Calif. — The 2023 U.S. Championships showcased a great group of young talent at the junior level, and several new faces deservedly earned spots on the podium.
The event started off strong with the junior pairs event. Ellie Korytek and Timmy Chapman took first in both the short program and the free skate, earning the junior title. 
This was their first season together as a team, and despite challenges that rose throughout the season, they managed to skate two great programs with only two of their elements between both programs receiving negative GOE.
Chapman shared of the experience, ​​"This represents lots of hard work. We put in so many hours — as much as we could especially with all the obstacles that we faced together. My partner had (injury) challenges that she had to face on her own, and even when we met those fortunate events, we still worked as hard as we possibly could and still did as much as we could," via U.S. Figure Skating FanZone.
Naomi Williams and Lachlan Lewer took the silver medal, also in their first season as a pair. Williams had only competed individual prior, so their feat was quite unique. They included a triple twist in each program, and Lewer shared, "The twist again. I think the twist was actually much better than in the short. The throws were better. The axels were really nice. I think our skating was a little better. I think I personally looked up a lot more and smiled a lot more."
Lilianna Murray and Jordan Gillette took the bronze, the first medal each have earned at Nationals. Gillette, in particular, has been patiently awaiting a national medal. He shared, ​​"​​It means a lot to me. This is my fifth season competing pairs. At the junior level, I just got my first national medal. It really validates all the hard work I've put in."
Olivia Flores and Luke Wang earned the pewter and seemed to most enjoy the environment of nationals. Flores shared, "All the competition feels friendly. At smaller competitions, it's always competitive. You try to be better than other people. But here, everyone's like, 'We all made it' and everyone just enjoys it."
Ice Dance
In the ice dance event, Leah Neset and Artem Markelov took home the gold medal, giving them their second-straight U.S. junior title. They finished the rhythm dance in seventh place, but they managed to jump up to first after the free. They also earned a personal best in the free with a stunning performance.
Neset shared of the experience, "It definitely took a lot of focus to come back, but I'm really happy with how it turned out in the end."
Helena Carhart and Volodymyr Horovyi finished less than a point behind in second. Their partnership began in 2019, and this is their first national medal together.
Carhart shared, "I think we're so grateful to have the opportunity to come and to be able to show everyone what we've been working on. We're so blessed to [be] on the podium, but it's a pleasure to skate with Volodymyr every day. We get along so well. I wouldn't want to be here with anyone else."
Jenna Hauer and Benjamin Starr took third place. The team first started skating together in 2017 before ending their partnership in 2019. They resumed their partnership in 2020 and have competed on the international circuit together, but this is their first junior national medal. 
Hauer shared, "Last year was our first year at juniors and we were sixth at Nationals. To climb from where we were to this year, even from the start of the season, it feels like we've totally leveled up, and it feels like we belong here, and so to earn a medal here, it feels really great, especially because last time we were here [in San Jose], we won gold for the juvenile competition, and so to do that, feels great."
Elliana Peal and Ethan Peal took home the pewter medal, and they also earned personal bests in the free dance and overall score. 
Ethan Peal gave some insight to into their mindset, sharing, "I think throughout the whole season, it's just been focused on bettering ourselves as a team and building out the strongest parts of our skates, so I feel like coming into here, we let go of anything that was potentially going to hold us back and solely focused on our strengths as a team."
Women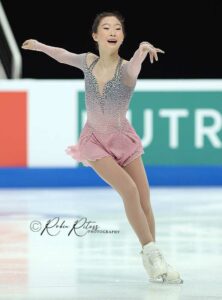 Soho Lee was named junior national champion of the women's event, earning a personal best for her short program along the way. Her win was no surprise as she medaled at Junior Grand Prix in Latvia in 2022, and she put out two great skates.
Lee shared after the short program, "I'm really happy with [my] performance. I felt good. [I think highlights] were my first jump combo and the ending spin because I was like, 'It's all done!'"I'm really happy with today's performance. I felt good. [I think highlights] were my first jump combo and the ending spin because I was like, 'It's all done!'
Keira Hilbelink came in second overall after finishing the short program in fifth. She skated a clean free skate, earning positive GOE on each element and most notably putting out a great triple loop+double axel+double axel. 
Elyce Lin-Gracey came in third, roughly two points behind Hilbelink. She also earned a personal best for her short program, and this is her first junior nationals medal. After the short program, she shared, "I feel like I put out the performance that I've been training. I've had a lot of ups and downs this season and I'm glad to have Nationals start on an up and I'm hoping to continue that through the free skate."
Sherry Zhang took home the pewter medal, also earning a personal best in the short program. Upon seeing the scores, she shared, "I definitely wasn't expecting a 60. It just felt unreal. It was really magical, and I never thought I'd be able to pass 60 in my short."
Men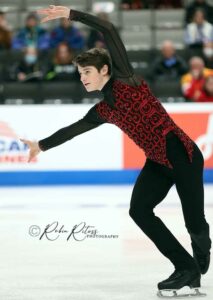 Lucas Broussard was named the men's junior national champion, which was a particularly special win for him. He broke a record, earning the highest-ever total score among junior men at U.S. Nationals. He also won his first U.S, junior title, and he earned personal bests in his short program, free skate and overall score.
After having to sit out last year with COVID, he's found this experience special. He shared, "It's really special. Last year, I got COVID, and I couldn't go to Nationals, and then in 2021, I finished last in the short and then I pulled up to sixth overall, so it's special that I finally have my moment here and that I've skated two almost clean programs. It's been special to come back from those two upsetting Nationals."
Jacob Sanchez earned the silver medal, scoring personal bests in his free skate and overall score. This was his first U.S. junior nationals on the podium, and he believed in himself a little bit extra this season.
Sanchez shared after the free skate, "It had to be the best performance of my life. I've never had so much fun. I've been envisioning this moment so much in the last three, or four months – just having that feeling where I can go 'Yes, I did it!' All that envisioning, it looks like I manifested it and it came to reality. And I also broke 200 points for the first time… I never thought I'd do [that]."
Robert Yampolsky earned third place and scored a US personal best for his overall score. He's been great in the Junior Grand Prix circuit this season, most recently earning fifth in the Junior Grand Prix Final.
He credited his Junior Grand Prix experience to helping him during nationals, sharing, "This season was my first season ever competing in a Grand Prix event, and suddenly I'm competing internationally. I go to a Final and then I come to Nationals. Honestly, it wasn't as frightening as it was last year and the years before, so competing internationally and going to all these Grand Prix events helped boost my confidence and calm some nerves I was dealing with before previous competitions and this one."
Daniil Murzin took home the pewter medal, earning a U.S. personal best for his free skate and total score. He noted that while his free skate wasn't fully clean, he landed his quad salchow, which he was particularly proud of.