STAFF REPORTS
Figure Skaters Online
__________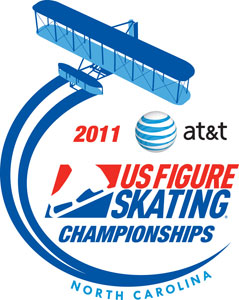 GREENSBORO, N.C. — Rachel Parsons and Michael Parsons claimed the top spot in the novice ice dance competition at the 2011 U.S. Championships, becoming the first national champions crowned in Greensboro, N.C. They finished with a 112.82 combined for the blues and Paso Doble compulsory dances Sunday and their free dance Monday.
The brother and sister duo from Derwood, Md., delivered an impressive free dance to Stravinsky's "Firebird" that helped them to a 3.68 victory over Jessica Mancini and Tyler Brooks (109.19), although Mancini and Brooks won the free dance. The bronze medal went to Kaitlin Hawayek and Michael Bramante (106.64) while Elliana Pogrebinsky and Ross Gudis claimed the pewter medal with 105.91.
One highlight of the Parson's program was the opening straight line lift-rotational lift, which garnered Level 4. The pair also had a Level 4 combination spin and ended their program with another Level 4 rotational lift. Other elements included a Level 2 straight line lift, a Level 2 Circular Step Sequence and Level 1 synchronized twizzles.
The Parsons were first in the program component scores by about two points.
Despite a one point deduction for an extended lift, Mancini and Brooks won the free dance, which was highlighted by a Level 3 circular step sequence that received the only positive three grade of execution of the competition. The team also performed a Level 4 rotational lift, a Level 4 spin, Level 3 synchronized twizzles, a Level 4 straight line lift and a curve lift-rotational level, both Level 4.
In the free dance, the Parsons scored 60.46 to Mancini and Brooks' 60.51. Both the third place team, Hawayek and Bramante, and the fourth place team, Pogrebinsky and Gudis, scored 58.76.
For complete results from the 2011 U.S. Championships, please click here.
__________
Figure Skaters Online strives to be an accurate source of information related to the sport of figure skating. To report an error, please e-mail the news editor. Include the article date and title in your e-mail.