By Matteo Morelli, Team FSO contributing writer
Photos by Seán Gillis
ESPOO, FINLAND — The 2023 European Championships that took place Jan. 25-28 in Espoo, Finland, had new champions crowned in each of the four disciplines, with most skaters earning a continental medals for the first time.
WOMEN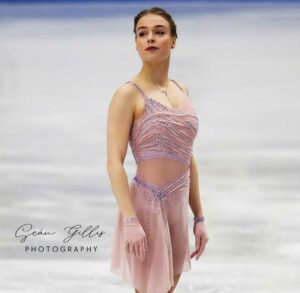 Despite of a shaky start during the Grand Prix season, Anastasiia Gubanova led both segments of the European Championships and ended with a total score of 199.91, winning a first historic gold medal for the country.
During her short program, she completed a triple Flip-triple Toe Loop, double Axel, and triple Lutz, but earned a couple of negative marks for her spins, closing with a total score of 69.81 points.
"I made a small mistake on the spin and it is a shame", Gubanova shared after the short program. "This is my second European championship, I feel I gained more experience in comparison with the previous time, I can skate calmer".
Gubanova managed to keep focused in her free, delivering two triple-triple combinations and earning a total score of 130.10 points that secured the title for her.
"This competition was the hardest this season mentally, probably because of that it was difficult to skate but I am glad I could do well", she shared.
Belgium's Loena Hendrickx entered the event as the favorite to win the event, but couldn't manage to deliver the skates she was hoping for. The current silver World medallist and Grand Prix Final bronze medallist finished in second place after the short program, with a score of 67.85 and paying the price for her landings in the combination triple Lutz – double Toe Loop (originally planned with a triple Toe Loop). Despite earning the highest PCS of the day, she could only enjoy a provisional second place after the short program.
"I am disappointed about my skate, it wasn't perfect and I made a really big mistake" Hendrickx said. "The timing was just off and I missed the height of the jump and that is why I couldn't do the second jump perfect".
The free program started quite strong, with a triple Lutz – triple Toe Loop combination, however two falls didn't allow Hendrickx to score more than 125.63 points, finishing third in the free program and second overall with 193.48 points.
"My program started really strong, but the second half didn't work out", she shared. "I am happy with a silver but I would be happier if I had a better performance, this is why I am a bit disappointed".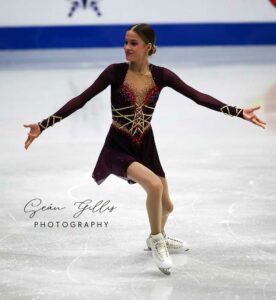 The surprise of the competition was sixteen years old Kimmy Repond of Switzerland, which skated two clean program and earned a bronze medal with 192.51 points. After winning the free program, her reaction on the Kiss & Cry showed how happy she was to receive a medal at her first European Championships.
"I don't think that anybody would have thought that I would win a bronze medal", Repond shared, still unable to believe in what she achieved. "This is my first time competing here and what I achieved wouldn't be possible without the support of my team and my sister that coaches me".
Poland's Ekaterina Kurakova finished in fourth place after skating on her free program based on the music from the movie "Up", followed by Nina Pinzarrone in fifth place which allowed Belgium to have two ladies in the top five.
MEN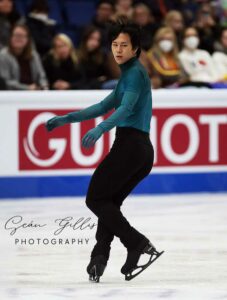 France's Adam Siao Him Fa continues his successful season by securing the continental title for his country, bringing back a men's European gold medal to France after the last one by Florent Amodio in 2011. Adam led the short program with a quad Toe Loop – triple Toe Loop combination, triple Axel and quad Salchow, for a score of 96.53 and a ten point lead over the second place.
"I am really happy about tonight, it was my first clean short program internationally, everything went as I planned", Siao Him Fa shared.
He ended second in the free with 171.24 points and an overall score of 267.77 points, presenting a quad Toe Loop – double Toe Loop combination, a quad Salchow (under-rotated) and a fall on the quad Toe Loop, but with all spins and step sequences at level four. The total score of 267.77 allowed him to secure his gold medal and European title.
"I had so much fun skating tonight, although it was really stressful", he said. "I told myself the program wasn't perfect but I thought at the end I did my best, and I should be proud of it".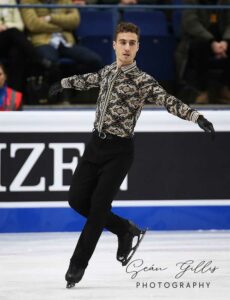 In second place and adding a silver medal to his previous European bronze from 2019, Italy's Matteo Rizzo started the competition with a second place and 86.46 on his Maneskin based short program. With 173.46 points, Rizzo managed to win the free program by a margin of two points on Siao Him Fa, securing his silver medal and receiving one of the loudest responses from the audience.
He was very emotional at the end of his skate: "I was preparing a lot for this competition, there were mistakes but overall I was happy and I had to release all the tension, so I was screaming so loud because this is the best way to release the tension"!
The Italian federation ended with all their three men in the top ten, with Daniel Grassl in sixth place and Gabriele Frangipani in tenth.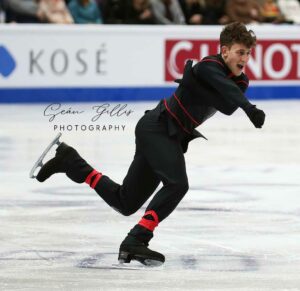 Another surprising bronze medal for Switzerland was won by Lukas Britschgi who after a fifth place in the short program managed to deliver a solid free program with to quadruple jumps and earn a total score of 248.01 points.
"I only had four weeks of preparation because I broke my collar bone before", he said. "I just did my program and it took a while to realize what I achieved".
In fourth place across both segments, Frances' Kevin Aymoz had a mistake on one of his jumps in the short program and seemed not to be able to bring his full energy in his beautifully constructed free program.
Latvia's Deniss Vasiljevs finished the short program in third place, however his free didn't deliver what he was hoping for and only allowed him an overall fifth place end.
PAIRS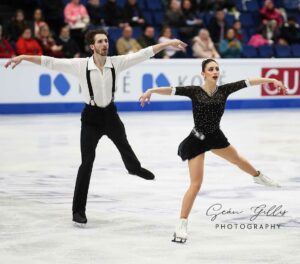 Following a fantastic Grand Prix season culminating in a Grand Prix Final bronze medal, Sara Conti and Niccolo Macii won the pair's European title providing Italy with a historic first gold medal. The Italian couple won the short program with 70.45 points and a margin of three points on the second team.
"We are coming from the bronze medal (at the Grand Prix Final) in Torino, a surprise for us, and a national title", Macii shared. "We knew we could be in the top three, but realizing we did a good short to be first is special".
Despite of a not very strong start with their free, they managed to deliver a solid program to win the event with 195.13 points and season bests.
"We had some visible mistakes, especially on the twist and we don't understand why, but we are really happy because the pressure was really high", Macii said. "It was a dream to win any color of medal, so winning the gold is like going further".
The silver medal was earned by another Italian team, Rebecca Ghilardi and Filippo Ambrosini, also making history for their country. The short program was not what they hoped for, with some mistakes with their jumps, throw jump, and step sequence that costed them precious points, ending in fifth place with 59.48 points. The free dance allowed them to redeem themselves, winning the segment with 127.48 points and jumping back to earn a silver medal with a total score of 186.96.
"We couldn't be happier about our performance tonight, especially after yesterday", Ghilardi shared. "I think today was harder, but we fought from the beginning of the program till the end, we had nothing to lose so we just wanted to feel each other and do our best".
As with the men's event, the Italian Federation also had all their three teams in this category ending in the top ten, with the newly formed couple of Lucrezia Beccari and Matteo Guarise (former partner of Nicole Della Monica) ending in seventh place at their continental debut.
Germany's Annika Hocke and Robert Kunkel started the competition with a second place in the short program, but had to drop one place in the free to win the bronze medal with a score of 184.26 points.
"I am very happy to share the podium with our training mates and great athletes, it is amazing", Hocke confessed.
Also from Germany,  Alisa Efimova and Ruben Blommaert started the competition with a third place finish but had to drop to fourth place after the free program, followed by Hungary's Maria Pavlova and Alexei Sviatchenko in fifth place.
DANCE
Italy claimed another gold medal at this event with Charlene Guignard and Marco Fabbri winning the top spot in ice dance, followed by Great Britain's Lilah Fear and Lewis Gibson and Finland's Juulia Turkkila and Matthias Versluis. Read more about the dance event at Ice-Dance.com.