By Rylie Smith, Team FSO Contributing Writer
Photos by Robin Ritoss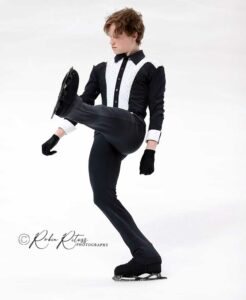 SAN JOSE, CALIF. — The senior men's event at U.S. Nationals was extremely exciting this year and wrapped up with, inevitably, a new champion. Nathan Chen has been crowned champion every season since 2017, but he sat out this season, leaving the spot wide open for another U.S. man.
Ilia Malinin, as many probably predicted, was crowned the 2023 U.S. Champion. The 18-year-old has stood out this season as he became the first person in skating history to land a quad Axel, and then became the first skater to land one in a Grand Prix event at Skate America. He attempted the quad Axel at Nationals in his free skate, but fell on it.
However, despite a disappointing free skate that also included that doubling his quad Lutz and only doing a double toe-loop single toe-loop combination, Malinin did execute a triple Lutz-triple Axel-triple toe-loop combination that earned 21.28 points. Malinin still finished first overall by 10 points. This was his first championship win, and while he was a little bit disappointed in what he put out, he shared that he's using it as a learning curve.
Malinin shared, "Of course this wasn't the skate that I wanted. I was looking forward to having a good skate and to try to show what I've been working toward these past couple of years — even just to push myself, but there's always ups and downs and you have to get over it and move on for the next thing. Looking back at this competition, I'm going to see what I need to work on a bit more so that I can prepare a lot better for Worlds."
Veteran Jason Brown finished in second, which was his first competition this season. His silver medal marked his eighth senior U.S. Championship medal, and he became the oldest male singles skater to finish in the top three at U.S. Championships since 2014. The 28-year-old had a clean short program and a nearly clean free, aside from a fall on his triple flip at the end of the program. 
This experience was particularly special to him as his last championship in San Jose didn't go quite as well as he wanted it to and he was left off the Olympic team. He shared of this new experience, "I competed [in San Jose] five years ago and had a really rough experience, and for five years it traumatized me and kept me up at night. I closed my eyes and relived that moment again and again … This was a Nationals I chose to come to. No one was telling me to compete. My career, in a lot of ways, had come to an end and this was my choice to get back out here and have the courage to go back into that rink and perform again and rewrite my story."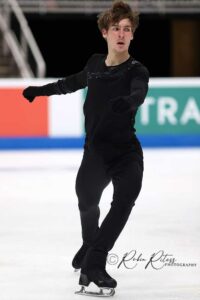 Andrew Torgashev won the bronze medal, earning his first senior U.S. Championship medal. The 21-year-old won the free skate event with a new personal best after placing fifth in the short program, moving him up onto the podium.
Torgashev is surely proud of himself, sharing, "It's so crazy. It's a little unbelievable. It's weird because I do this every day. It's gotten better over the last eight weeks. I've been training so hard, really trying to dedicate all of myself to coming into the rink, doing my best, improving 1% each day — all these things you hear the greats talk about. It's not a surprise that I skated this way. In fact, things could have been better, but to do it on this stage after so much time — it's my fifth Nationals — to be able to skate like that, it's unbelievable. I'm still in awe."
This was Torgashev's first Nationals since 2020.
Both Malinin and Brown were named to the World Team. Torgashev was also named to the World team, pending receiving the ISU minimum technical score. Torgashev hasn't competed international since Junior Worlds in 2020.
Maxim Naumov snuck into the top four, earning the pewter medal after a nearly flawless free skate.The 21-year-old fell on one triple Axel in the beginning of the program, but the rest was clean which brought him up from sixth after the short program to fourth overall. He earned a new personal-best for the free skate and overall score, and he won his first U.S. Championship medal at the senior level.
Naumov sat out of last year's championships and most competitions between now and then due to injuries and mental health reasons, and he earned his spot through qualifying competitions. Unsure of what to expect, Naumov was proud of what he put out.
He shared after the free skate, "I felt great. I can't lie, I think that was better than I expected for sure. I was prepared to go out there and make it happen and that's exactly what I did. I completed my job for what I set out to do today. It felt great. [I had] one small mistake which I'm going to keep working on but definitely super happy with how I did today."
Naumov was named to the Four Continents Championships team along with Jimmy Ma and Liam Kapekis, who finished in 5th and 6th respectively.