By Gina Capellazzi, Team FSO website administrator
Photos by Robin Ritoss and Gina Capellazzi
SAN JOSE, CALIF. — Beyond the stories of the champions, the 2023 U.S. Championships in San Jose marked the senior Nationals debut for a number of skaters. There were some other special stories that came out of the event, from outstanding performances to skaters participating in the World University Games just a few days before the Nationals.
Figure Skaters Online's Gina Capellazzi spoke with some of these skaters that had other accomplishments and victories, beyond the podium. She is highlighting them here in what she has  coined — "Stories from the Shark Tank."
Shark Tank is the nickname for the SAP Center where the NHL team San Jose Sharks play. The SAP Center was site of the 2023 U.S. Championships.
Debuts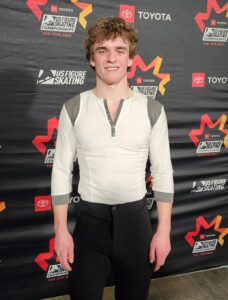 Will Annis wasn't sure he was going to finish his senior Nationals debut. The 18-year-old, who represents the Skating Club of Boston, came down with food poisoning after the short program Friday. Annis spent all day Saturday in bed and didn't think he was going to be to skate his free skate on Sunday.
"But I felt a little better this (Sunday) morning, so I tried to skate," he said.
"I felt really weak, but I was glad that I fought through it," he added. "So it was definitely a fight, but all things considered I'm happy I competed."
Though Annis didn't have the senior debut he had hoped for, he still enjoyed the experience.
"(Competing) seniors is really fun. The crowd and there's a lot more media and that's more fun too," he told Figure Skaters Online.
Annis finished the event in 15th place.
Elsa Cheng also made her senior Nationals debut at the 2023 U.S. Championships. Cheng, who represents the Skokie Valley Figure Skating Club, had the highest score in the senior women's discipline for the whole qualifying series (Midwestern Sectionals, Pacific Coast Sectionals and Eastern Sectionals).
"It's pretty incredible just being with all the top skaters and competing with them. Being on the same practice ice, just a whole different energy out there," the 17-year-old said.
Cheng finished in 16th place.
At the past two U.S. Championships, Joseph Klein stood on the podium, winning a silver and a pewter medal in the junior men's event. Now, the 18-year-old, who also represents the Skokie Valley Figure Skating Club, looked to see where he would stack up among the senior men.
"It was super nerve racking, which I expected, but I think because I have been to multiple Nationals as a junior and levels below that, I thought I would be more mentally prepared than I was when I first got here. I think those nerves definitely showed up in my short program," Klein said. "Then once I kind of got myself together after kind of being down a little after the short, I was able to climb back up and be like 'Okay, it doesn't matter how you perform, you're meant to be here. You qualified to be here. Just skate the best you can'. I think today I definitely showed up and did what I wanted to do."
Klein jumped up from 18th place after the short program to finish 13th overall.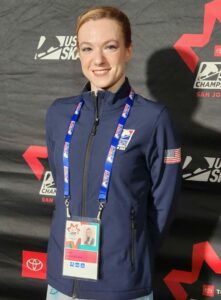 For Sonja Hilmer, the 2023 U.S. Championships marked the 23-year-old's first ever National Championships. Since 2011, Hilmer has attempted to qualify for Nationals.
"This means everything," she said. "I went through so much work. I've been at qualifiers for 15 years now. And just telling that little girl, 'hey, you stuck with it, and you made it all the way. It's always worth it.'"
Hilmer finished her first-ever Nationals with a top 10 placement.
Others who made their senior nationals debut are:
Women: Josephine Lee (5th place), Clare Seo (7th place), Ava Ziegler (9th place), Lindsay Wang (14th place), Michelle Lee (15th place), Alexa Gasparotto (17th place)
Men: Samuel Mindra (9th place), Daniel Martynov (11th place), Matthew Nielsen (12th place), Goku Endo (17th place)
Pairs: Ellie Kam / Daniel O'Shea (3rd, senior nationals debut for Ellie), Sonia Baram/Daniel Tioumentsev (4th), Nica Digerness / Mark Sadusky (8th, senior nationals debut for Mark), Nina Ouellette / Rique Newby-Estrella (10th), Linzy Fitzpatrick/Keyton Bearinger (11th, senior nationals debut for Linzy)
Dance: Emilea Zingas / Vadym Kolesnik (4th), Oona Brown/Gage Brown (9th), Isabella Flores/Ivan Desyatov (10th), Angela Ling/Caleb Wein (11th), Leah Krauskopf/YuanShi Jin (12th)
Great performances
The crowd inside SAP Center got to witness a number of outstanding performances during the U.S. Championships.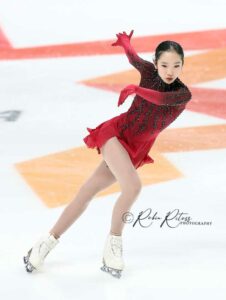 Sitting in 11th place after the short program, Josephine Lee, who was making her senior debut, came out and delivered an almost clean free skate that included a triple flip-triple toe combination and a triple flip-double Axel-double toe combination. Her only mistake was a triple Lutz was called under-rotated.
"It was such a surreal feeling," said Lee, who will turn 15 Feb. 3.  "After the short, I was like I have nothing to lose. So I just went out there and tried to give it my all."
Lee finished just off the podium in 5th place. Lee, who finished in 7th and 9th place at her Junior Grand Prix events this season, will participate in the World Junior Singles Camp, Feb. 2-3 in Las Vegas, hoping to be named to the World Junior team.
Fans may have not known Samuel Mindra before the men's short program, but after his skate, many became a fan of his skating. The 19-year-old wowed the crowd with his "Earthquake" by Andries de Haan short program that was very energetic and contained expressive choreography. In his "Love Story" by Andy Williams free skate, he once again delivered an impressive program.
"I've enjoyed the crowd," he said following the free skate. "It was amazing. At home, it is all quiet, but here it was uplifting and pretty fun."
Mindra finished his first senior Nationals in 9th place.
Immediately following Mindra's free skate, Jimmy Ma skated his "Clair de Lune" free skate. After a disappointing short program that left him in 7th place, Ma came out in the free skate, opening with a quad toe-triple toe combination and then going on to land six clean triple jumps. He did another quad toe in the program, but it received a -2.31 GOE.
'I (said) Dude, you're 50 years old, you've been doing this for 27 years, you should just do it, don't second guess yourself," the 27-year-old told the media following his free skate.
Ma finished the event in 5th place, his best showing at the U.S. Championships, and will now compete next week at the ISU Four Continents Championships.
Let's Dance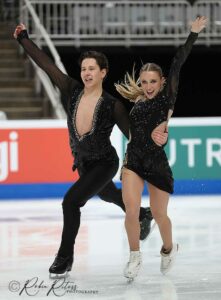 If you watched the dance event, you couldn't tell that Emilea Zingas only started competing in ice dance less than a year ago. Just last season, Zingas competed for Cyprus in senior women, finishing in 9th place at Nebelhorn Trophy. In May, she teamed up with 2020 World Junior Champion Vadym Kolesnik and started competing for the U.S. in senior ice dance.
"It feels like I have been dancing for a long time, but at the same time it feels like I just started last week," the 20-year-old said after the rhythm dance. "It been like a really fast paced transition, almost like a crash course, but at the same time, our coaches have given me all the tools that I've needed to become an amazing ice dancer and I don't think my transition is over yet. I think I'm still learning stuff every day."
Zingas tested all of her dance patterns, starting with the preliminary patterns like the Dutch Waltz, in less than a year.
"She would literally in like 20 minutes come in learn the dance, and then test," Kolesnik said. "I don't know how she did it."
"I wanted to get them done and I think it's important just to have that," said Zingas.
Zingas and Kolesnik, who were in third place after the rhythm dance, won the pewter medal in San Jose. They had won the bronze medal at Golden Spin in December.
Returning to Nationals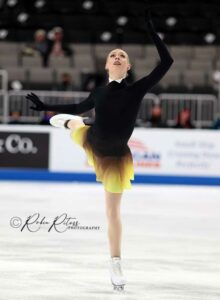 There were a few skaters who were making a return to Nationals and some of those skaters found themselves on the podium.
After missing the 2021-2022 Olympic season due to injury, two-time U.S. Champion Bradie Tennell was back at the U.S. Championships, competing in the same arena where she won her first U.S. title and was named to the 2018 Olympic Team. Tennell, who turned 25 on Jan. 31, won silver medal and will now compete at the Four Continents Championships and the World Championships.
"I'm back, baby," Tennell said following her short program.
"I'm very proud of myself," she said after the free skate. "Obviously, I'm a little disappointed in my errors, but I think given how the season has gone and my road to competing again I have a lot to be proud of."
Like Tennell, injuries kept Andrew Torgashev out of the U.S. Championships. Torgashev last competed at Nationals in 2020 in Greensboro. Torgashev delivered two incredible skates to win the bronze medal.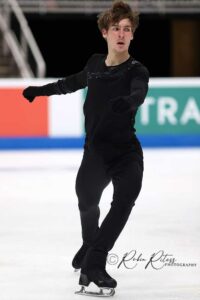 "It is nice to be back here and nice to be skating," the 21-year-old said following the short program. "The last two years were tough dealing with injuries and such. My goals were just to get to this competition injury free and for the most part, I succeeded in that."
"It's so crazy. It's a little unbelievable," he said after the free skate. "It's weird because I do this every day. It's gotten better over the last eight weeks."
Torgashev has been named to the World team, pending receiving the ISU minimum technical score. He will compete at Challenge Cup in the Netherlands at the end of the month to attempt to receive that score. Torgashev last competed internationally at the 2020 World Junior Championships.
Maxim Naumov said he was dealing injuries and mental health stuff that kept him out of the U.S. Championships last season. In San Jose, Naumov delivered two great skates to win the pewter medal and be named to the Four Continents Championship team.
"I'm glad that I was able to make it here and kind of get back out on the scene again," said Naumov after the short program.
"I felt great. I can't lie," Naumov said following his free skate. "I think that was better than I expected for sure. I was prepared to go out there and make it happen and that's exactly what I did."
Ting Cui was also returning to Nationals for the first time since the 2019 U.S. Championships in Detroit. Cui finished the event in 12th place. Danny O'Shea returned to Nationals with his new partner, Ellie Kam. They won the bronze medal in the pairs' event. O'Shea last competed at Nationals in 2020 where he also won bronze when his former partner, Tarah Kayne.
World University Games
The figure skating events at the World University Games were held Jan. 13-15 in Lake Placid, New York, just a week before the start of the U.S. Championships. Several athletes took part in both events and talked about their experiences at the Games in Lake Placid.
"It was like a mini Olympics with the opening ceremony and just having all the Team USA athletes and and seeing different countries and just getting to meet them (the athletes) was just an awesome experience," said Dinh Tran, who finished in 9th at the World University Games, and 16th at the U.S. Championships in San Jose.
Tran is a student at California State University in Long Beach, Calif.
Though withdrawing from the competition after the short program due to after effects from having COVID-19 over Christmas, Ting Cui still played a big part in the World University Games. She was selected to the read the athletes' oath at the opening ceremony.
"It was incredible," said Cui, a student at Middlebury College. "I mean, I couldn't ask for a better experience. Aside from skating stuff, it being at home in the U.S. is really great. You walk around the village to and from places and the volunteers see our USA jackets and beanies and just cheer like 'Oh my gosh, go USA!' There was a lot of team spirit going around which is great and it was cool to be able to be there with all the different sports and athletes."
Cui finished in 12th place at the U.S. Championships. Also, competing in both Lake Placid and San Jose was Goku Endo, who finished 12th at the World University Games and 17th at the U.S. Championships, along with ice dance teams Lorraine McNamara and Anton Spiridonov, who won silver at the World University Games; Angela Ling and Caleb Wein and Raffaella Koncius and Alexey Shchepetov, who finished in sixth and seventh respectively in Lake Placid. McNamara and Spiridonov finished 6th and Ling and Wein finished in 11th place at the U.S. Championships. Unfortunately, Koncius and Shchepetov withdrew from the event after suffering a concussion during a fall in a practice session in San Jose.
Not one, but two events!
It's one thing to compete in Nationals, but what about competing in two events? That's exactly what Sonia Baram and Olivia Flores did!
Sonia Baram found out on Jan. 17, just days before the start of the junior women's event that she would be competing in that event, in addition to the senior pairs' event with her partner, Daniel Tioumentsev. The junior women's event was Wednesday and Thursday, with the senior pairs' starting on Thursday, just hours after the junior women's free skate.
"It was definitely an experience," Baram said, noting that she got the email about competing in the junior women's event a week before Nationals. "I hadn't been training my jumps, I hadn't been training my programs. How am I supposed to do it!? So I accepted it because I'm in for a challenge, and I love challenges because it forces me to become better."
Baram finished 8th in the junior women's event and won the pewter medal with Tioumentsev in the senior pairs' event. Baram and Tioumentsev will compete at the 2023 World Junior Championships in Calgary.
Like Baram, Olivia Flores competed in two events — junior women and junior pairs. The junior pairs event was Tuesday and Wednesday. Flores and her partner, Luke Wang, won the pewter medal in only their first season together and first season as pairs' skaters. The junior women's event was Wednesday and Thursday, where Flores finished 17th.
Figure Skaters Online talked with Olivia Flores – stay tuned for our feature article with Flores, and her big sister, Isabella Flores, who competed in the senior dance event with partner Ivan Desyatov.