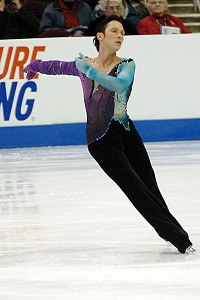 The advertised Evan Lysacek and Johnny Weir show at the 2009 U.S. Championships in Cleveland had a surprise star. Two-time pewter medalist Jeremy Abbott  stole the spotlight with a masterful performance that put him in first place.
Abbott carries 86.40 points into Sunday's free skate. Two-time defending U.S. Champion Lysacek has 83.59 while Parker Pennington, who trains in the Cleveland area, sits third with 76.17. Two-time U.S. Champion and reigning World Championship bronze medalist Weir is seventh with 70.76.
"I feel like the national championships is always a little bit about Evan and Johnny," Grand Prix Champion Abbott said. "I came in and my goal was just to do the best I could and maybe break through that, but I wasn't focused on that. I was really just focused on myself and whatever comes of that, comes of that."
Lysacek, a two-time World bronze medalist, led-off the men's event with a captivating performance to "Bolero" that brought the crowd to its feet. The program came alive with footwork sequences judged as the best in the competition.
He started with a triple axel, a jump that has received special attention since Skate America and Skate Canada, where he did not receive full credit. While he did not attempt a quadruple jump, he did land a triple lutz-triple toe combination and a triple flip.
"I think it went well," Lysacek said. "I said this last year, defending the title is probably the most difficult thing I go through in the season."
Abbott immediately followed Lysacek's strong performance with a spectacular showing of his own. For his efforts – a triple flip-triple toe, triple axel and triple lutz paired with balletic movements – he also received a standing ovation.
In front of a hometown crowd, Pennington put on a show for his breakout performance in the senior ranks, receiving the third standing ovation of the evening. He won the junior men's title in 2001 but has struggled as a senior, never once making the podium.
"This experience was absolutely incredible – to be able to go out in front of my home crowd and deliver one of my best performances was surreal," said Pennington, who is back training with Olympic Champion Carol Heiss Jenkins after leaving in 2003.
Fourth belongs to 18-year-old Brandon Mroz (74.88) and Ryan Bradley (St. Joseph, Mo.), who won the silver medal in 2007, is in fifth place with 74.05 after landing an opening quad toe-triple toe but doubling a planned triple lutz.
A solid performance from Curran Oi at the end of the men's short program pushed Weir into seventh place.
"Right now I'm very upset with myself and very disappointed. I can't wait to go back to the locker room or to my hotel room and go in the shower and just cry for an hour because I'm so disappointed with myself and what I allowed myself to do," said Weir.
He started strong with a beautiful triple lutz-triple toe that received positive grades of execution for all judges. But then he popped his triple axel into a single and had trouble on the take-off edge for his triple flip.
"My performance was obviously a huge disappointment to me," said Weir, who had the third highest program component score despite the technical flaws. "The mistake on the triple axel is a mistake I haven't made in quite some time. It's the first time I haven't skated a clean short program at nationals since 2001."
Weir won the short program at the 2008 U.S. Championships. The record score of 83.40 that he set at last year's event was bested by both Abbott and Lysacek in Cleveland.
"I think we all feel for him tonight," Lysacek said when asked how it felt to not have Weir in the top three. "I didn't see him skate, but I saw his scores, and I think he had a rough performance. I hope he gets a good night's sleep."
Stephen Carriere (69.36) is eighth after a shaky triple axel and triple flip-triple toe. Other results including Jason Wong (63.40), 11th; Adam Rippon (62.22), 12th; Nicholas LaRoche, (58.01) 15th; Douglas Razzano (57.00), 16th; and Eliot Halverson (51.09), 18th.
Scott Smith withdrew prior to the short program because of injury.
__________
Figure Skaters Online strives to be an accurate source of information related to the sport of figure skating. To report an error, please e-mail the news editor. Include the article date and title in your e-mail.