By Maura Sullivan Hill, Team FSO contributing writer
Photos by Robin Ritoss
Both Alexa Knierim and Brandon Frazier have stood on top of the U.S. pairs podium before. Knierim, three times with her husband, Chris: in 2015, 2018, and 2020. And once for Frazier, with his longtime partner Haven Denney in 2017. But in 2021, they took the gold and stood atop the podium together as partners, not competitors.
"Of course, every time you win a national championship, it means something different to you," Knierim said in the post-event press conference, held over Zoom. "This one was extra special because it wasn't something that we expected when we first teamed up. It feels great to win with Brandon, and, to be honest, I felt like Chris was out there in my heart every glide of the way. I'm just feeling really fortunate to have two great guys that support me."
While Knierim said they were "elated" with their performance, both skaters also said they had to fight through some elements in the program.
"There were several elements, like the death spiral, that got real tight towards the end," Frazier said. "Our second lift didn't have a good up, that was a fight there. It wasn't balanced well. Going into our choreo step, a lot of emotions going through at that point. It's a long week, so the body gets tired and we both just really had to reach down deep and push through it, and that's what I was really proud of."
En route to their first title as a pair, Knierim and Frazier set new U.S. Championships records in the short program, free skate, and total score. They earned level 4s on all their elements across both programs but for one, the back outside death spiral in the free skate.
"We're very pleased to win, but by no means are we finished," Knierim said. "We have a lot of cleaning up to do and there's a lot of things that we can do better. We strive for more every day. We want to be among the best in the world and we have a ways to go."
Frazier agreed with his partner, while also pointing out how much has changed for each of them in the past year, since forming their partnership.
"Alexa and I both are trying to grow as a team as quickly as possible The result [here] is telling us [to] keep going," Frazier said. "I told Alexa before coming [here] that showing up is a victory in itself, and I know that sounds cliché, but I mean, one year ago I was doing a press conference after my free program trying to fight back tears and now I'm trying to fight back tears for a different reason, so it's just amazing what a year can do."
Knierim and Frazier's training mates, Jessica Calalang and Brian Johnson, earned the silver medal for the second year in a row, but they weren't satisfied with their performance in the long program.
"That performance wasn't exactly what we had been training for," Calalang said in the press conference. "There were quite a few mistakes in the program, but we tried really hard to put it aside and continue the performance strong all the way through."
Their side-by-side triple salchows were downgraded, and on their side-by-side triple toe loop-double toe combo, Calalang fell and Johnson singled the second jump. Despite the jump issues leaving points on the table, Johnson found positives about their performance.
"One good thing we took away from this was all the hard work we put in this year on the expression, the skating skills, the stamina," Johnson said. "All that stuff was done really well, so even though we might not have been the happiest with it, we've definitely, in our minds, shown improvement in many ways and we're looking forward to adding on to that."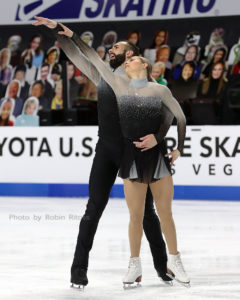 Ashley Cain-Gribble and Timothy LeDuc earned the bronze medal, after finishing in 4th place last year and winning the title in 2019.
"I know that we had a few mistakes in the program, but for us it felt like a huge win," Cain-Gribble said. "We came off the ice feeling like Ashley and Timothy again, and it's been a long time since we felt that way. And we felt like numerous times we were kind of looking on the outside at ourselves, and this time I felt like we were fully in the performance. We engaged with every piece of choreography and every element. We gave it everything that we had, and we chose not to stand in our way today and just let ourselves skate freely."
In the free skate, Cain-Gribble and LeDuc earned level 4s on two lifts and the pair combination spin, and landed the throw triple lutz, an element that gave them trouble last season. The pair also received a level 4 on their triple twist in the short program, which they said was "a big win for us."
At the press conference after the competition, LeDuc said, "I think there's just an overwhelming sense of gratefulness that we're even here, and that U.S. Figure Skating has put in the work for us to be able to compete in the period of time that we are in in the world. That's really, I think, what we take away from this: that we still got to have a season, to still move forward as a team and grow as teammates even with everything going on right now."
Audrey Lu and Misha Mitrofanov, the 2018 U.S. Junior Pair Champions, earned their best-ever finish at the senior level with the pewter medal in Las Vegas. They were in striking distance of the top teams with a strong third-place showing in the short, but Mitrofanov fell on their side-by-side triple toe loops in the free and all their lifts looked a bit tentative, which lost them points on grade of execution. Mitrofanov told reporters in the mixed zone that the zipper on his costume ripped before they skated the long program, which he said threw them off a bit.
Jenni Meno and Todd Sand, the three-time U.S. Pairs Champions and coaches of three teams in this competition, also spoke to the media after the event. Meno and Sand coach the top two teams, Knierim/Frazier and Calalang/Johnson, as well as first-time senior pairs competitor Katie McBeath and her partner Nathan Bartholomay. McBeath previously competed at Nationals in the senior ladies event, while Bartholomay competed in pairs at the 2014 Olympics with former partner Felicia Zhang.
Meno, who coaches alongside her husband Sand at Great Park Ice and Five Point Arena in Irvine, CA, told reporters, "That's our goal: to get the U.S. [pairs] back on the podium at the World Championships and the Olympics."
U.S. Figure Skating named Knierim and Frazier and Calalang and Johnson for the World Championships, which will be held in Sweden, pending the situation with the pandemic. The International Skating Union will make a decision about holding the event at the end of January 2021. U.S. Figure Skating has noted that Knierim and Frazier's selection is pending the International Skating Union's decision on minimum score. Cain-Gribble/LeDuc are first alternates, followed by Lu/Mitrofanov and Emily Chan/Spencer Howe, who finished in 5th place.
For more Nationals coverage, visit our 2021 U.S. Championships Hub.