By Maura Sullivan-Hill, Team FSO contributing writer
Photos by Robin Ritoss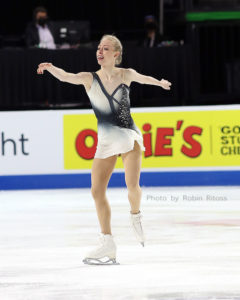 Bradie Tennell has medaled at every U.S. Championships since her breakout season in 2018 — the year she also won the U.S. title, bronze at Skate America, and an Olympic bronze in the team event. She wore silver in 2019 and bronze in 2020 at the U.S. Championships, and even with those other medals in her proverbial trophy case, it has always been her goal to return to the top step of the podium. And three years after her first victory, Tennell did just that, winning her second U.S. title at the 2021 U.S. Championships in Las Vegas.
"Winning my title back means everything to me," she told the media in the post-event press conference, held over Zoom. "It was one of the driving forces behind my move to Colorado this year; it's the driving force behind me waking up to go train every day. They say it's about the journey, not the destination, but the destination feels pretty good, too."
She relocated to Colorado Springs this season to train with Tom Zakrajsek, who she said helped her feel "in command" while she is competing.
"Tom helped with that a lot. I have a key phrase that I say to myself going into that last jump and it's made quite a big difference," said Tennell, who elected not to share exactly what that phrase is, but added, "It's really funny to me, but it also reminds me to stay focused to the end, so I find it very helpful."
Tennell, who was still allowed to compete despite Zakrajsek and her training mate Paige Rydberg testing positive for COVID-19 within the past two weeks, had Zakrajsek assistant Becky Calvin at the boards with her throughout the competition. Rydberg tested positive upon arrival in Las Vegas for the competition and subsequently withdrew.
En route to her second title, Tennell also broke her own record for the highest-ever score in the short program at the U.S. Championships, earning 79.40 points, which bested the record of 78.96 that she set in 2020.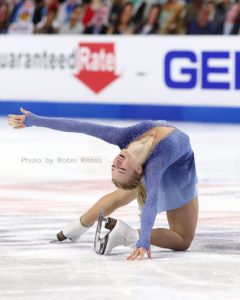 The moment of the night may have belonged to silver medalist Amber Glenn, who had a stirring performance in the long program. Glenn had made a habit of skating strong short programs and then faltering in the long program at U.S. Nationals, but not this year.
"To be with such a great group of competitors is so motivating. I'm just really happy I was able to finally put out a performance I am proud of at Nationals," said Glenn, who also overcame a concussion and orbital bone injury sustained this fall, when she passed out and fell during a cryotherapy session.
Glenn attempted a triple axel in the short program, and while the jump was downgraded, she said she was glad to have the first attempt in competition under her belt.
"I had originally planned to try it at Skate America. The goal was to try it all season long, but there wasn't really a season," she said after the short program. She decided not to try it at Skate America because of a lack of training after her head injury, but went for it here at Nationals.
"It's been extremely consistent in practice," Glenn said. "I nailed it in warm up, so next season for sure."
Glenn also revealed in the mixed zone after the free skate that she has been dealing with a foot infection in her right foot, and that before the long program she saw the medical team and learned it had spread further up her leg, causing swelling.
"Knowing I had to push through that, I let myself skate with no pressure, and it turned out pretty well," Glenn said in the mixed zone, before heading back for more medical attention and antibiotics. She said she had been so focused on her triple axel attempt that she had been ignoring the pain from the infection.
At the press conference, Glenn began her opening statement by observing, rather endearingly, "I'm not used to having to do press conferences!" The 2014 U.S. Junior Champion has competed in the senior event five times previously and is a first-time medalist here in her sixth appearance.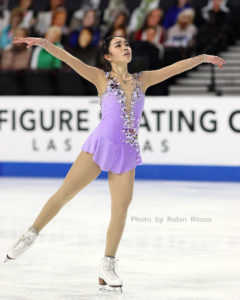 Karen Chen, the 2017 U.S. Champion, earned her third U.S. bronze medal in Las Vegas. She also won bronze in 2015 and 2018 and joked, "I feel like a veteran to the bronze medal."
"It's my third bronze medal now, which is wonderful, I'm really grateful for it," Chen said in the post-event press conference. "And I think it's just really great, it gives me a confidence boost, especially for next year. It is the Olympic year and it's going to be a big challenge for me and for other skaters because of how important it is."
Chen earned new U.S. personal best scores in both segments of the competition, but said she wasn't fully satisfied with her long program performance, where she fell on a triple loop.
"I am [pleased] and I'm not," she said. "I left so many points on the table, just little silly mistakes here and there. I had visualized the skate of my life and just a wonderful performance that I trained myself to put out there, and so I just had my expectations really high. There's nothing wrong with that, I just wish that I was able to deliver that tonight."
Chen, who was enrolled as a full-time student at Cornell last year, is back training in Colorado Springs with coach Tammy Gambill this year. She said she enjoyed the full college experience on campus and did not want to enroll again for remote learning.
"Being on campus and being around other people my age that have completely different interests and know nothing about skating was pretty eye opening, especially when I've been home schooled all through high school. I learned so much that year," Chen said. "And skating is still my world, but there's definitely more."
Alysa Liu, the two-time defending champion, earned the pewter medal.
"It [Nationals] was definitely the biggest challenge of the season, especially with corona and me growing and the injury, but it was all a really good learning experience," Liu said. "I'm glad it happened this season and not another season, and I'm really excited and looking forward to next season and training for it, and hopefully I can show better results."
Liu competed without the triple axel and quad jumps that had become her signature over the past two years. She took a break from training those elements while dealing with a three-inch growth spurt and a hip injury over the past year, but said she is excited to start working on those jumps again when she heads home to resume training.
Mariah Bell, who won 2020 Skate America and came into this event as one of the favorites, landed in 5th place after a difficult competition. She opened her free skate with a fall on the triple flip and looked tight and nervous throughout both segments of the competition. She told reporters after her short program, "I know that we're all really lucky just to be able to compete," and shared a message of gratitude to her supporters on Instagram after the competition. Bell wrote, "Success is never final and failure never fatal…it just wasn't my night. Thank you all so much for your support! Here is to learning more everyday [sic] and truly enjoying this process. It's what life is all about!"
Audrey Shin, the breakout star and bronze medalist at Skate America, was plagued by under-rotation issues in the short program, with both her triple lutz-triple toe combination and triple loop called under-rotated and receiving negative grades of execution. She came back with a solid long program and finished 7th overall.
"I feel like I learned a lot from this competition, being here at my first senior National Championships," said Shin, who plans to work on both triple axel and quad toe in the off season. "It's different, but I'm really grateful that I could take part in this competition."
U.S. Figure Skating named Chen and Tennell to the World Team, provided the event is not cancelled. The ISU previously said they would make the decision about whether to hold Worlds at the end of January 2021.
Prior to being named to the team, Chen said at the press conference, "It's definitely a tricky situation that is out of our control. Whatever happens, we will all do our best to be ready for whatever it is."
Tennell said, "I'm going to continue training as if Worlds is happening. Obviously, I would love for it to happen, and if it does happen, I'll be there and I'll be ready to do my job and fight for our three spots. But, of course, we have to take into consideration the pandemic and make sure it can be held safely, because the number one priority is obviously the health and safety of everyone involved."
Glenn is the first alternate, followed by Bell and Shin. Shin will still need to obtain the minimum technical score to compete at the event, but it is not guaranteed that she'll have an opportunity to do so, since many of the competitions between now and Worlds have already been cancelled due to the pandemic, including the Junior World Championships and Four Continents Championships.
For more Nationals coverage, visit our 2021 U.S. Championships Hub.
See photos here.