STAFF REPORTS
Figure Skaters Online
__________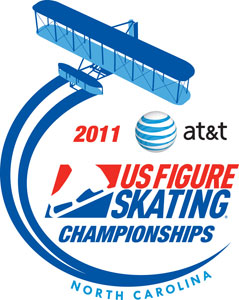 GREENSBORO, N.C. — Hannah Miller moved up from third place after the short program to claim the novice ladies gold medal at the 2011 U.S. Championships in Greensboro, N.C., while Nathan Chen easily claimed his second consecutive novice men's title. Chen is the first man to win two novice titles.
After opening her free skate with a solid double Axel, Miller landed four triple jumps, including two in combination, during her performance to "Piano Fantasy" by William Joseph. Miller also executed three Level 4 spins, the flying sit spin, the layback spin and the change foot combination spin, and a Level 1 step sequence.
Barbie Long claimed the silver medal with 121.85 points while short program leader Mariah Bell (115.33) dropped to third. Amanda Hoffmann won the pewter medal with a score of 100.16.
Long strayed from her planned program content, electing to perform a double Axel-triple toe combination instead of a triple Salchow-double toe, a triple Lutz instead of a triple Lutz-double toe-double loop and a triple Salchow-double toe instead of a double Axel-double toe. But even with the changes, she had the highest total element score, 47.42 points.
"I was happy that even after I made a mistake on the first Lutz, I was able to add a combination on to the second triple Lutz," she Long, who underrotated her solo triple loop.
Bell only performed two triple jumps in her free skate to Andrew Lloyd Webber's Cats. After landing a triple toe and a triple Salchow early in the program, Bell encountered a major error she performed a single toe instead of her planned triple toe-double toe. She received only .31 for the jump.
Hoffman landed one triple jump and eight doubles to move from ninth to fourth.
In the men's competition, Chen finished with 163.40 points, easily defeated silver medalist Jordan Moeller (127.85), bronze medalist Nix Phengsy (127.48) and pewter Alexander Bjelde (126.27).
Chen's free program featured six triple jumps, including a triple Lutz-double toe combination, triple Lutz, triple loop and a triple Salchow-double toe, giving him 110.93 points for the performance. Moeller and Phengsy each landed three triples while Bjelde, who was second in the free skate, landed four, moving him from fifth to the podium.
For complete results from the 2011 U.S. Championships, please click here.
__________
Figure Skaters Online strives to be an accurate source of information related to the sport of figure skating. To report an error, please e-mail the news editor. Include the article date and title in your e-mail.