STAFF REPORTS
Figure Skaters Online
__________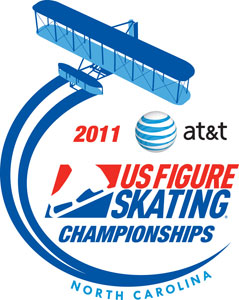 GREENSBORO, N.C. — Madeline Aaron and Max Settlage are the 2011 U.S. Novice Pairs Champions. On Monday at the U.S. Championship in Greensboro, N.C., Aaron and Settlage (128.21 points) stretched their nearly two point lead to more than 14-points with an outstanding free skate.
The silver medal went to Chelsea Liu and Devin Perini (113.90), who were second in the short program and the free skate. Audrey Goldberg and Joseph Dolkiewicz finished third with 109.97 while Caitlin Fields and Jason Pacini (107.32) were fourth.
Aaron and Settlage's big victory came despite her 102 degree fever.
"She has been throwing up all day," said Dalilah Sappenfield, who coaches the team with John Coughlin and Larry Ibarra. "She's still running a fever, and we're excited that she stayed on her feet. She's really wiped out, and we're really proud of her."
Skating to music from The Nutcracker by Tchaikovsky, Aaron and Settlage opened the program with a double twist and followed that with a throw triple Salchow, which earned them 5.30 points, the highest scoring element of their program. The pair also landed side-by-side double Axels and double flip-single toe combinations.
Aaron also nailed a throw double flip at the end of the program.
Liu and Perini were less than perfect in their free skate to "Oogway Ascends" by Hans Zimmer. After opening their program with a Level 4 pair combination spin and a double loop-single Axel sequence, the silver medalists performed a double twist, throw double loop and side-by-side double flips, but she fell on the throw double Lutz. They recovered with Level 4 combination spins and two strong lifts.
For complete results from the 2011 U.S. Championships, please click here.
__________
Figure Skaters Online strives to be an accurate source of information related to the sport of figure skating. To report an error, please e-mail the news editor. Include the article date and title in your e-mail.