By Gina Capellazzi, Team FSO website administrator
Header photo by Tim Johnson – 828 Studios
When the 2022 U.S. Figure Skating Championships takes place next month, it will consist of some "firsts". After the COVID-19 pandemic forced the 2021 event to be held solely in front of an arena of cardboard cutouts, fans will be able to return to the yearly event for the first time in two years. The Jan. 3-9, 2022 event will also be the first time in 25 years that Nashville plays host to this paramount event.
And for competitor Wren Warne-Jacobsen, the 2022 U.S. Championships will mark the 18-year-old's first senior nationals and first nationals appearance since competing on the junior level in 2019.
"I was really excited. It's a bit intimidating, too, to think about being on that stage," Warne-Jacobsen said of her initial reaction to qualifying for Nationals.
While Warne-Jacobsen will perhaps be a new name to skating fans in Nashville, she's not new to the sport. Warne-Jacobsen began skating at the age of 5 1/2 in Bemidji, Minnesota. Her mother, Debbie, a former figure skater herself, served as one of her first coaches. As Warne-Jacobsen got more serious, the then-7-year-old started skating with the St. Paul Figure Skating Club. At first, she was commuting four-hours to St. Paul, spending a few days training there and then driving back to her home in Bemidji. Warne-Jacobsen continued that schedule until her family eventually moved to St. Paul.
Two years ago, at age of 16, Warne-Jacobsen moved to Shakopee, Minnesota where she trains at the Shakopee Ice Arena with her head coach Lorie Charbonneau. Warne-Jacobsen trains five days a week for three-hours a day and also participates in intensive off-ice workouts three days a week with trainer Matthew Matsura. In addition to Charbonneau, she also works with coaches Christian Conte and Kate Charbonneau Shurts.
"The atmosphere at my rink is very positive and I have a great team of coaches and people on and off the ice. I feel very supported and it is really a joy to get to work with the people I get to work with every day," Warne-Jacobsen said of her current training environment.  "And while right now it can be a bit stressful sometimes, overall, I really enjoy it."
Representing the Go4Gold Skating Academy, Warne-Jacobsen is the only senior-level skater competing for the U.S. at her training facility. However, she does train with another senior women competitor, Mexico's Eugenia Garza, who competed this season at Nebelhorn Trophy and Cranberry Cup International.
The past two seasons have been anything but easy for Warne-Jacobsen. After finishing in fifth place in the junior event at the 2019 U.S. Championships in Detroit, Michigan, Warne-Jacobsen failed to qualify for the 2020 U.S. Championships, finishing in 8th place at the 2020 Midwestern Sectional Final. That would end up being Warne-Jacobsen's last competition for the next eight months as the global COVID-19 pandemic forced the closure of rinks and cancellation of skating competitions and events.
"It was very challenging and hard to stay motivated," Warne-Jacobsen said, noting that she did off-ice and Zoom classes during the shutdown. "You didn't know what you were working for or if it was going to be cancelled. I had to reevaluate a bit and try to reconnect with my love for skating and where I wanted to go."
Warne-Jacobsen returned to competition and made her senior debut at her skating club's competition, Skate Shakopee in July 2020. There she earned personal best short program and overall scores. However, her season would come to an end a few months later as Warne-Jacobsen was unable to compete in the virtual 2021 U.S. Championship Series to qualify for the 2021 U.S. Championships. Warne-Jacobsen would endure another competition lull, going 10 months without a competition. Her first competition for the 2021-2022 season was Roseville Open in Roseville, Minnesota in May. A month later, she finished 7th at the Broadmoor Open in Colorado Springs, Colorado. Warne-Jacobsen also competed at the Skate St. Paul, Minnesota State Figure Skating Championships and Cranberry Open this past summer, and the Greater Chicagoland Fall Invitational in early fall.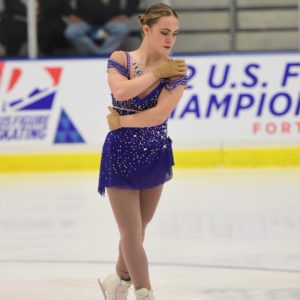 For the 2022 U.S. Championship Series — Warne-Jacobsen was allowed to compete at up to two competitions of eight competitions. In October, she competed in Blaine, Minnesota, where she finished in third place behind Starr Andrews and Finley Hawk with an overall score of 162.05. In her second event in Fort Wayne, Indiana in November, Warne-Jacobsen finished in second place with an overall score of 144.00.
"I was extremely happy with my overall performances at Blaine," Warne-Jacobsen commented. "Fort Wayne was a bit more difficult. I put a little bit more pressure on myself. I think after putting out great performances in Blaine, I wanted to put out two more good performances there (in Fort Wayne)."
While Fort Wayne may have not gone as she had hoped, Warne-Jacobsen was still able to secure one of the nine remaining women spots for the U.S. Championships.
"I am very excited to skate in the arena (Bridgestone Arena) on the senior stage, just that environment and the energy and being around some amazing competitors," Warne-Jacobsen shared. "I'm very excited for that experience, and my goal is just to put out the best performances that I can in the moment and really enjoy the experience and learn from it the best I can."
This season, Warne-Jacobsen is skating to George Gershwin's "I Got Rhythm", performed by Nikki Yanofsky for her short program. "This program was a bit out of the box for me," Warne-Jacobsen explained. "I hadn't really done anything like it before, but it's been really fun to work with. It's definitely made me kind of expand my style of skating. So it's really a fun program. I hope people can have some fun watching it."
The program was choreographed by Alex Johnson, who retired after the 2018-2019 season after a nine-year career at the senior international level, which included two top 6 finishes at the U.S. Championships and a silver medal at Nebelhorn Trophy. Johnson, a Minnesotan himself who trained in Minneapolis at the beginning and end of his career, is someone Warne-Jacobsen has thought highly of.
"I always looked up to him and his style of skating. I think he's amazing. He's artistry and interpretation of the music especially, I've really looked up to," Warne-Jacobsen spoke of Johnson.  "I was really excited to work with him and he's gotten to share with me some of his experiences of competing and dealing with the mental game in your programs. Just being able to relate one-on-one with a (recent) competitor has been great."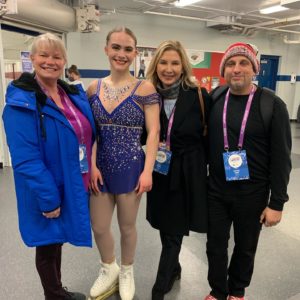 Along with Johnson, Warne-Jacobsen worked with 1987 World bronze medalist Caryn Kadavy for her free skate, which is to Rimsky-Korsakov's Scheherazade, Op.35. "I think it (my free skate) plays to my strength of a very powerful free skate. I can really get into it, especially the step sequence at the end is really fun, and I can just get into the music and put out all the intensity I have to the audience and the judges. I have a lot of fun with that one as well."
When Warne-Jacobsen is not skating, she says she can usually be found working on homework. Warne-Jacobsen is a senior with Minnesota Virtual Academy, an online public school. She will graduate this spring, and in the fall, she plans to attend the University of Minnesota to study journalism and political science. When Warne-Jacobsen isn't studying, she loves to read, especially fantasy books.
But right now, Warne-Jacobsen is focused on Nationals, and while she is aware that many skating fans are unfamiliar with her skating and that she isn't among the medal contenders in the women's event, she is hoping that fans will still fall in love with her skating.
"I am a skater who I feel is very passionate about what I'm doing and the performance I can put out," Warne-Jacobsen said. "I really love when I can connect with people and get people excited about my skating, just the energy I can bring to the program. I don't have the most difficult content in the event, but I want people to just see who I am when I'm skating and the love I have for what I'm doing."